Brewster, NY Awnings
Awnings, Canopies, Pergolas & Louvered Roofs
For the last hundred years, the friendly and experienced staff at Durkin's has installed and repaired thousands of awnings for customers all over the Brewster area. Whether you need our services for a commercial building of your backyard, we are happy to offer professional workers and quality products to our customers.
At Durkin's we offer:
Get a Free Estimate!
Brewster Awning Installation and Repair
Awning Installation
To begin with your installation process, we start with an estimate and consultation. This allows us to pinpoint the details before we go ahead with any installation. Once we complete this step, we can set up an installation date and calculate the price for the installation.
One of our specialists will help you throughout the entire process, determining what type of awning will work best in your area. We have multiple varieties for all sorts of Brewster properties.
Improperly installed awnings can cause damage to your house or business and end up costing you unnecessary money. When our experts come in, we are sure to install everything correctly the first way, along with uninstalling any seasonal awnings to prolong their pristine condition.
Awning Repair & Service
After an accident or bad weather you might find yourself in need of some repairs to your awning. Give us a call and we can come out and evaluate the damage, and calculate an estimate for repair. We are highly recommended throughout the Brewster area and can handle any repairs no matter how big!
We can work quickly on the repairs once you give the approval, getting it back to look brand new. We are happy to provide our customers other services as well, including winter cleaning. 
Commercial & Residential Awnings
We have years of experience installing and repairing awnings on both residential and commercial buildings. If your business needs an option that creates shade and privacy for guests, then you have come to the right place.
For our residential customers, our awnings can be installed to create a dreamy backyard oasis for you and your family. We can also inspect any damages and calculate a quote for repairs.
Awning Types in Brewster
Stationary Awnings
The many benefits of stationary awnings include shade and safety from sun, rain, and most other elements. We are capable of customizing each project to fit almost all properties, both commercial and residential. Stationary awnings can withstand seasonal weather that the Brewster area experiences.
Turn your backyard into a full time gathering area with a custom awning.  Curtains and screens can be added if desired as well as to add more shade and protection from the elements. You patio, back deck, pool area, or outdoor dining space can be used and loved all year long with one of our stationary awnings.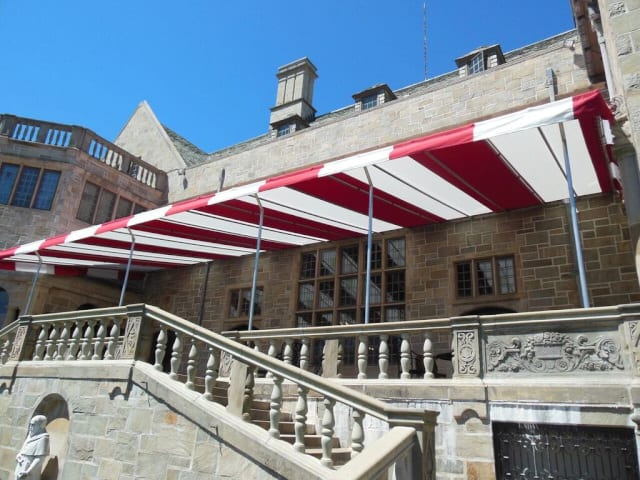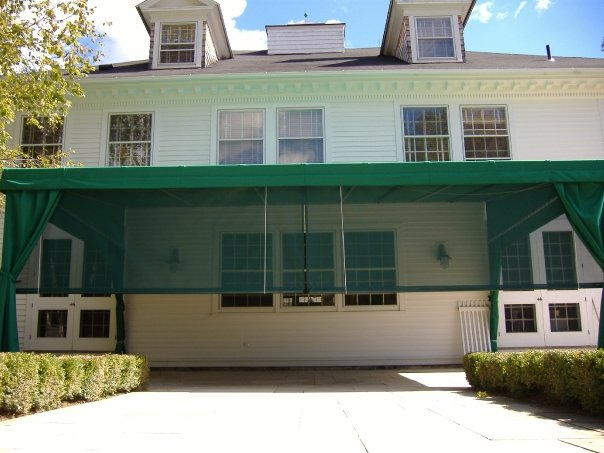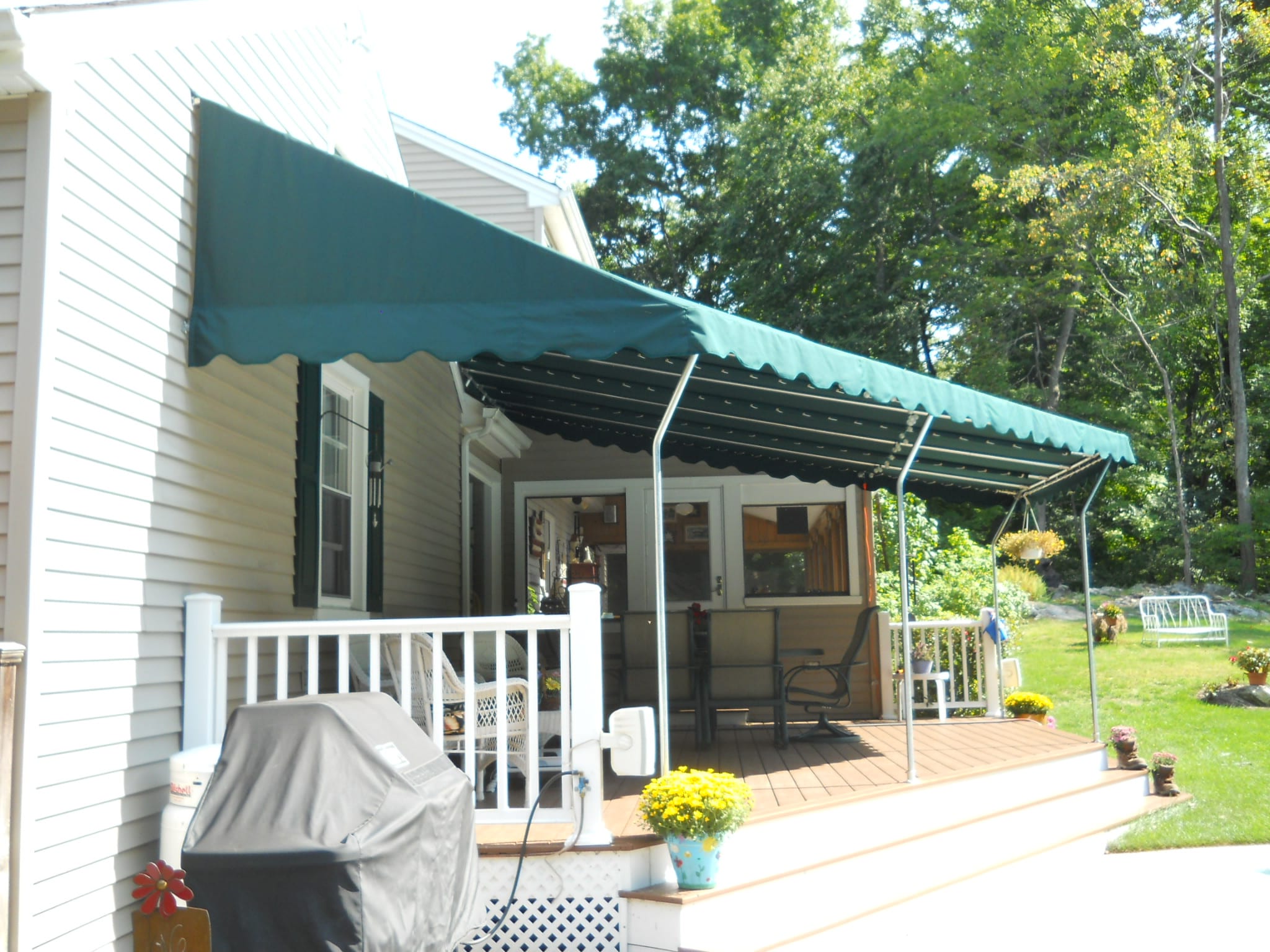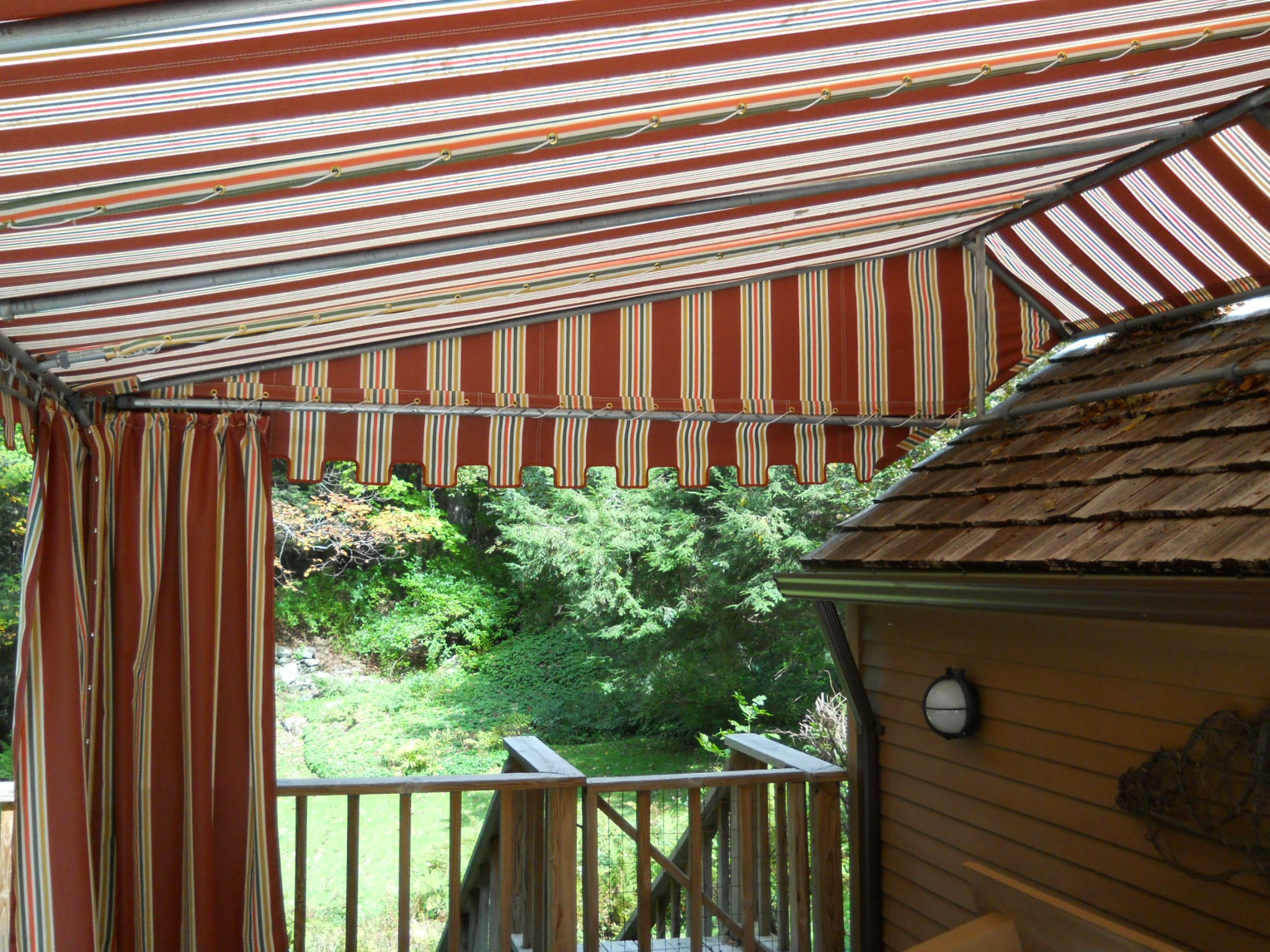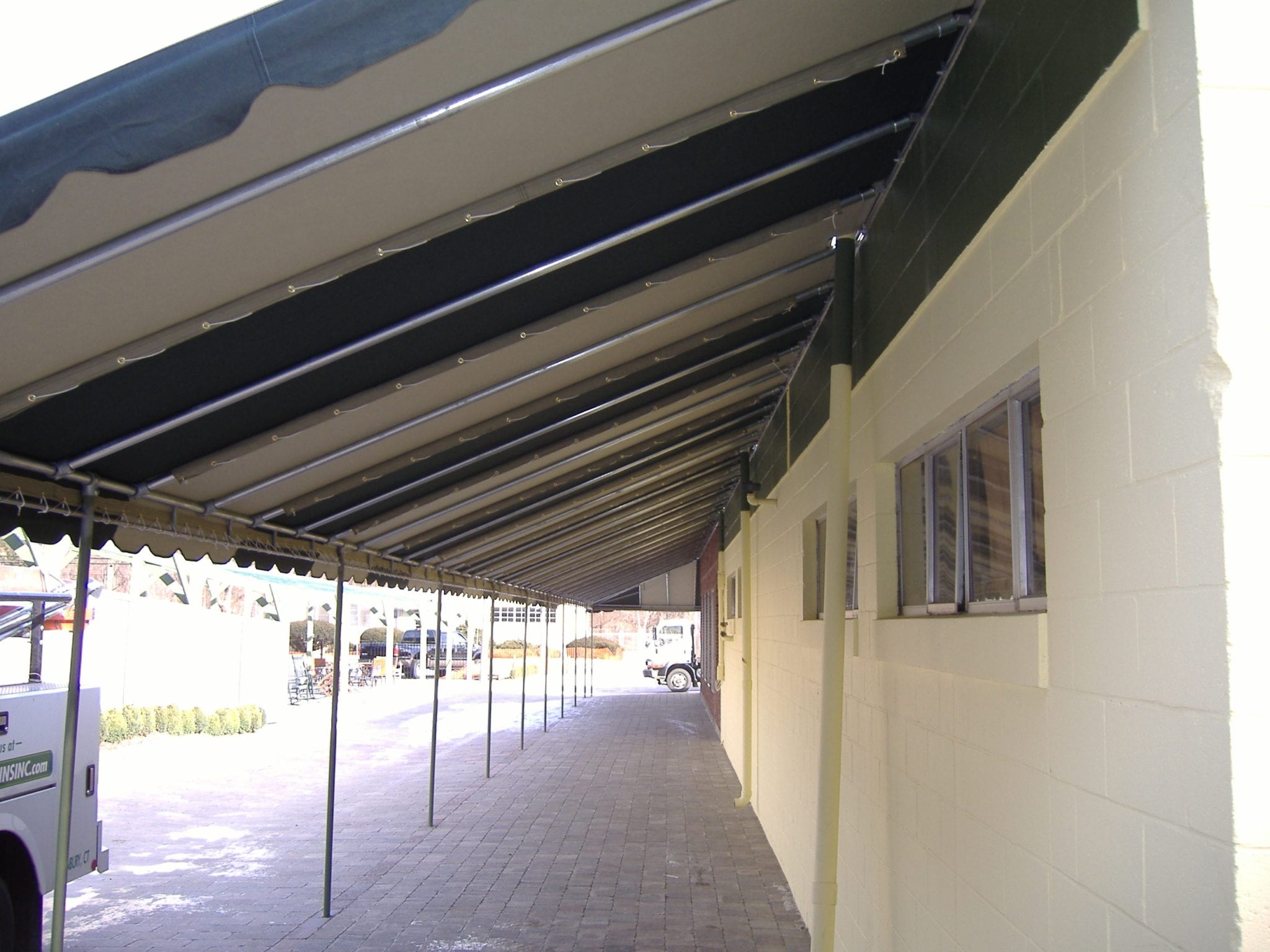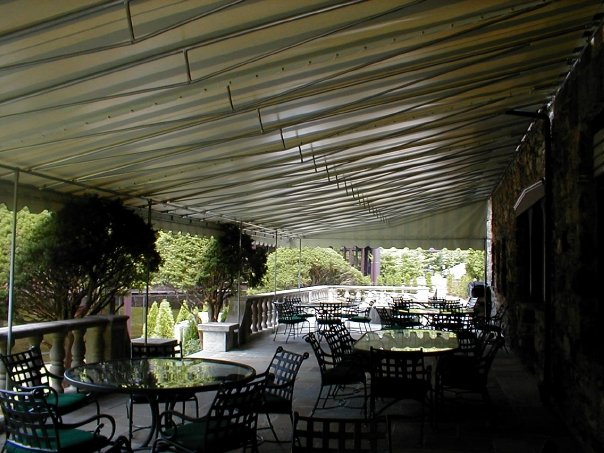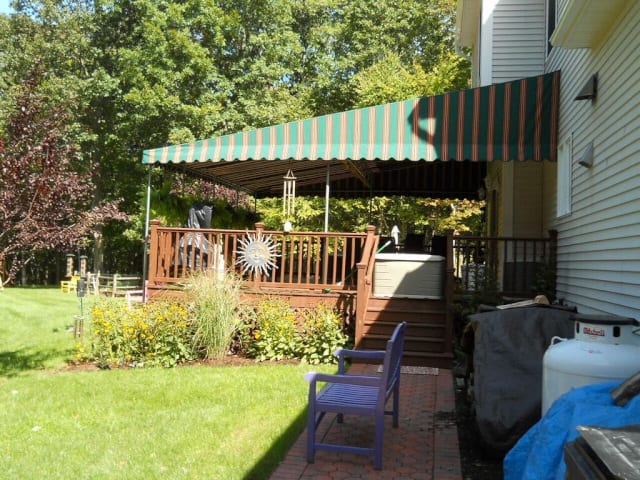 Shade Structures
We continue to provide our Brewster customers with quality products, and the Eclipse Sunroof Plus goes to the top of our recommendation list. This premier structure can help protect your residential or commercial property from wind, rain, and harsh rain.
Eclipse Sunroof Plus
This retractable motorized shading system provides owners with more coverage and protection from Spring to Fall. It can withstand winds up to 23 mph, or a rating of 5 on the Beaufort scale. 
There are two options for the Eclipse Sunroof Plus:
Patio Style: Designed to attach to an existing structure.
Pergola Style: Engineered to be mounted on an existing structure.
Each of these styles is equipped with a wireless wall switch or a handled transmitter and when they aren't in use, they can be safely retracted there.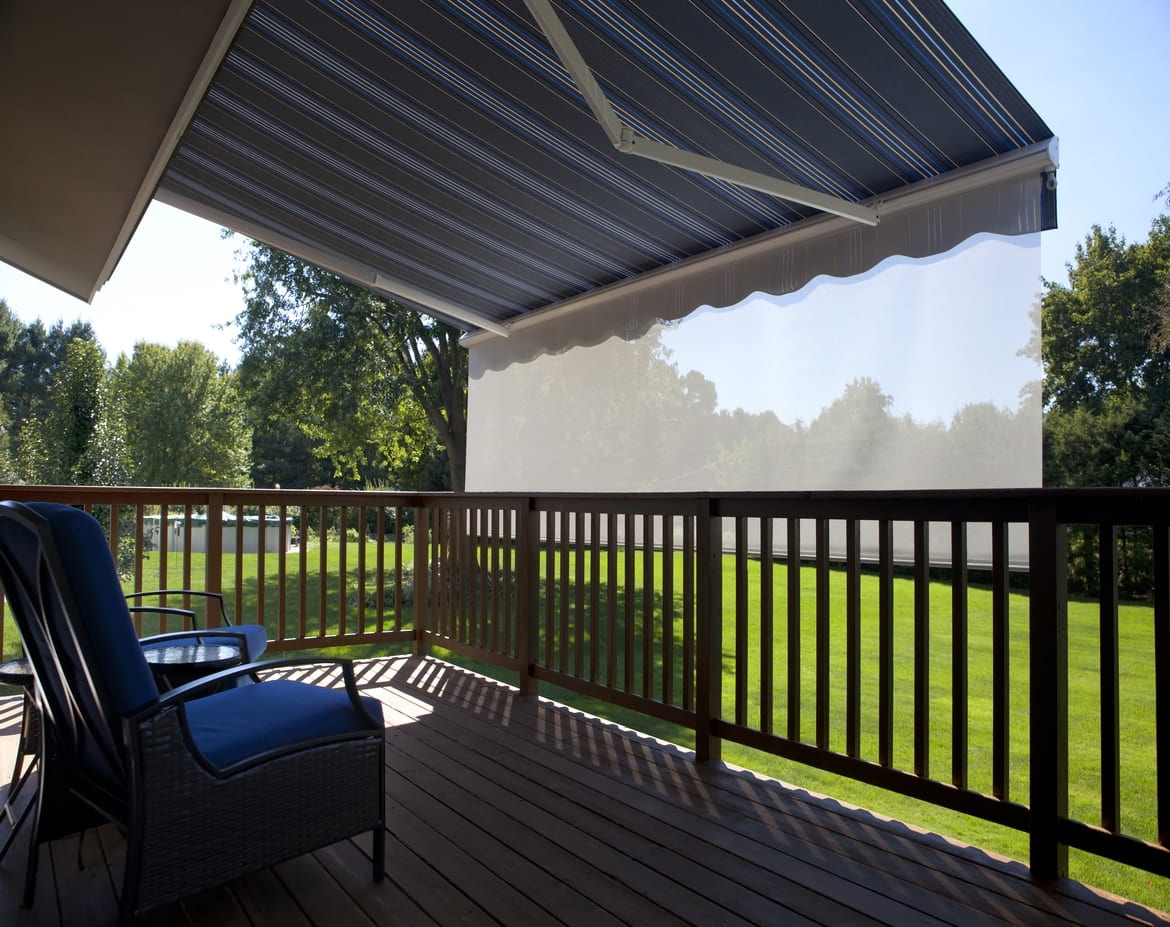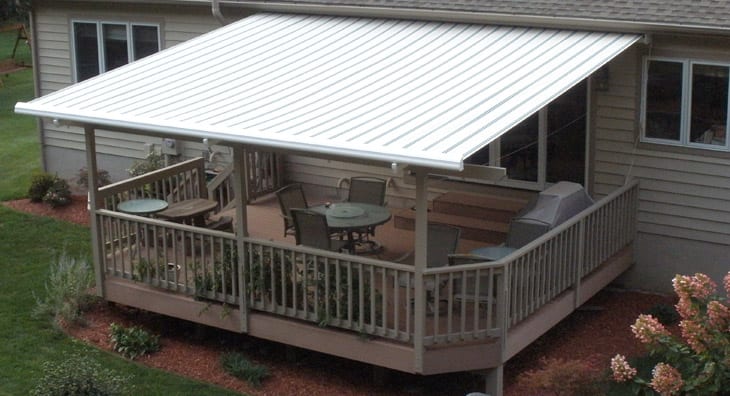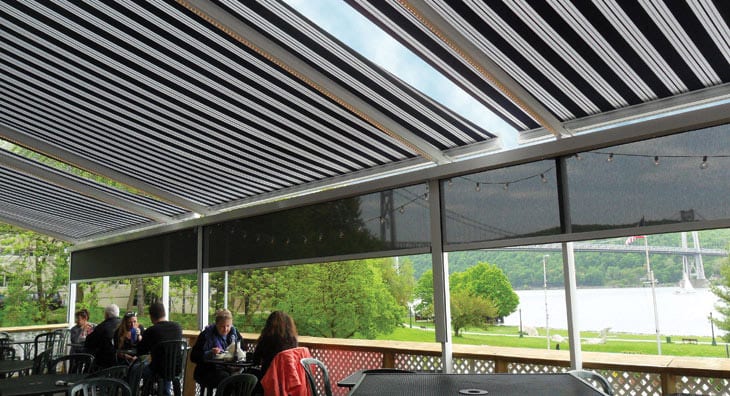 Retractable Deck and Patio Awnings
One of the most versatile options that we offer are our retractable awnings which can be motorized for further convenience and ease. The majority of our sales are for retractable awnings, letting our customers create the perfect oasis for their deck or patio.
In comparison to manual awning styles, the retractable option is much easier to maintain and use daily. Call us today to discuss if a retractable awning is best for your Brewster home or business!
Retractable awnings are:
        

Convenient

        

Easy to Use

        

Versatile

        

Provide great protection and shade
Get a Free Estimate!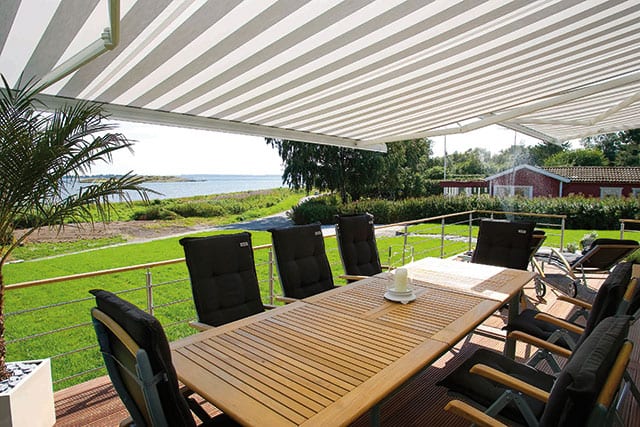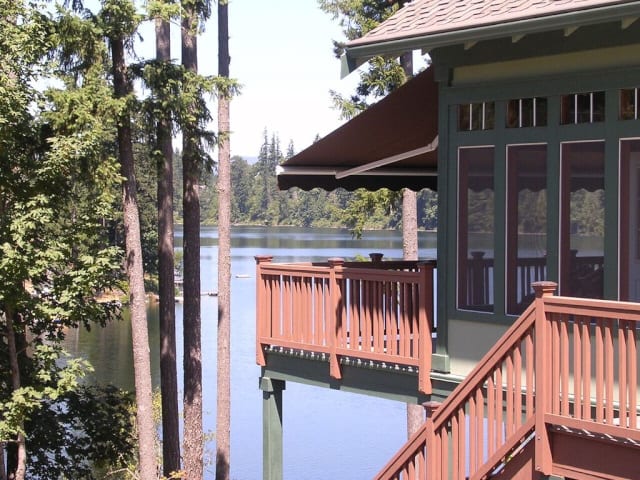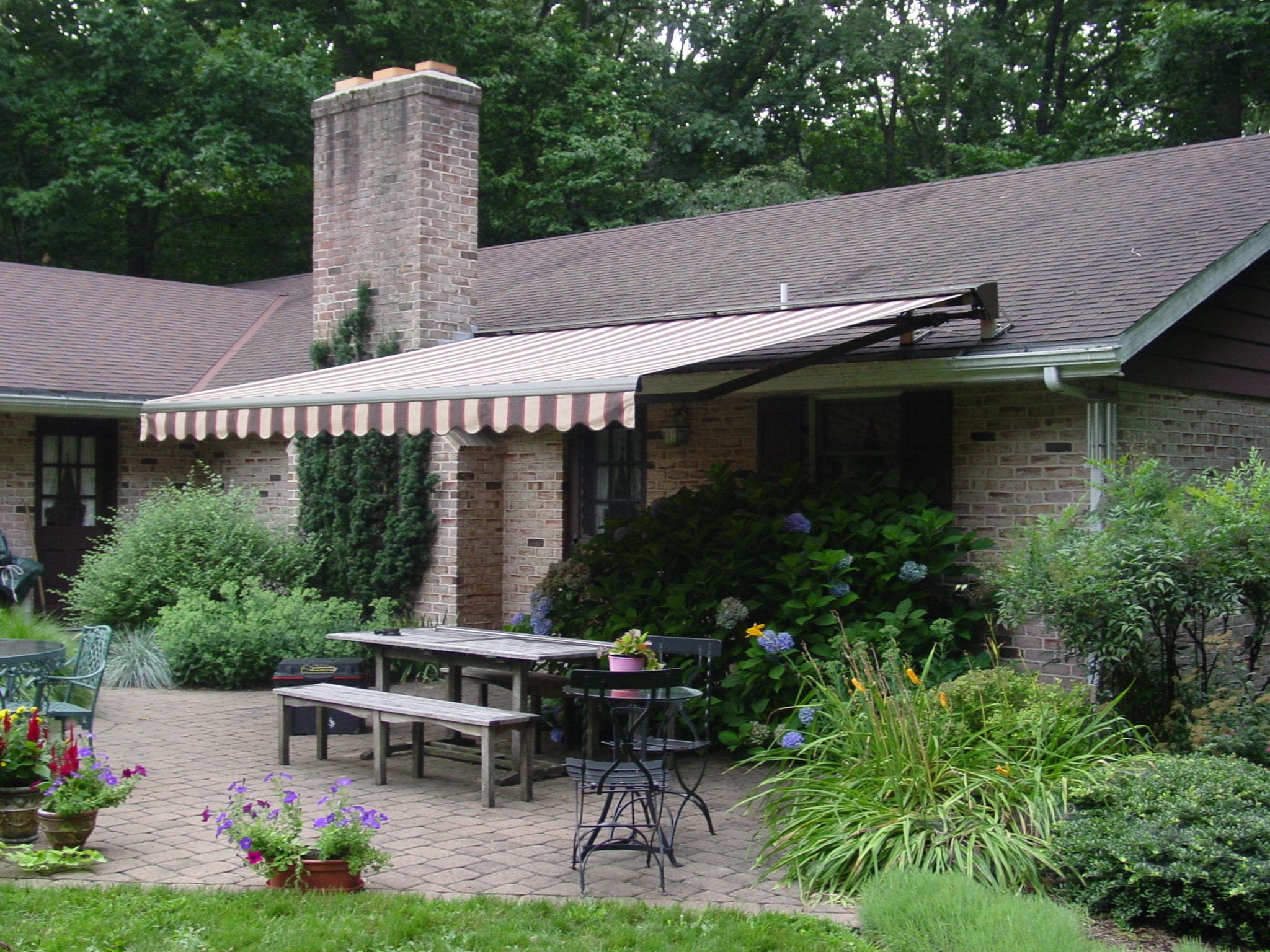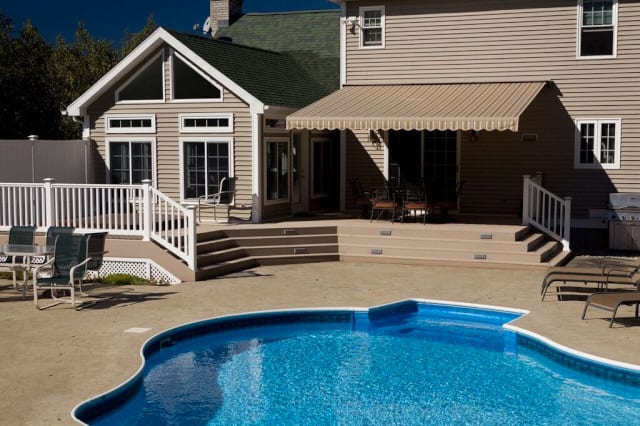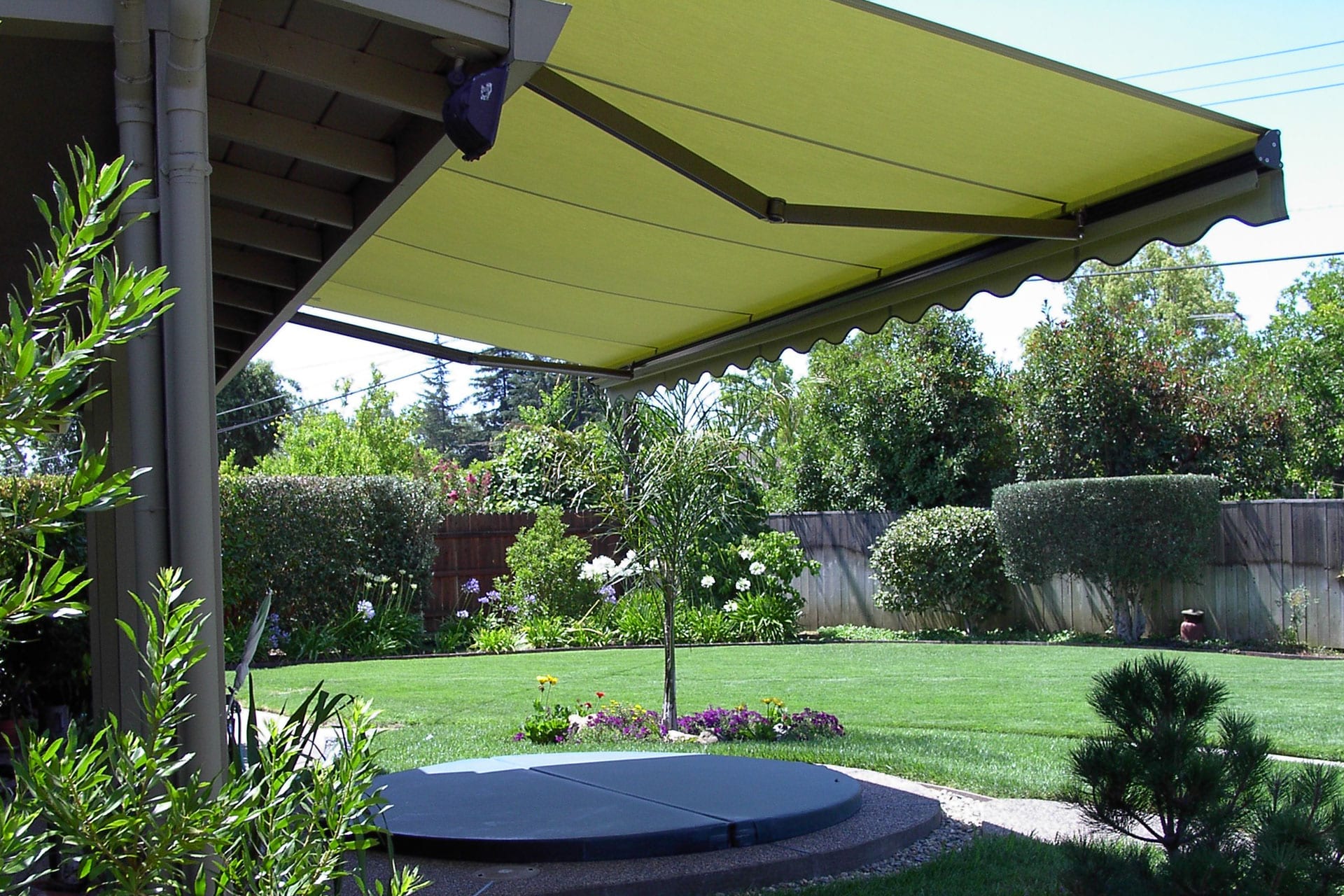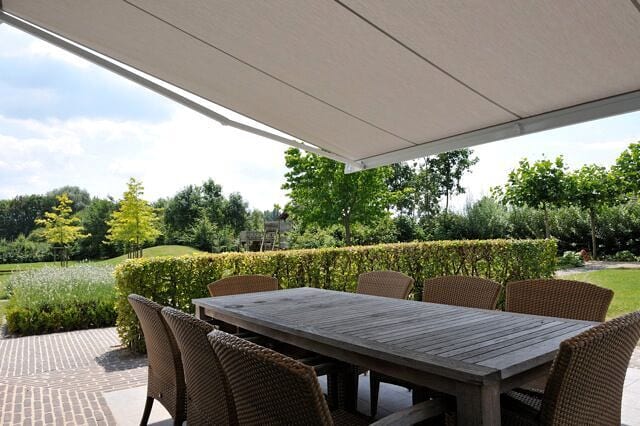 Canopy Installation and Repair in Brewster, CT
Whether your awning will be used for protection, aesthetic, or both, we have many options to fit whatever needs and look you are going for! They can handle the seasons changing and keep you safe from sun, wind, or rain. For owners in Brewster and surrounding towns, check out our most popular options.
Pergolas
Pergolas can be one of the most unique styles when it comes to shade. Here at Durkin's we can customize the design to fit your needs. Not only do they provide shade and an element of design to your area, but they can be used to support grape vines or other flowers, creating a beautiful oasis right in your Brewster backyard.
Shade Canopies
For optimal shade coverage, our shade canopies are the way to go. Whether you need to cover a playset in the backyard or create a cool space over your patio, we have an option on how that will fit into the system.
Garden Canopies
Enjoy all the hard work you put into planting and pruning with one of our garden canopies. They can help protect you from insects and sun rays, while you spend your summer afternoons out in the garden. 
Get a Free Estimate!
Louvered Roofs in Brewster, NY
As a leading outdoor roofing, we have the experience and knowledge it takes to properly install a Louvered roof on your residential or commercial property. They add a design element that no other structure can do and would be great addition to your business or home.
Living in the Brewster area lets you experience the benefits of Louvered roofs all year long. With angled rafters, you can enjoy sunlight and breezes to pass through, but it will repel rain during the colder months. Our experts are here to answer any questions you may have in regards to Louvered roofs!
Types of Louvered Roofs
Whether you have a residential or commercial property that is in need of a Louvered roof, we have the experience to install it with ease. They are so customizable and can include multiple add-ons. Here is a list of extras that we can install with your Louverad roof!
Ceiling Fans
Accent Lights
Custom Colors
Wood Wraps
Solar Shades
Pergola End Cuts
All of the roofs are made entirely out of aluminum which guarantees durability and high quality throughout their lifetime.
Using aluminum allows us to offer affordable prices while still maintaining a high level of quality. Its strength can handle add-ons or allow the structure to remain as a free-standing unit.
Combine versatility and durability and you have one of our top products, a Louvered roof, which can be the perfect addition to your Brewster home or business.
Get a Free Estimate!
Why Durkin for your Brewster Awning?
For nearly the last hundred years, our friendly and talented staff here at Durkin's have worked hard to turn our customers dreams into reality, and with each year our passion for the business grows more and more. We take pride in our work, and keep our Brewster customers satisfaction at the top of our list
.0065%. That minuscule percentage is the average number (out of 4,000 symptoms installed) of issues that Durkin has each year. Our professional grade awnings are not only reliable and affordable, but can be such a source of creative architecture for family, friends, and customers throughout the Brewster area to enjoy.
Get a Free Estimate!
Brewster Awnings