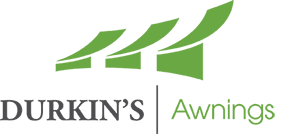 AWNINGS
Our first impression is almost always the signal to move forward or disregard. Image enhancement is a very critical issue to set the proper impression for all businesses. Attracting customers is a key component to produce sales for any company, especially within Danbury or any surrounding towns in Connecticut. Commercial awnings can be a very economical way to promote the image of your business. Adding color, a unique design, graphics and weather protection can help to bring those customers through your door.
Today's awnings can highlight the style, compliment the architecture or set the mood in your commercial setting. Enhance your image with an awning… graphically embellished, or distinctively unadorned. From shopping malls to restaurants, from theaters to hotels, Durkin's fabric awnings are seen in some of the most popular places in Danbury, Stamford, Ridgefield and throughout Connecticut and New York. And that's a fact!
Read more
Visibility Commercial awnings can show off your name by using it for signage. Brighten a drab store front; transform shopping centers and hotels with many design possibilities. Any logo or graphic can be added to give you round-the-clock visibility.
Function Colorful awnings combine practicality with decorative appeal. Hundreds of fabric patterns, colors and designs are available. Stylish awnings maximize street visibility, provide sun protection, and extend outdoor living space. They are an economical, flexible means to increase eye-appeal.
Efficiency Awnings can be a great resource for protection against the elements, allowing work and services to proceed without interruption. Water repellant fabrics can be used to keep your customers dry and comfortable. Fire-retardant fabrics are available when required. Side fabric enclosures are available to extend the use of a given space when temperatures can make it uncomfortable for your customers.
Design Renderings By taking a digital picture of most any application, we can apply virtually any shape, design, graphic or color to give you a firsthand idea what the awning would look like. This process totally eliminates the "guessing" of what the finished product would look like. Changes in any application, is a simple process, so we can zero in on the best look for your project.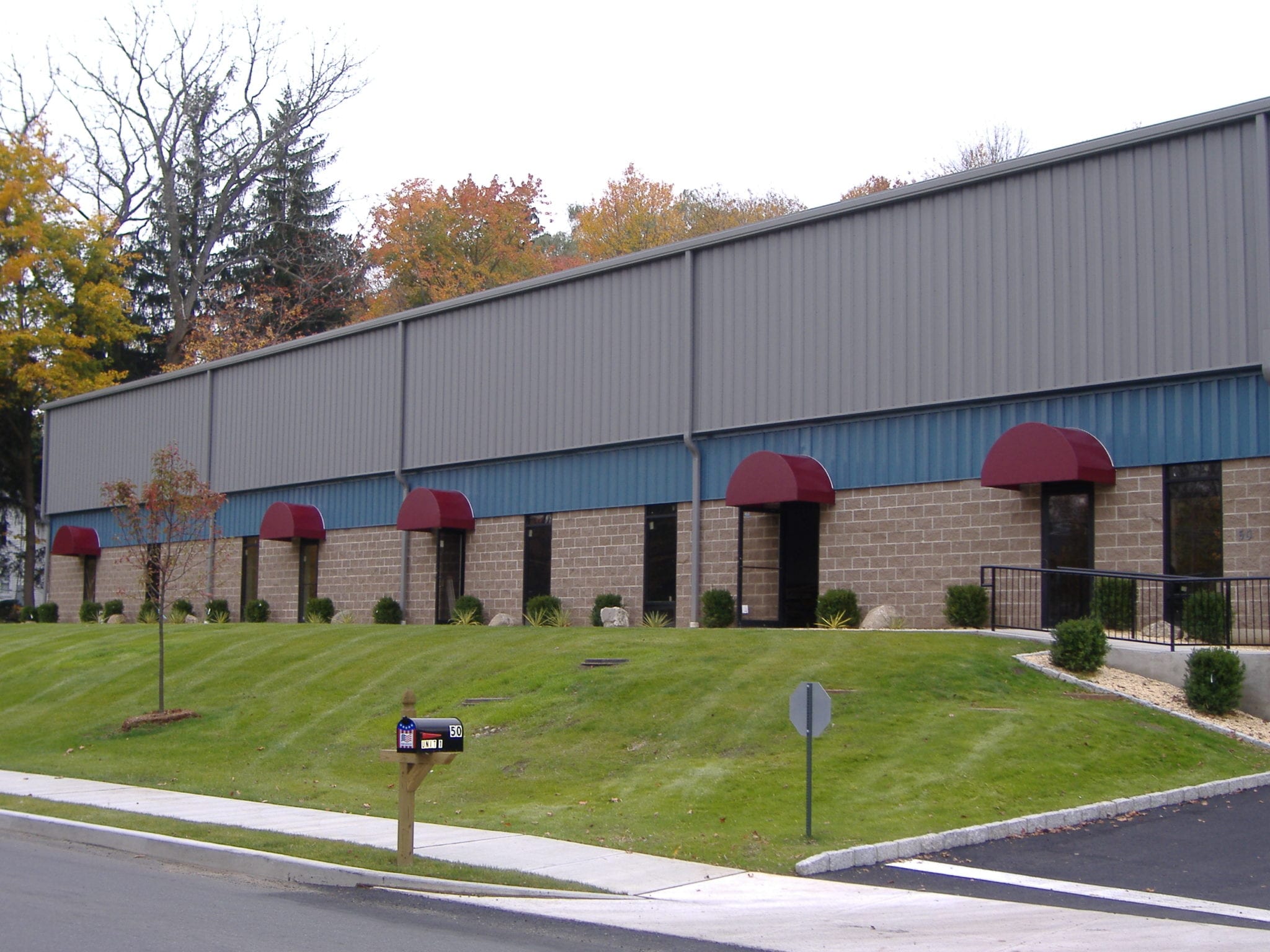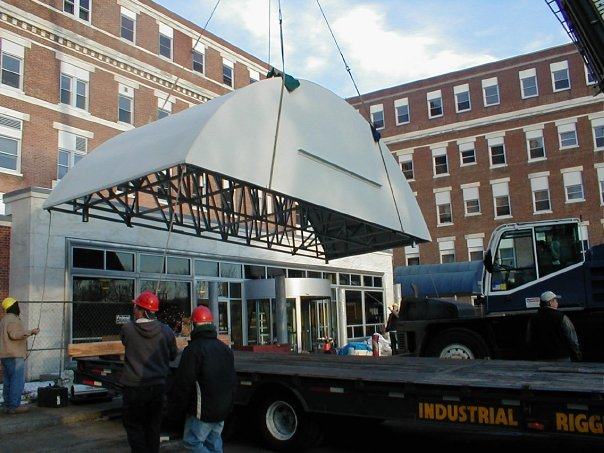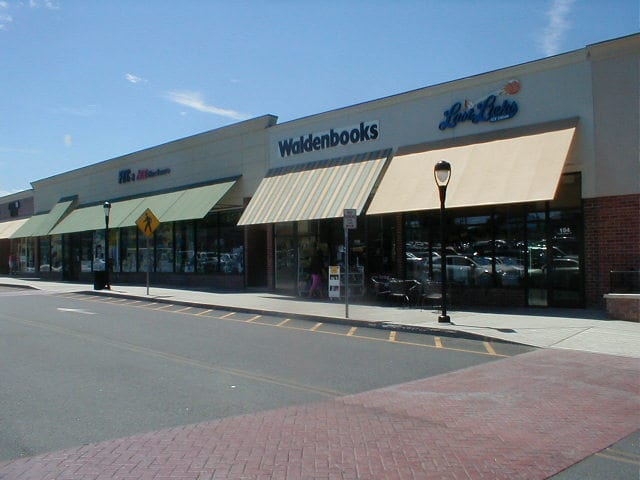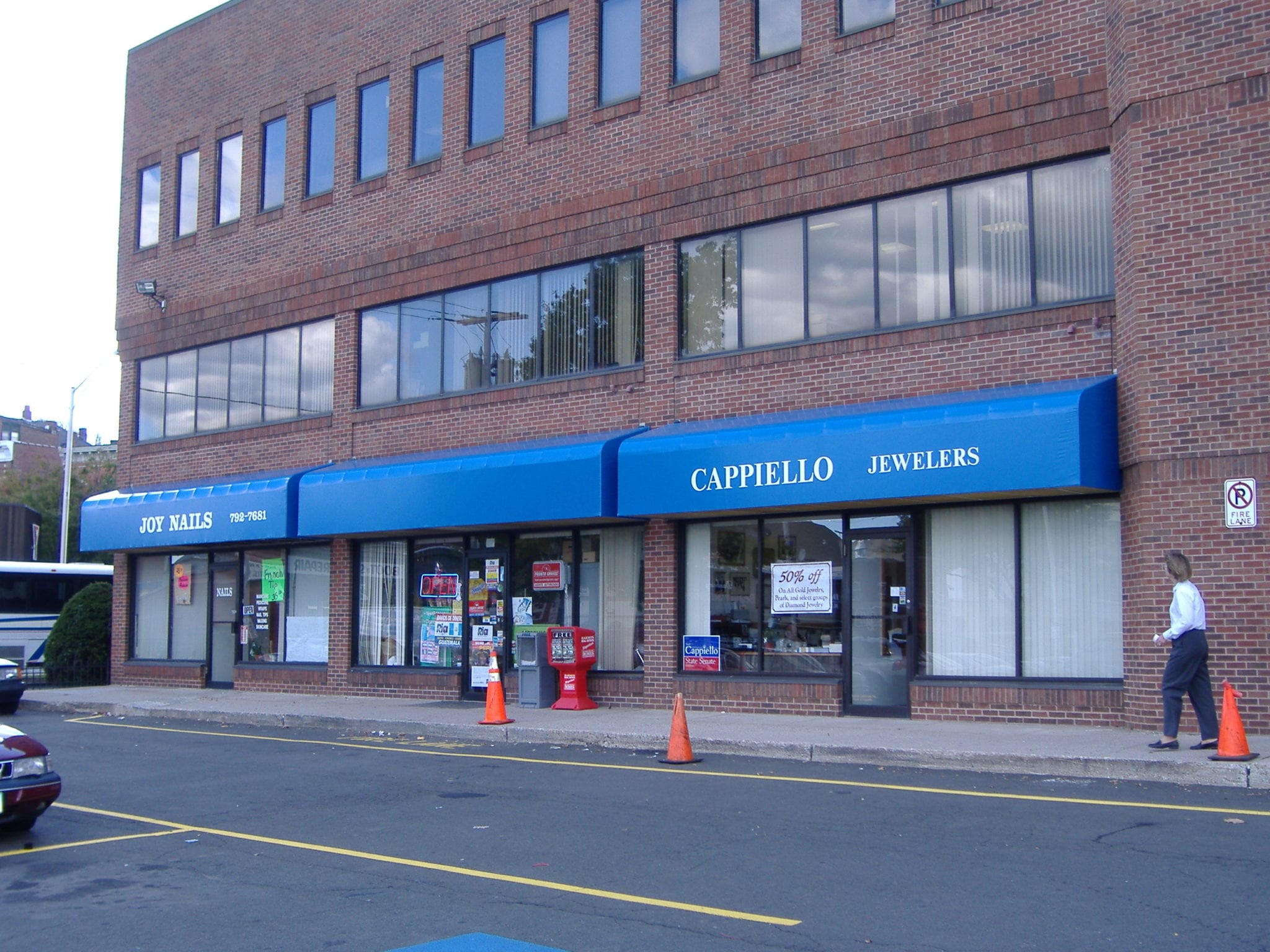 CANOPIES
An economical way to shade your deck or patio that also adds value, excitement and hours of enjoyment to your home.
Whether you're seeking shelter from the sun's intense rays, or simply jazzing up the backyard, you'll appreciate the many unique benefits of retractable canopies. These features are perfect year round for towns like Danbury, Stamford, Ridgefield or any surrounding areas in Connecticut or New York.
Get a Free Estimate!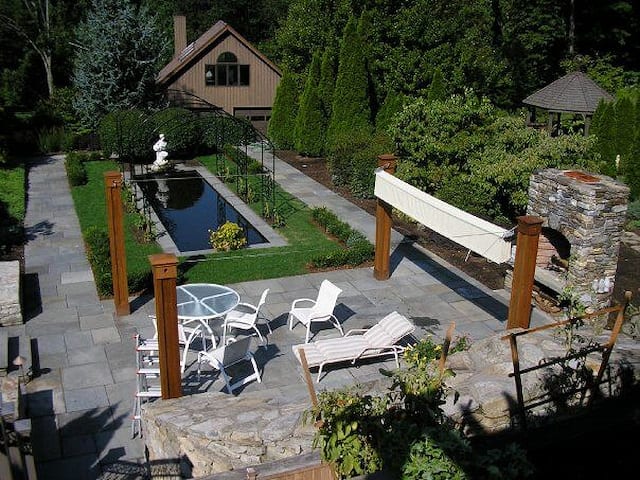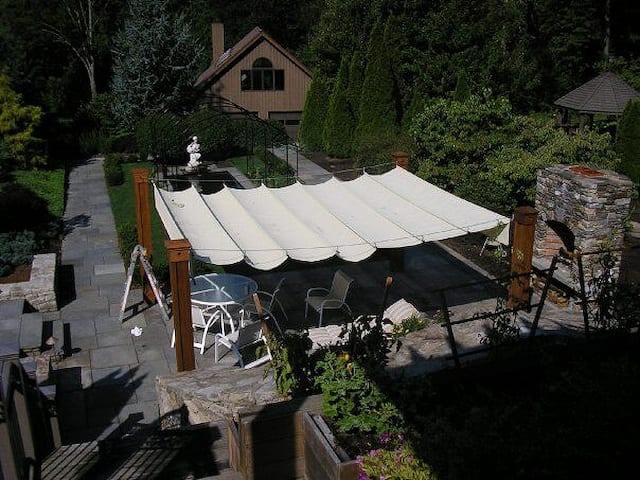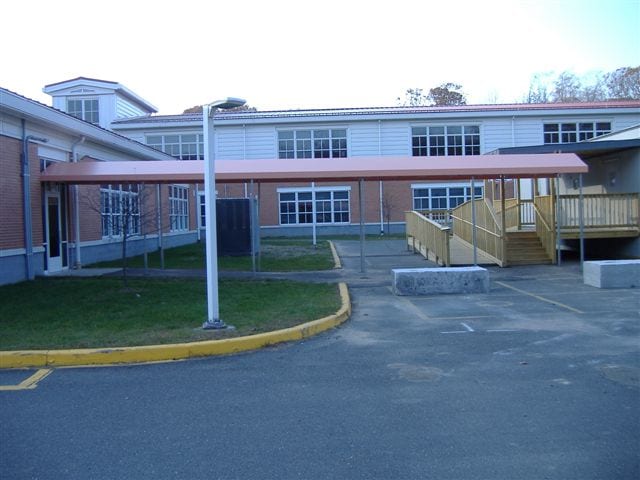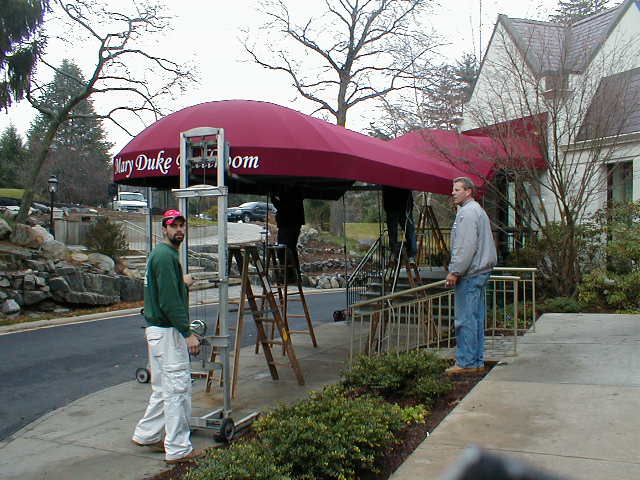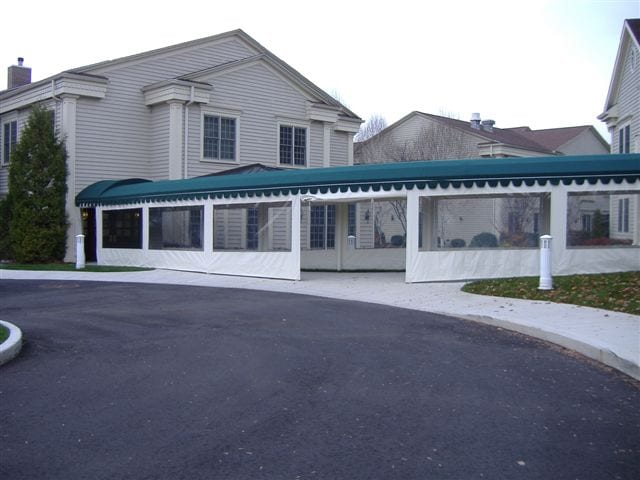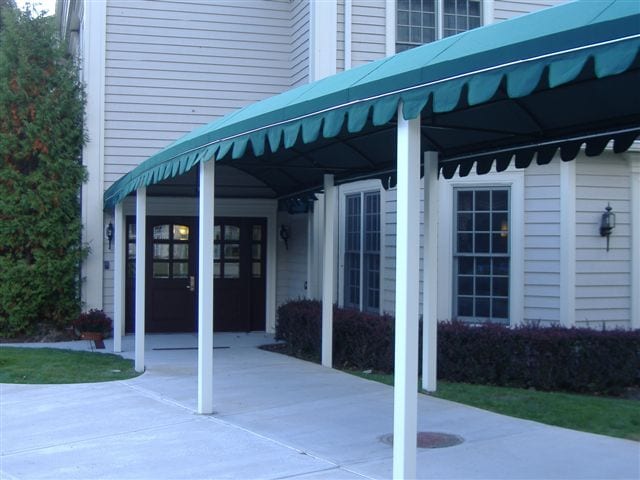 STATIONARY AWNINGS
From decks, patios and even freestanding poolside cabanas. A permanent shade system that is customized to fit most any configuration. They hold up to most any seasonal weather condition and help protect your furniture from the harsh sun and rain. These custom-built shade systems can transform your deck, patio or poolside area into a wonderful extension of your living space to be used in most any type of weather within Danbury county. Optional side curtains and screens can be added to give greater protection when needed.
Read more
These structures can be attached to a building (home) and should always be designed to pitch away from the building to keep water from disrupting your awning living space. Each application can be unique and our qualified sales staff can review the various options available to come up with the best solution for your outdoor space.
Free standing awnings can be used when protection is needed away from permanent structures. Swimming pool areas are often looking for some shade and this can be accomplished by evaluating how much protected space is needed and reviewing various designs. Exposure to the sun has become a very big issue today and stationary awnings can be a huge help protecting all of us from the suns damaging rays.
Drop screen's that mount to any side of any stationary awning can be a huge help in the latter part of the day to stop the lower sun penetration. These are an "on demand" product that can simply be rolled up when not required. Using today's mesh fabrics allows the sun rays to be filtered, yet you do not lose your visibility. Folks who work every day will appreciate this option at the end of the day.
Please Be Aware: Stationary awnings are a three season living extension and are not designed to receive any type of snow load what so ever. The fabric covers should be removed in the fall and re-installed in the spring. Durkin's offers full service (removal & install) for any awning we sell.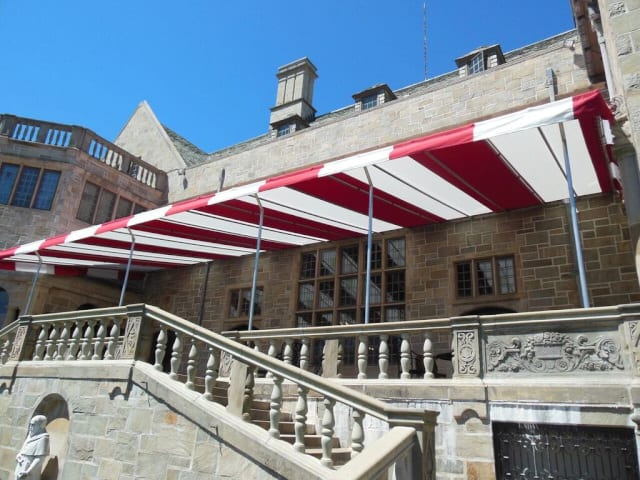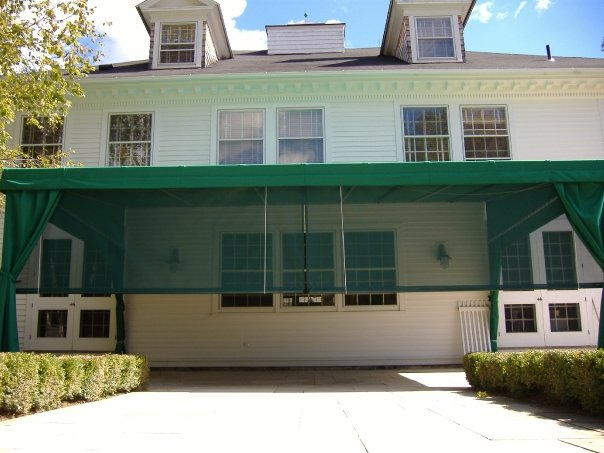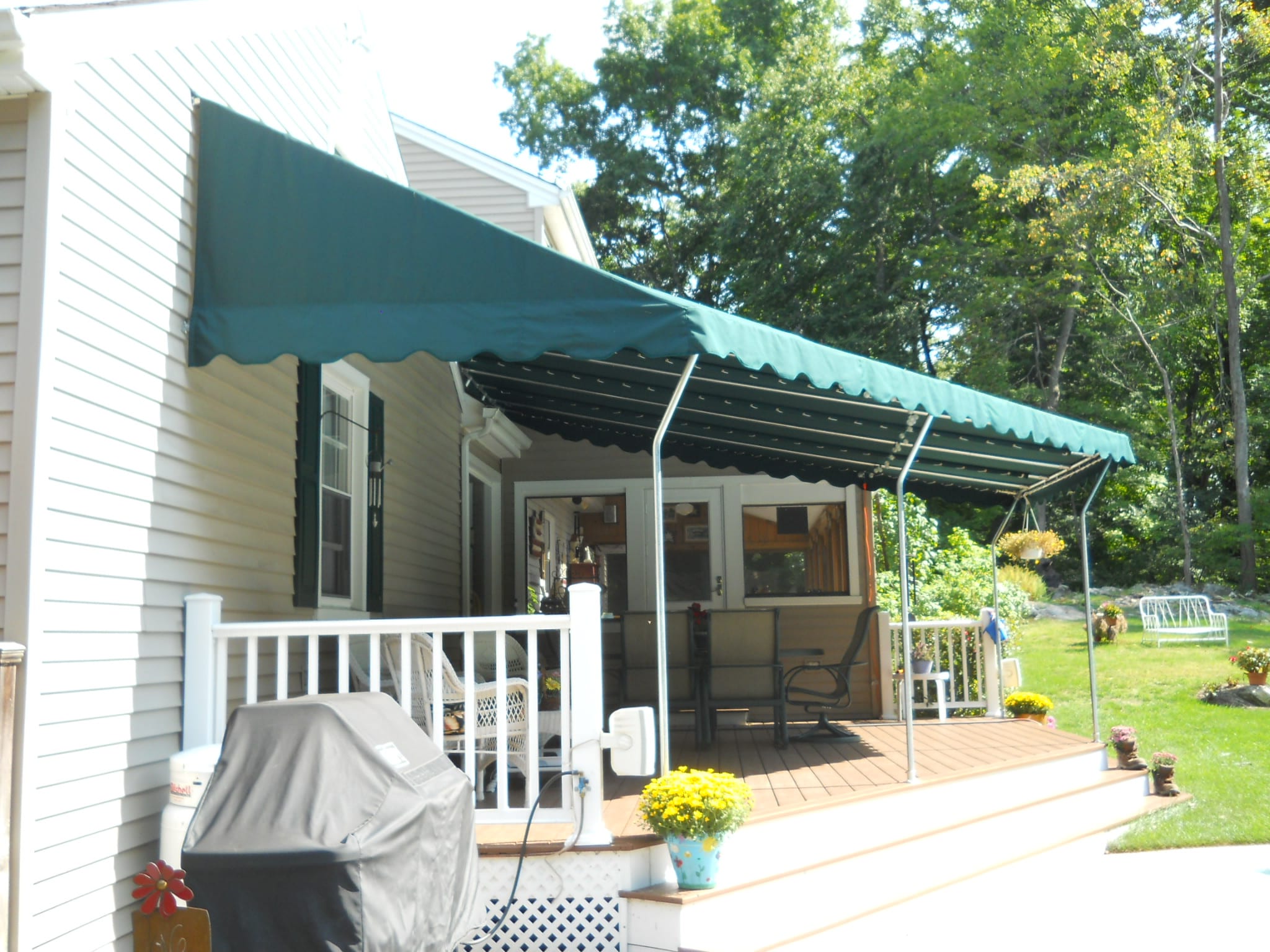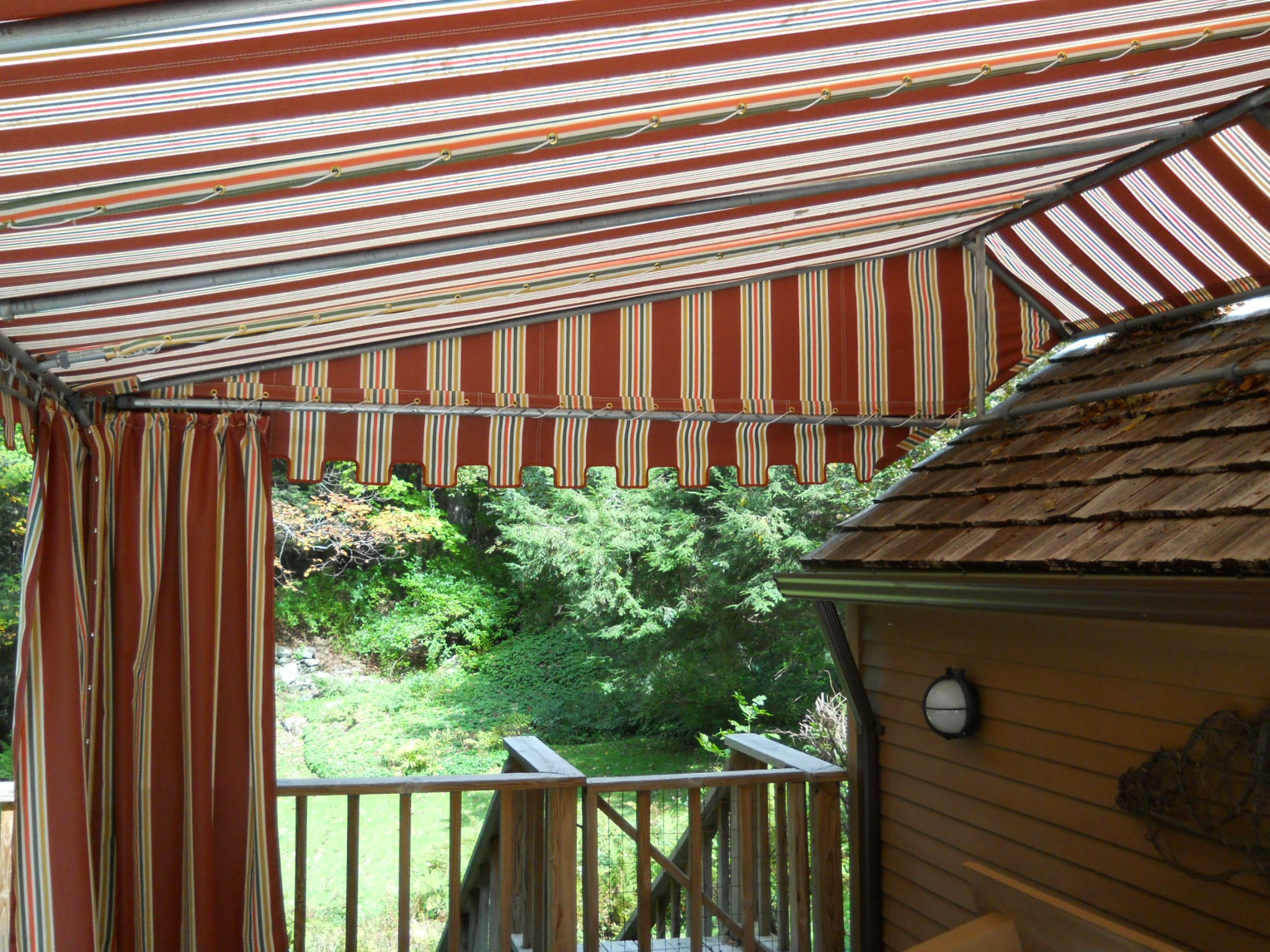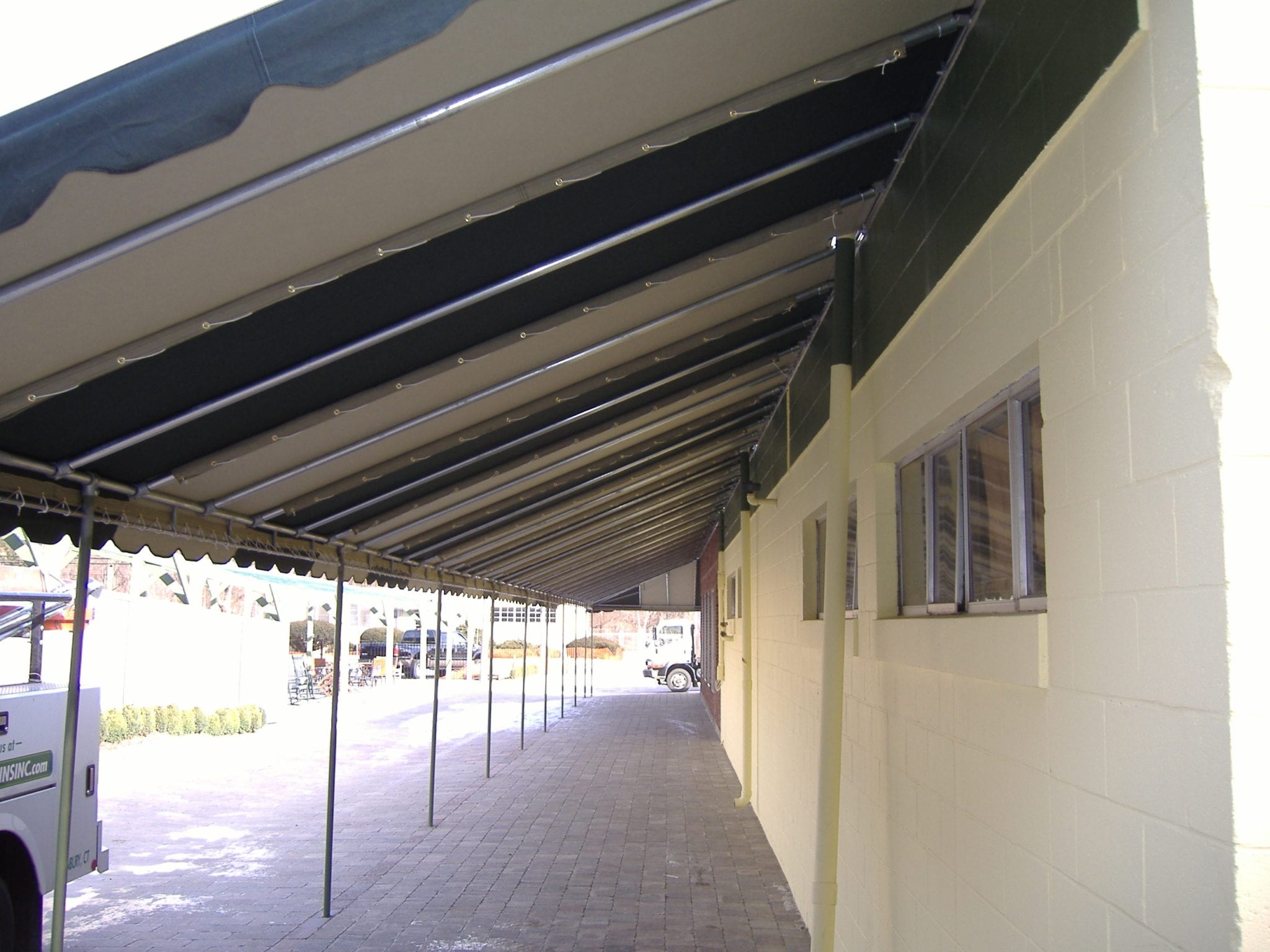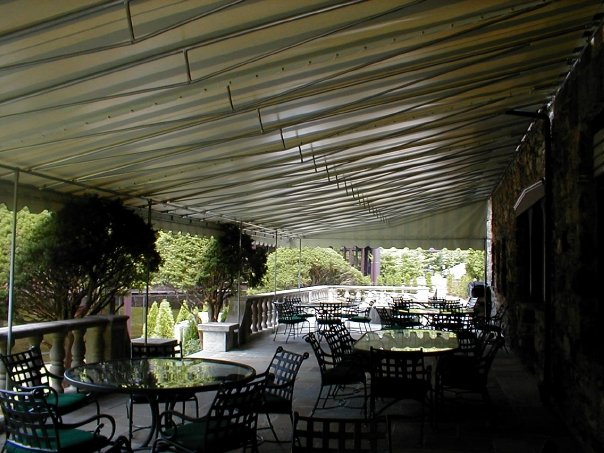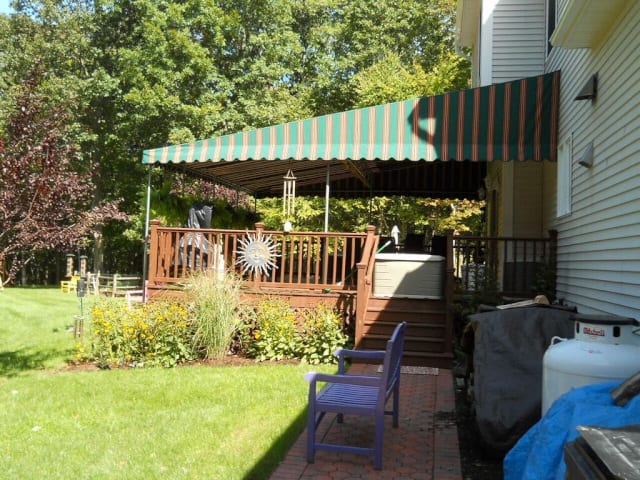 SHADE STRUCTURES
Eclipse Sunroof Plus Shade Structures
Are you looking for an awning that will provide your residential or commercial property in Danbury, Stamford, or Ridgefield with the protection from the sun and rain, even in windy conditions? The Eclipse Sunroof Plus is exactly what you need. It is a retractable motorized shading system, with a longer projection, which provides 3-season protection from the elements. This means that you can use this system in windy conditions up to 23 mph or up to a rating of 5 on the Beaufort scale.
The Eclipse Sunroof Plus is available in two varieties; patio style is designed to attach to an existing structure and pergola style is engineered to be mounted on an existing structure. Both versions of this innovative shading system can be operated with a wireless wall switch or a handheld transmitter. When it's not in use, it can be safely retracted.
Get a Free Estimate!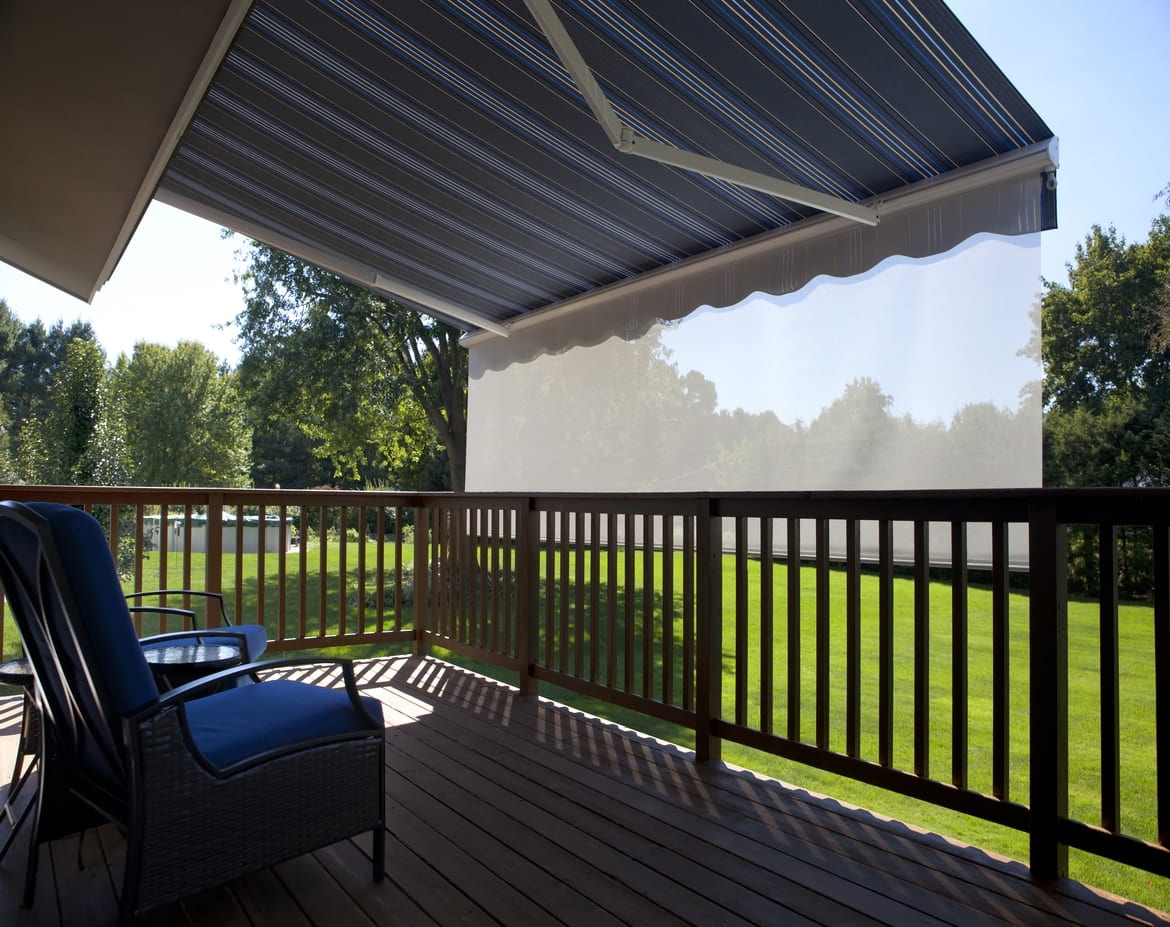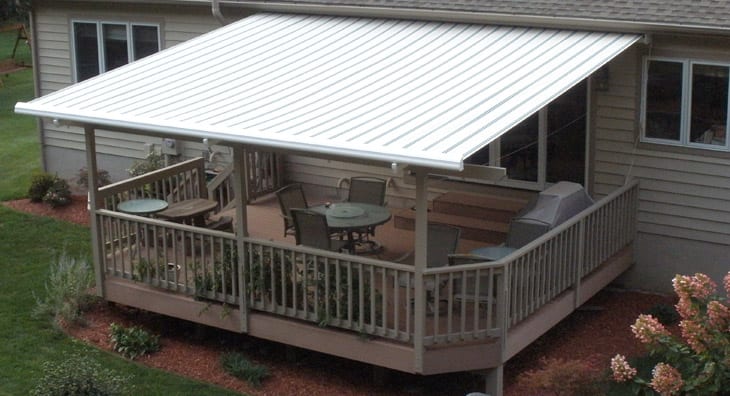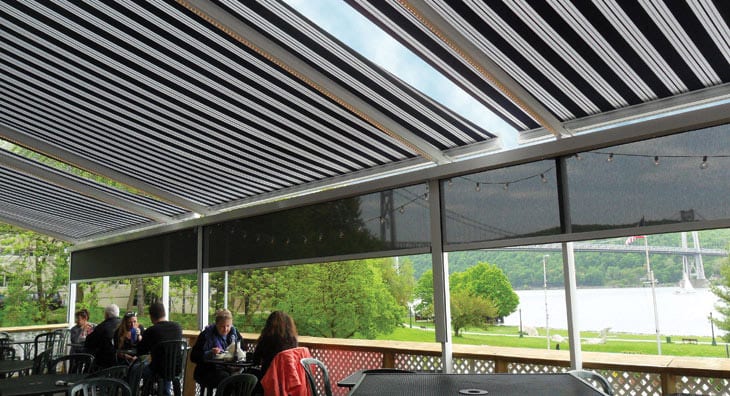 RETRACTABLE DECK & PATIO AWNINGS
Read more about our Eclipse line of products
Introduced from Europe 30 years ago, retractable lateral arm awnings have become a wonderful shading option for on demand protection at home. It affords protection when required and your present environment when not needed. No yearly service is needed. You simply retract the awning and you are stored for the off-season.
Read more
The awnings can be motorized for ease and simplicity. In fact, more than 95% of our sales are motorized and we have found that they are used much more than manual systems and they are taken better care of. Retractable awnings have their limitations! They have no supports at the leading edge, which can make them susceptible to winds. We sell on the pretense, that if it is reasonable for you to occupy the shaded space then it is fine for the awning to be in the extended position. If not being used, the awning should be retracted to avoid wind exposure. Motion sensors that detect wind can signal the awning to retract automatically. This helps to eliminate the chore paying attention to the wind conditions at all times. Mood- lighting is also an option that produces a unique look at night time. Please know that with more than 4000 systems in service sold by Durkin's, less than.0065%, have an issue annually. That is far better than automobiles or appliances.
We sell the "Eclipse" brand lateral arm retractable awning system. This brand has 3 distinct models that cover the budget minded, the highest quality minded, and the extra large projection coverage. There is no obligation for our sales staff to visit your location and give you our best ideas.
Constant Tension Retractable Systems
Other styles of retractable shade systems are available. Traversing shade products are now able to extend over atriums, pergolas and other exterior structures. These motorized constant tension systems can provide incredible relief from a sunny exposure. Restaurant patio areas can now be covered completely, protected from rain, wind and of course, the sun. These systems use a fire-retardant water-proof fabric for absolute protection. All this can operate at the press of a button.
Note: These systems are more secure due to track systems that run from front to back. All are fastened at the front edge to deter windy conditions. And all are self storing, so no yearly service is required.
Traversing mesh screen systems
By providing simple cable runs and using mesh fabric, shade can be provided in a sizable area. This can be manually retractable and extended on demand. Where shade and budget are critical, this may have the answer.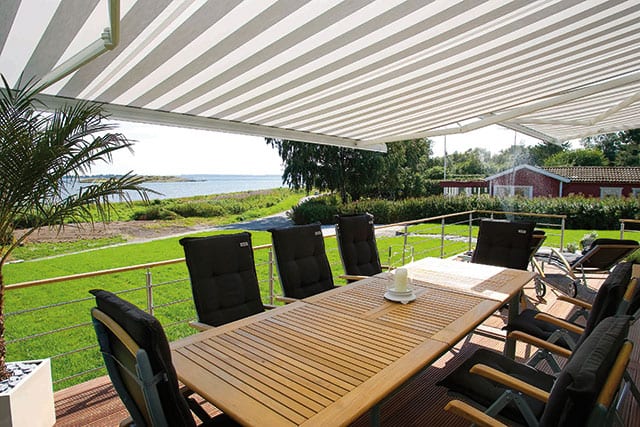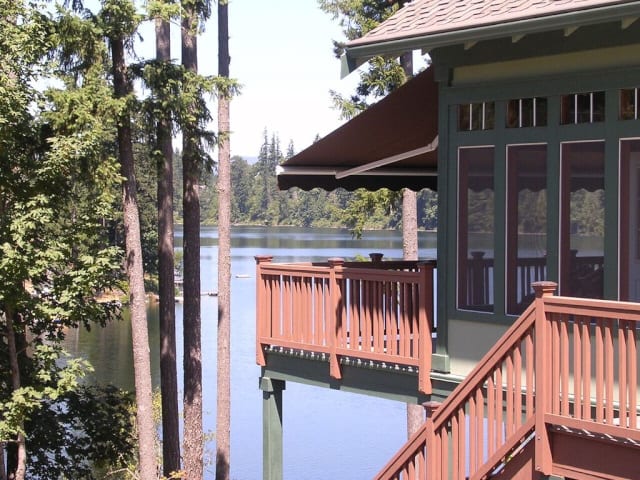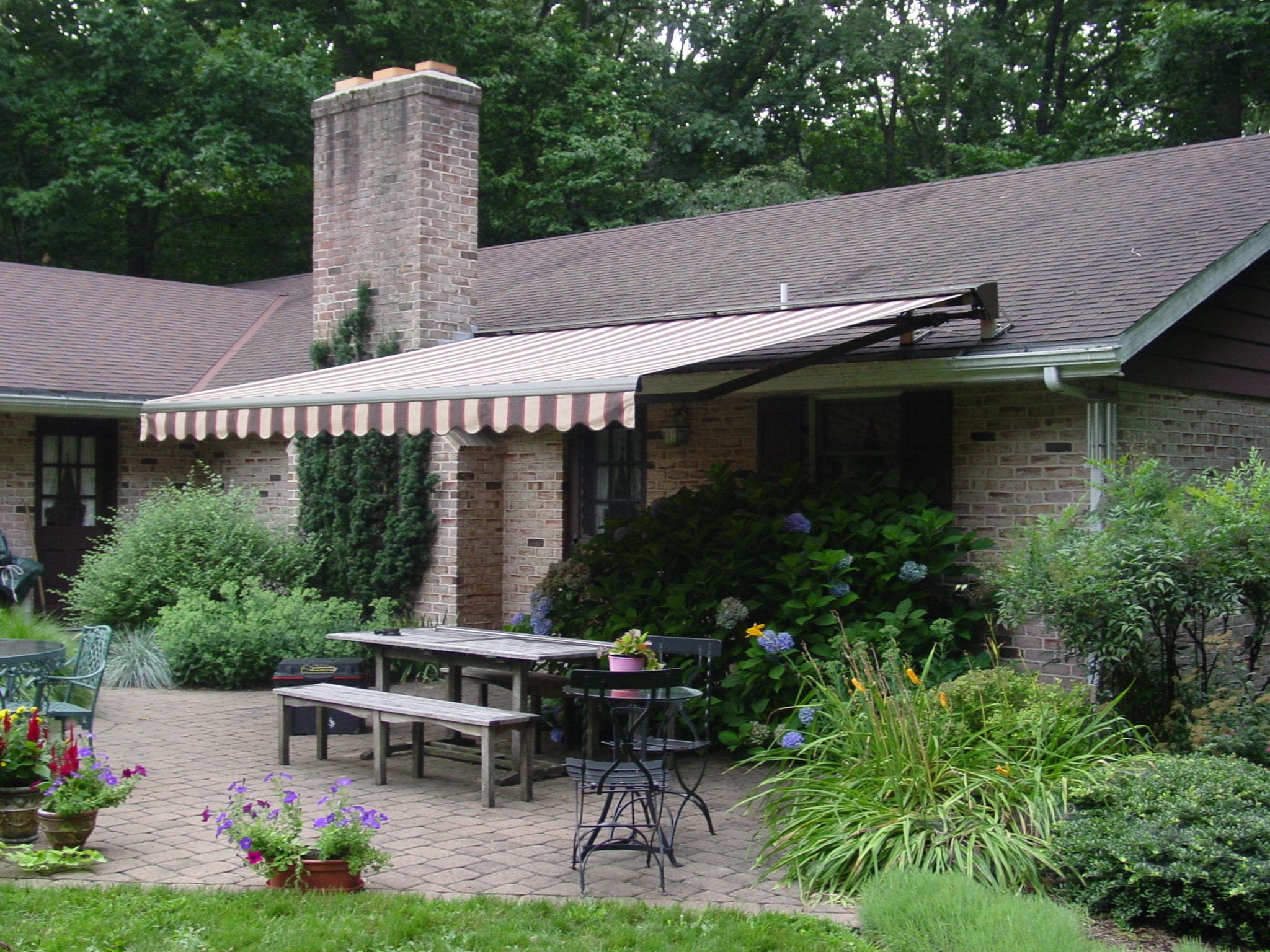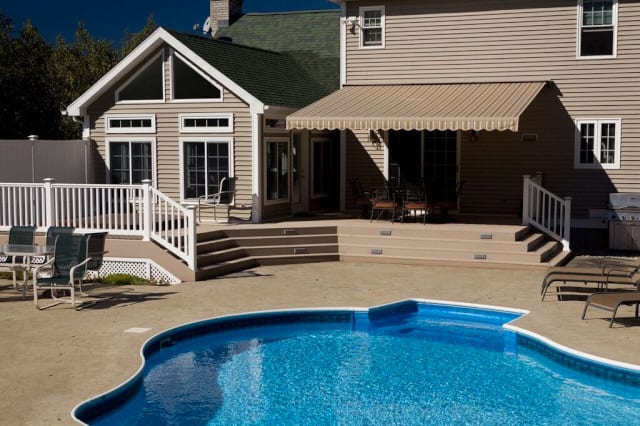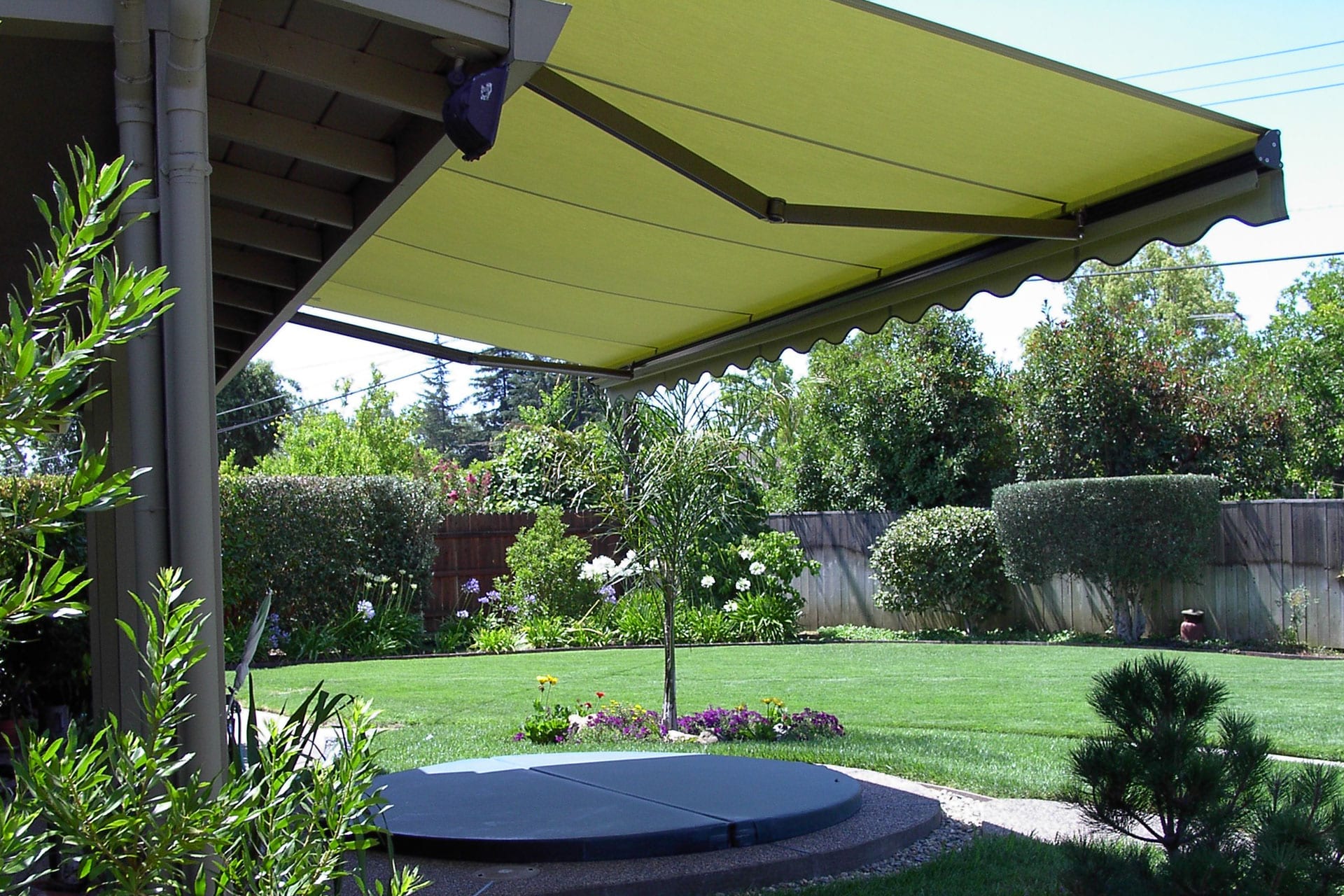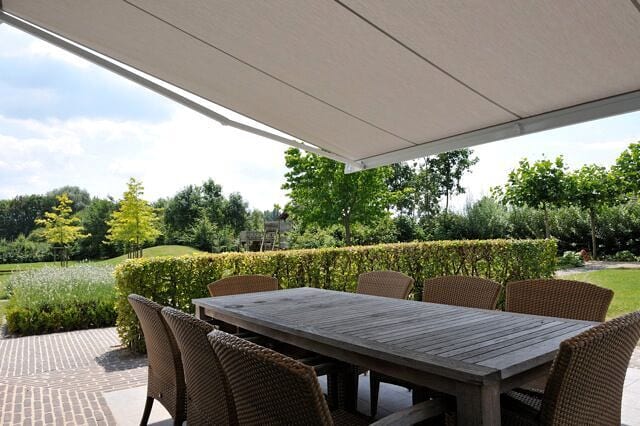 HAVE A QUESTION? WE'LL CALL YOU!
 Our Awnings Installation & Repair Service Area
Fairfield County
Bethel, Bridgeport, Brookfield, Danbury, Darien
Easton, Fairfield, Greenwich
Monroe, New Canaan, New Fairfield, Newtown
Norwalk, Redding, Ridgefield, Shelton, Sherman
Stamford, Stratford, Trumbull, Weston, Westport
Wilton
New Haven County
Ansonia, Beacon Falls, Bethany, Branford
Cheshire, Derby, East Haven, Guilford
Hamden, Madison, Meriden, Middlebury
Milford, Naugatuck, New Haven,
North Branford, North Haven, Orange, Oxford, Prospect,
Seymour, Southbury, Wallingford, Waterbury
West Haven, Wolcott, Woodbridge, Woodmont
Litchfield County
Bethlehem, Bridgewater, Kent, New Milford, Roxbury, Torrington, Woodbury
Putnam County
Brewster, Carmel, Carmel Hamlet, Cold Spring, Kent, Lake Carmel, Lake Peekskill, Mahopac, Patterson, Philipstown, Putnam Lake, Putnam Valley, Stormville
Westchester County
Ardsley, Bedford, Bedford Hills, Briarcliff Manor
Bronxville, Buchanan, Cortland
Dobbs Ferry, Eastchester, Elmsford
Greenburgh, Harrison, Hastings-on-Hudson
Irvington, Katonah, Larchmont, Lewisboro
Mamaroneck, Mount Kisco, Mount Pleasant
Mount Vernon, New Castle, New Rochelle
North Castle, Ossining, Peekskill
Pelham, Pleasantville, Port Chester
Pound Ridge, Rye, Rye Brook,
Scarsdale, Sleepy Hollow, Somers
Tarrytown, Tuckahoe, Westchester,
White Plains, Yonkers, Yorktown
Awnings