Fairfield, CT Awnings
Awnings, Canopies, Pergolas & Louvered Roofs
Durkin's has been providing top of the line service for over a hundred years. We proudly serve all people in the Fairfield, CT area with high quality awnings, canopies, and various shade structures. Our services include free estimations, installations, repairs, maintenance, and more.
Our extensive selection of awnings allows for all our customers to find the perfect fit for either your residential or commercial property in Fairfield. Our structures are custom-built to fit your specific needs. Awnings are a wonderful addition to any property, protecting it from harmful weather and elements while also enhancing the appearance. If you are looking for a shade structure, you have found the right place.
At Durkin's we offer:
Get a Free Estimate!
Fairfield Awning Installation and Repair
Awning Installation
We begin every project with an accurate pricing estimate before starting any form of installation. We do a consultation with our clients about the property to figure out exact needs and how we can help you best fulfill your goals. Once the estimate and consultation are complete, we will set up a return date to begin the installation process.
We work with all of our clients directly, making sure they receive the shade structure they need. We help you identify the best awning for your Fairfield property, whether it is commercial or residential. Our goal, as always, is to help you have the best experience with our services.
All of our awning installations are precise and exact, guaranteeing you a structure that will stand strong and last long. If awnings do not receive proper installations, they can suffer from irreparable damages and result in some heavy costs for you. With Durkin's, we use accurate procedures to give you an effective and lasting installation. We additionally offer seasonal awnings that can be both uninstalled and re-installed with long-term maintenance.
AWNING REPAIR & SERVICE
Installation is only part of our game. We also offer our Fairfield clients high quality care and maintenance for our installed awnings and shade structures. Potential damages should not be left unattended. Call us today to address the situation immediately. We repair residential and commercial awnings alike, complete with a free estimate and evaluation of harm and what the total repair cost may be.
We strive to serve you quickly and effectively to help you get back to enjoying your awning. We will always get it operating in top shape again. We also offer our Fairfield customers cleanings for your awnings for your seasonal needs.
Commercial & Residential Awnings
If you are looking to enhance your Fairfield property, then let us help you find the right awning for you. Awnings are an attractive appendage to both commercial and residential properties that simultaneously protect your property while also giving it a flare of style.
The aesthetic of your residential home is important to you, and awnings can help enhance the design you want. Our awnings are customizable to match your specific needs. We offer a variety of different canopies and structures for you to select from.
Awning Types in Fairfield
Stationary Awnings
Stationary awnings are an ideal source of constant shade and reliability. They are perfect for relaxation, work, or simple activities. Our stationary awnings are configurable to nearly any deck structure. This includes patios and even freestanding poolside cabanas!
All of our stationary awnings can be custom designed and built for your exact needs. They can take an ordinary deck and patio area and turn it into an exciting feature with style. They protect from several different weather types and elements. We offer side curtains and screens for your awning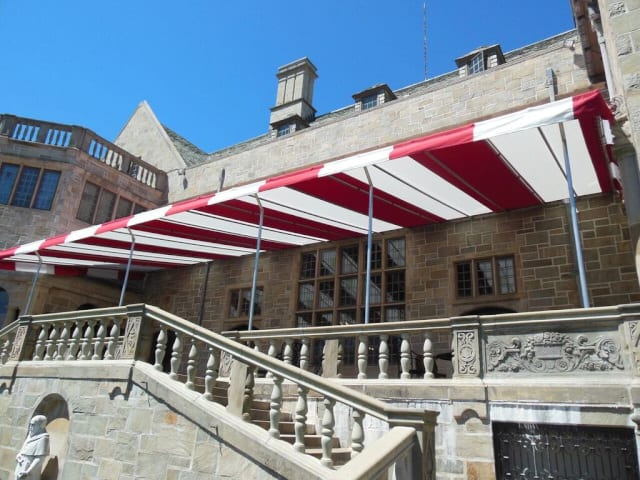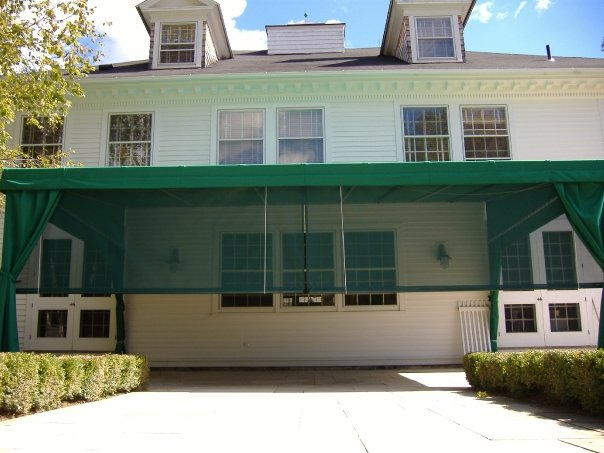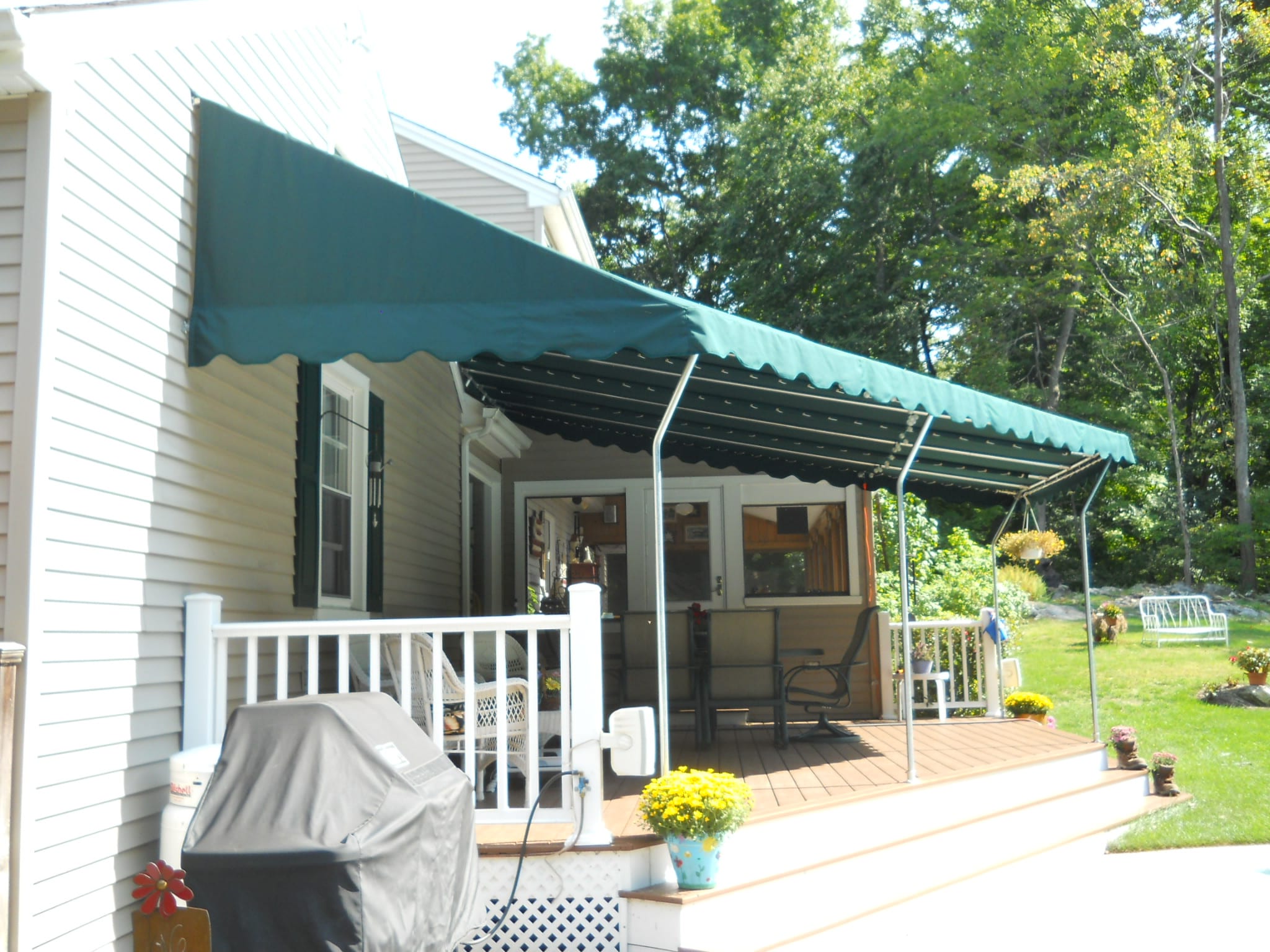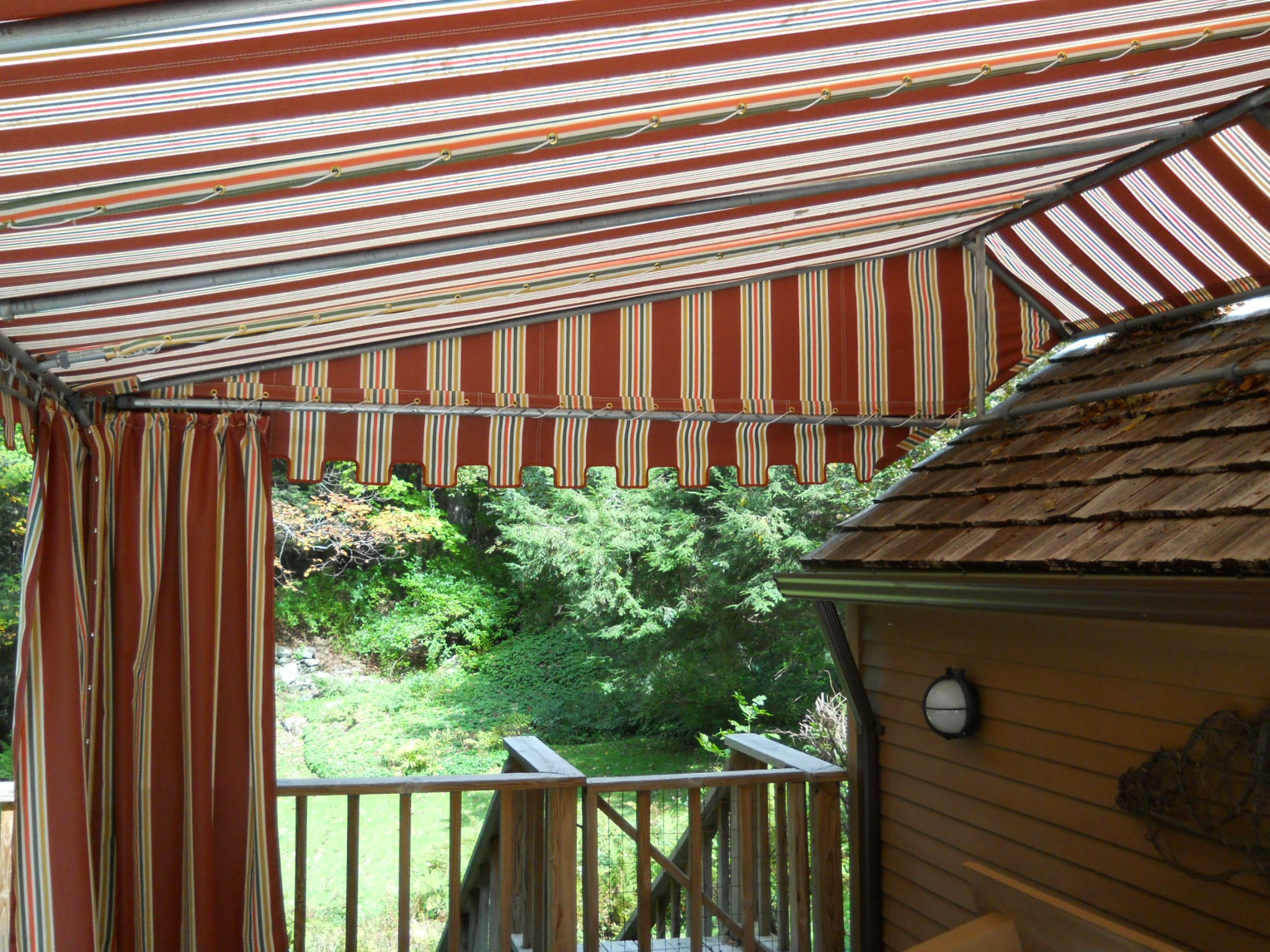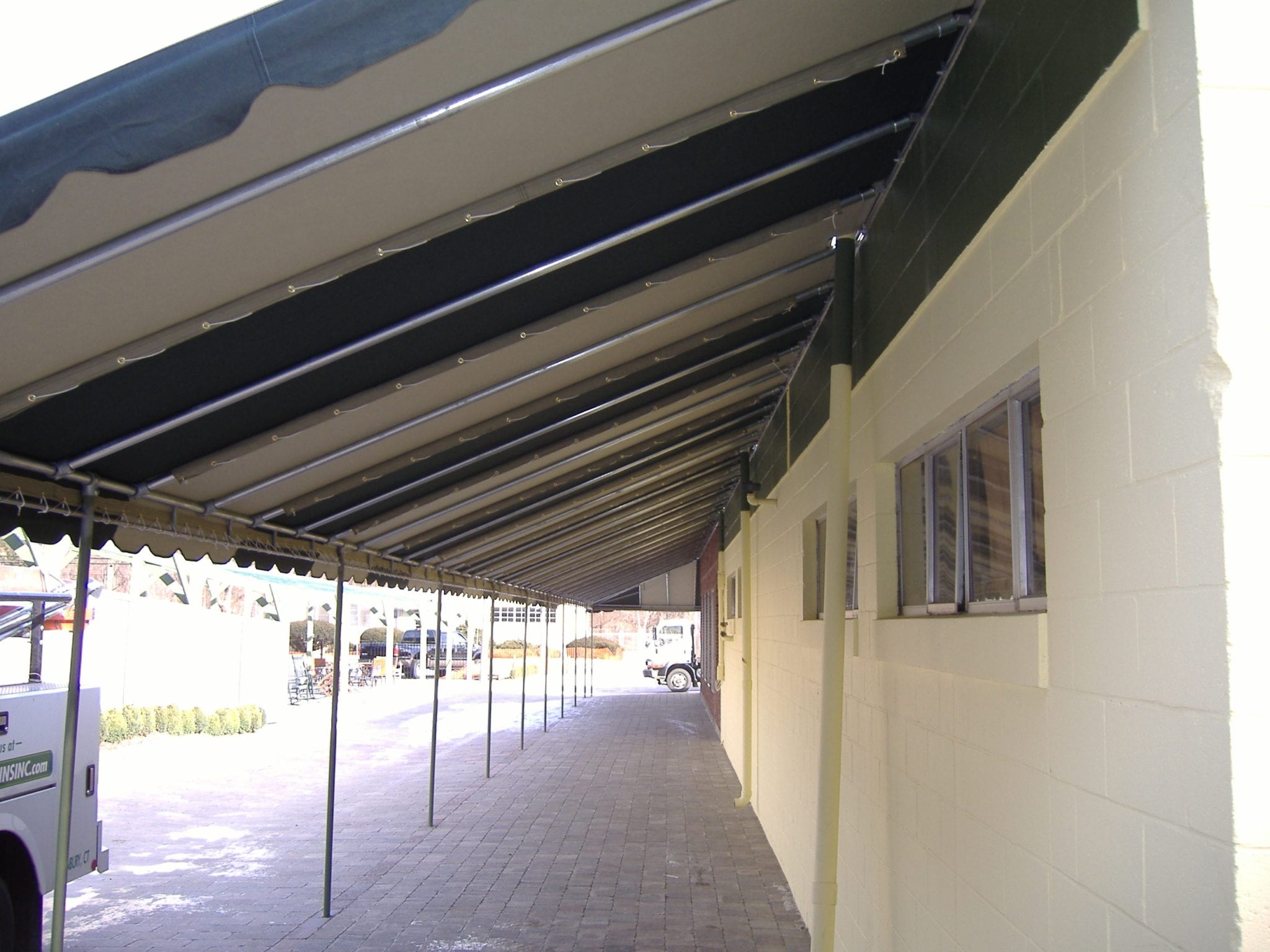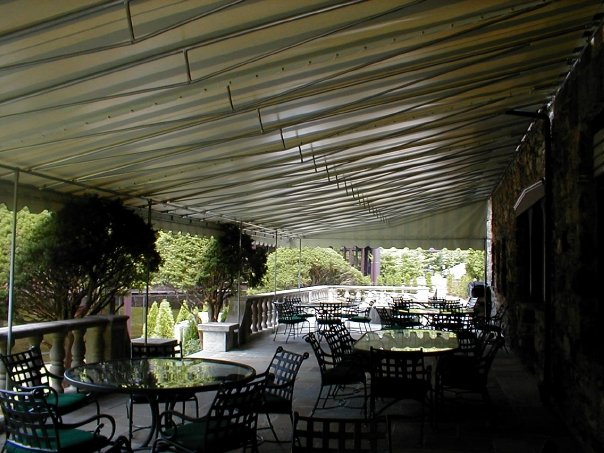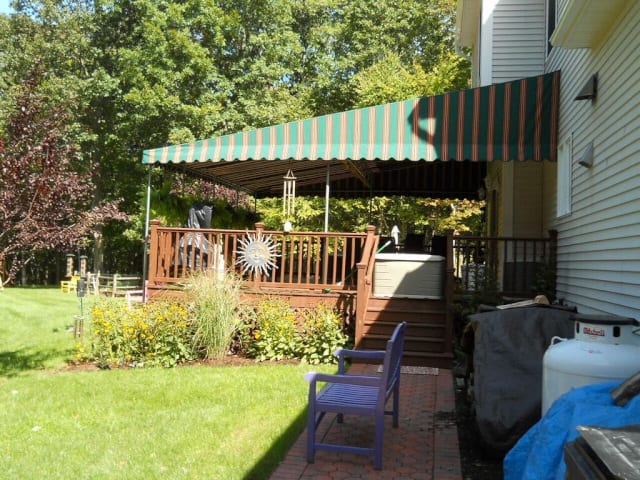 Shade Structures
Shade structures are durable, reliable, and dependent. They are specially designed and crafted to withstand intense rain, harmful UV rays, and especially windy days. Our Eclipse Sunroof Plus model is a strong and enduring shade selection for all our Fairfield customers.
Eclipse Sunroof Plus
With a retractable structure, the Eclipse Sunroof Plus is a customer favorite. It combines the use of longer projection with a motorized connection to give you optimal shade and protection. It offers up to 3 season protection, resisting winds up to 23 miles per hour. This is comparable to a 5 level rating on the Beaufort scale. The reliable retractable motor gives our Eclipse Sunroof Plus the promise of endurance.
The Eclipse Sunroof Plus has two available selections:
Patio Style: Designed to attach to an existing structure.
Pergola Style: Engineered to be mounted on an existing structure.
Both of these Eclipse Sunroof Plus variations come with a wireless wall switch connected to a handheld transmitter. This gives our Fairfield clients ultimate convenience. Even when not in use, the structure can be safely and simply retracted.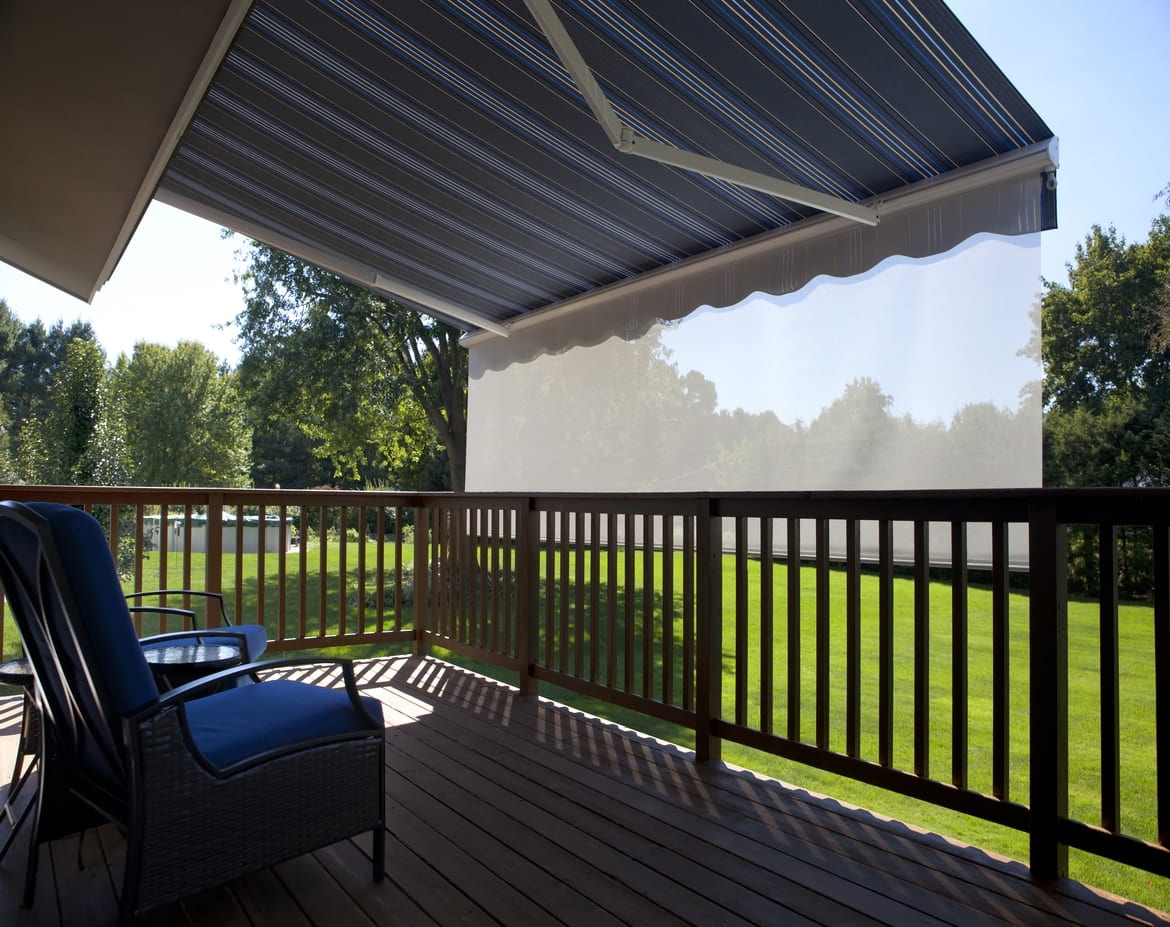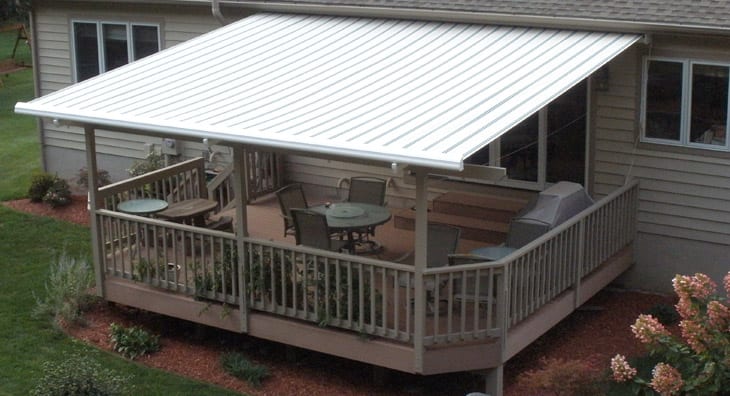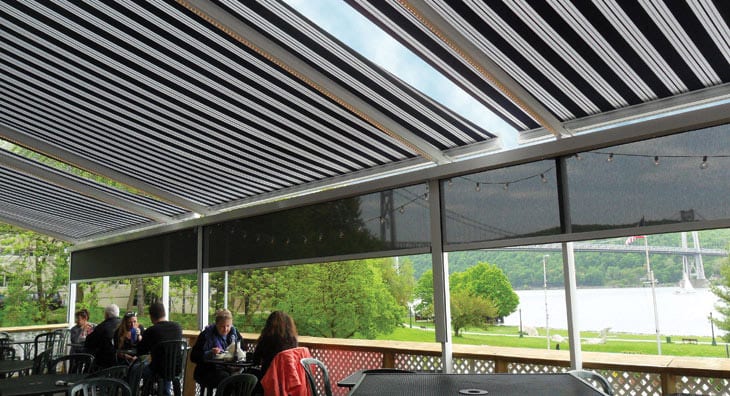 Retractable Deck and Patio Awnings
Retractable awnings are some of the most effective, efficient, and dependable forms of shade structures. They are ideal for both commercial and residential properties in Fairfield, CT. High convenience comes from the motorized retraction, allowing our customers to worry less and enjoy more. Over 95% of our sales are generated through motorized awnings.
Retractable awnings are favored over manual structures with their user-friendly qualities and easy ability to maintain. Strong trustworthy, these awnings will protect your Fairfield property.
Retractable awnings are:
Convenient
Easy to use
Versatile
Provide great protection and shade
Get a Free Estimate!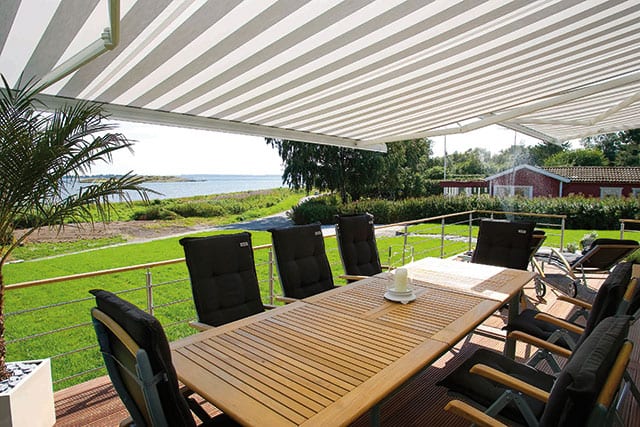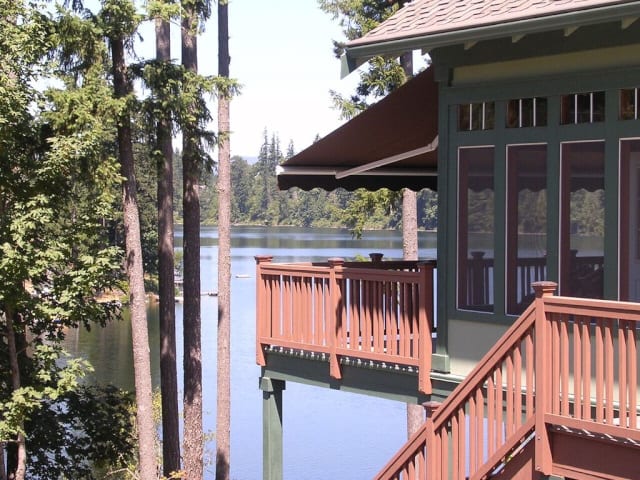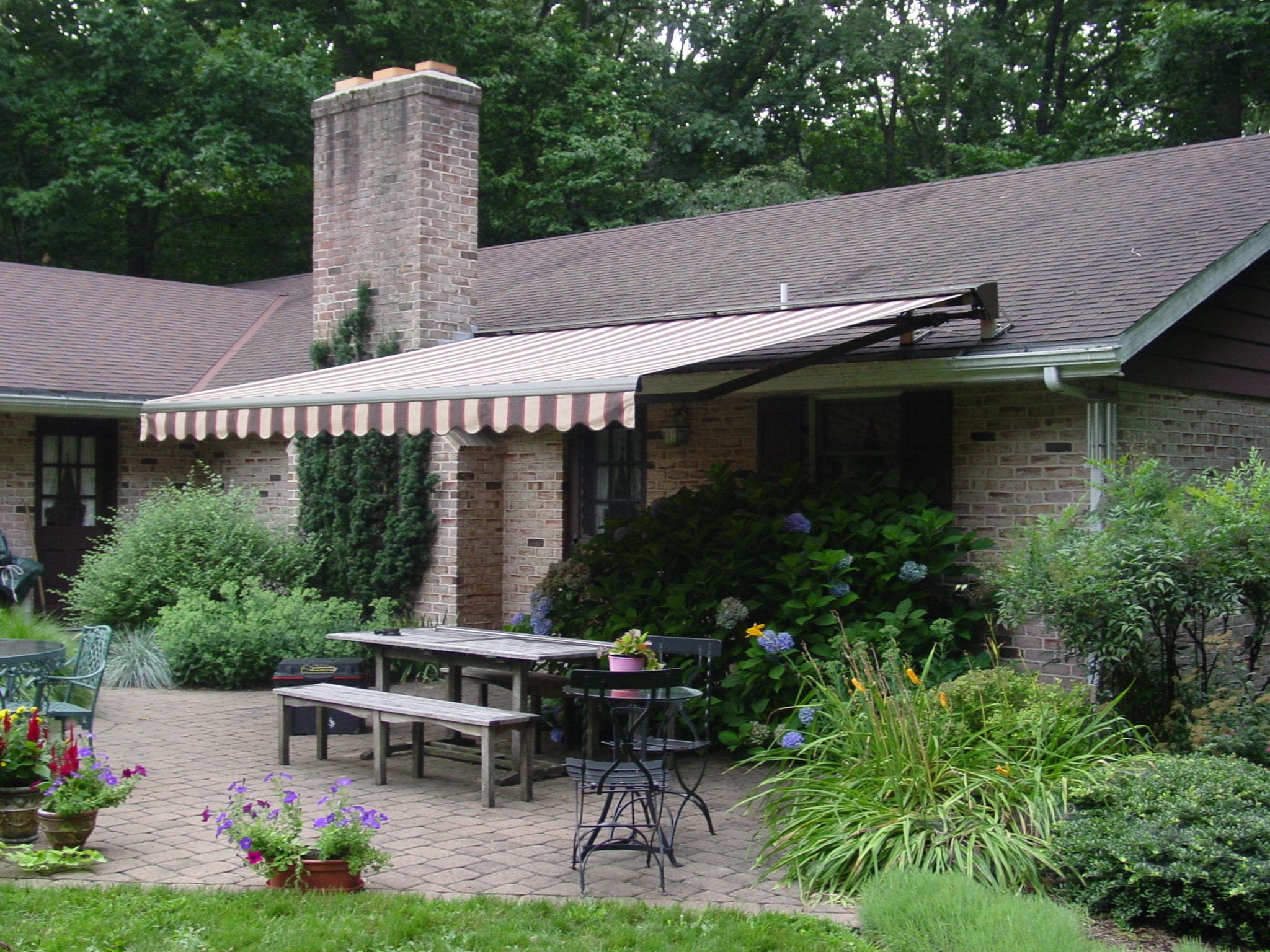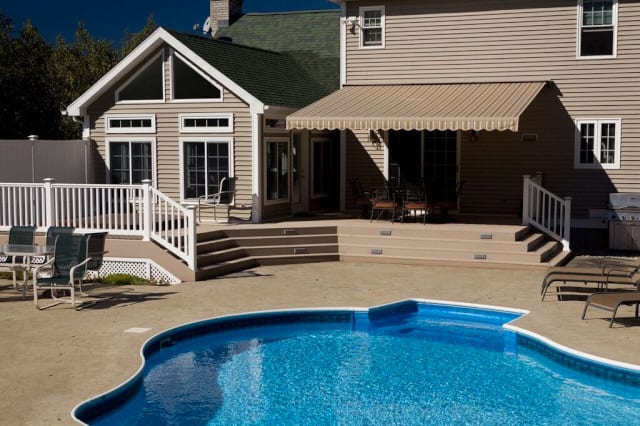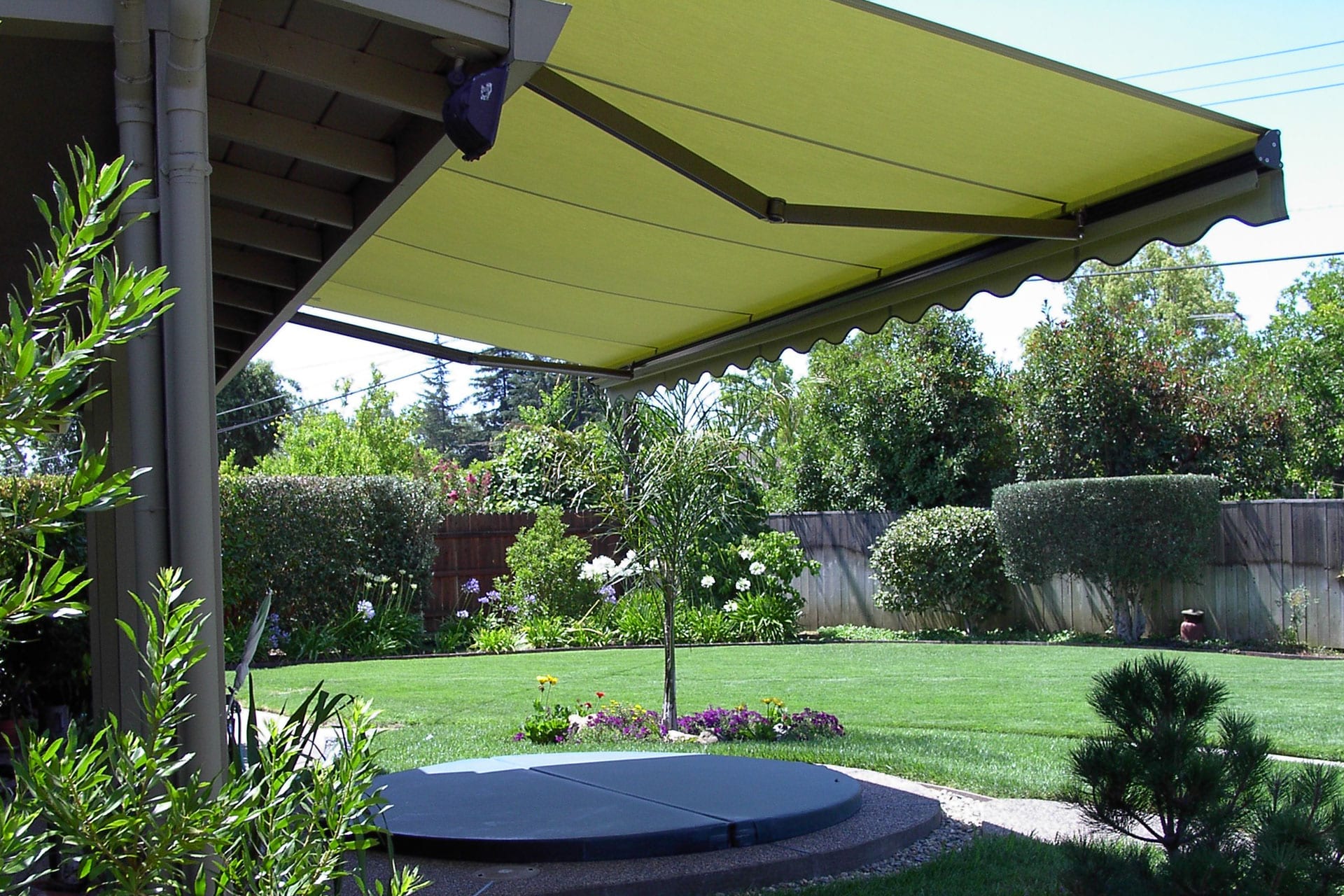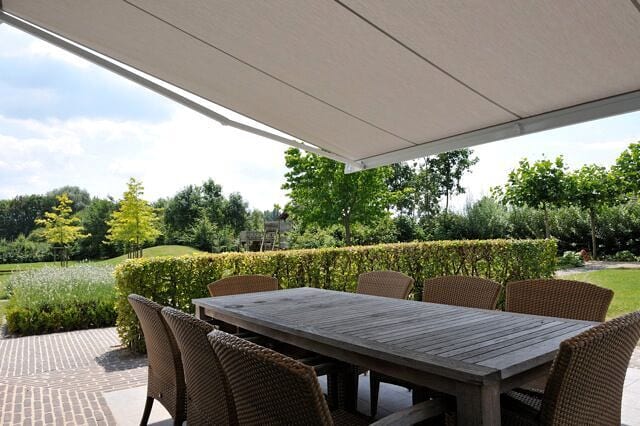 Canopy Installation and Repair in Fairfield, CT
Canopies are a reliable, simple, and attractive shade structure that versatile for all of your shade needs. They are a perfect match for your Fairfield property, in a backyard or for your business building. They can protect from whether and give an added sense of class to your structures. Canopies have various uses and can be used year-round for all your activities. With the wide range of weather patterns in Fairfield, our canopies will be there with you through all of it. Some of our canopies include:
Pergolas
One of the classic and attractive forms of canopies, the pergola is always a customer favorite. It can give people a comfortable place to relax on your Fairfield property.
Shade Canopies
Shade canopies can be designed to fit your need for your commercial or residential property. No matter the activity—weekend in the backyard or work outing—these canopies are a beneficial addition to your property with shade and protection.
Garden Canopies
Durkin's understands all the effort that goes into a garden, and we want to make your work load lighter. Our garden canopies protect your garden from harmful elements and insects while also making it look attractive.
Get a Free Estimate!
Louvered Roofs in Fairfield, CT
As outdoor roofing experts in Fairfield, CT, we know how to install a louvered roof on your property. That's why we are the go-to company for Louvered roof projects for residential and commercial properties.
Louvered roofs function exceptionally well in New England weather as they are angled to allow light and air during the spring & summer while repelling precipitation throughout the fall and winter. Durkin's can answer any question on louvered roofs anywhere in Fairfield, CT.
Types of Louvered Roofs
Looking for a certain type of roof? We're the only company in Fairfield you need. Residential or commercial, we can do both without a sweat. The great thing about louvered roofs is that they are very customizable and can come with a variety of add-ons. Here's what we can install with your Louvered roof!
Ceiling Fans
Accent Lights
Custom Colors
Wood Wraps
Solar Shades
Pergola End Cuts
Our roofs are made entirely out of aluminum, you can be sure the quality and durability of our roofs are top notch.
Aluminum is a cost effective material that can last a long time. The strength of the material can enable units to be free-standing or add-ons to existing structures.
The versatility, durability & functionality of Louvered roofs make for the perfect outdoor roof anywhere in Fairfield CT.
Get a Free Estimate!
Why Durkin's for your Fairfield Awning?
Durkin's has over a century of experience, which has allowed us to become professional experts at awnings, canopies, and various shade structures. For Fairfield residents, we proudly offer our high quality services and unbeatable craft.
With over 4,000 system installations, less than 0.0065% of them have experienced issues. Our awnings and installations are reliable and effective. Durkin's in the awning company for you.
Get a Free Estimate!
Fairfield Awnings