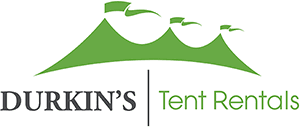 Tent Rentals
Durkin's tents offer shelter solutions for any occasion from weddings to festival booths–and everything in between. In addition, we work with decorators, planners, and caterers to transform your tent into the perfect environment for your event in Danbury, Stamford, Ridgefield and throughout Connecticut and New York.
Read more
A tent for any occasion...
For almost 100 years, we have been providing tent coverage for commencement at our local universities to backyard picnics. We provide our customers with an environment second to none. We recognize the importance that the event be created flawlessly so that our clients can concentrate exclusively on their special day. Our 4th generation work ethic can be seen at every turn—from sales representation, to layout and design, to installation and removal, and support throughout the event. We welcome the challenge and realize that every new location is unique and summons us to create ideas that will make your event a memorable one.
Frame Tents
Range in size from 10'x10' to 40'x120' and select sizes are available in our popular Clear-Top Tents. Very practical where tents are not allowed to be staked down, allowing for coverage over patios along side the home, in driveways or over areas where water sprinklers are present. Frame Tents are also clear of obstructions within the covered area. Side curtains are optionally available.
Pole Tents
Range from 20'x 20' to 80'x 220'. Choose from either regular pole tents or high peak Century tents. Designed for any sized event for seating from 20 to over 1100 people. Open area needed for proper installation. Side curtains are optionally available.
Sailcloth Tents
Our most sought after line of tenting, the Tidewater Sailcloth Tents have sculpted peaks and eaves in translucent sailcloth that enhance daytime events with warm natural light, and brightly glow for evening gatherings. Our elegant Tidewater
Sailcloth Tent
fabric is 100% waterproof and built strong to help assure your special day is not affected by the elements. Let our talented event professionals help you plan for the most amazing day of your life. Come and celebrate under the Tidewater Sailcloth Tent. Sizes range from 44' x 43' to 59' x 119'.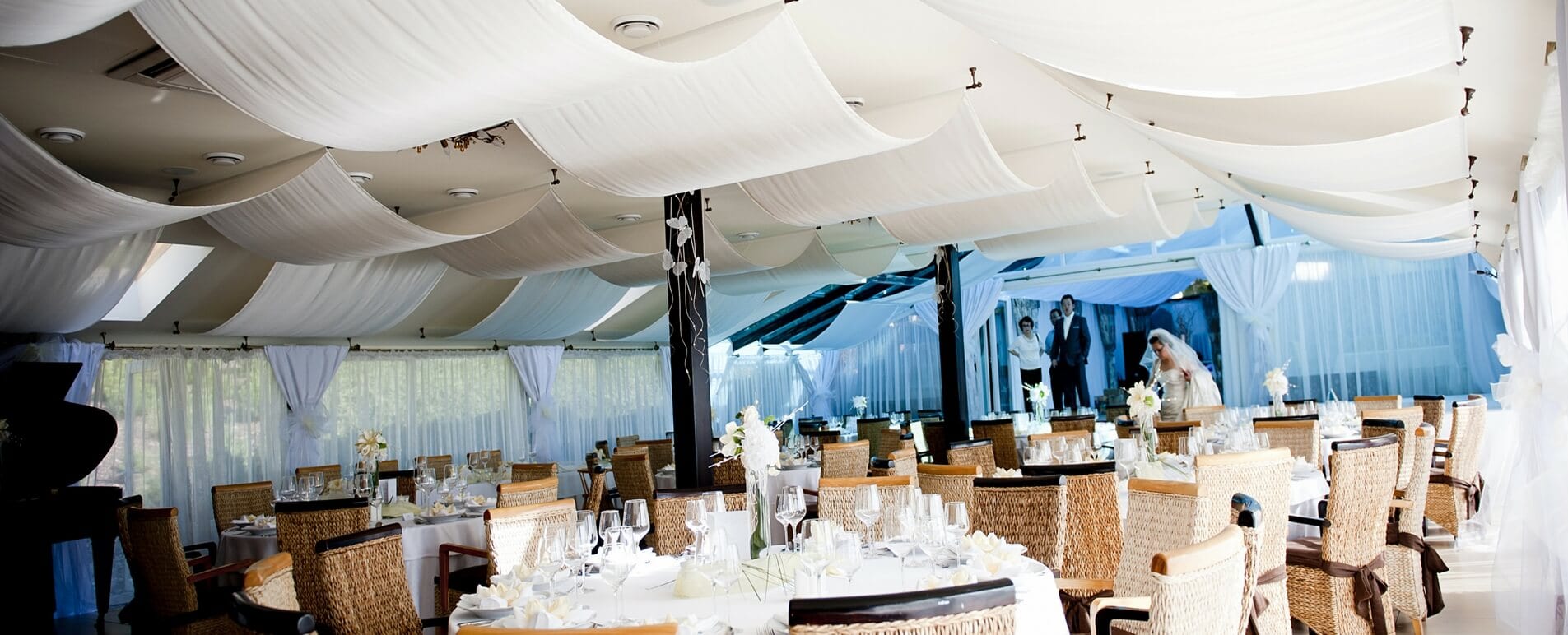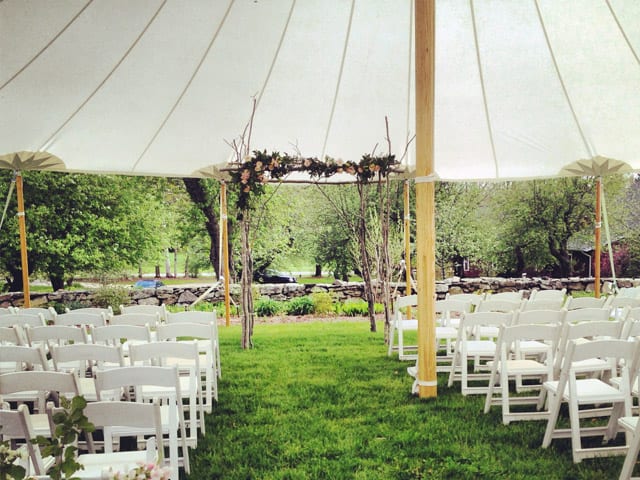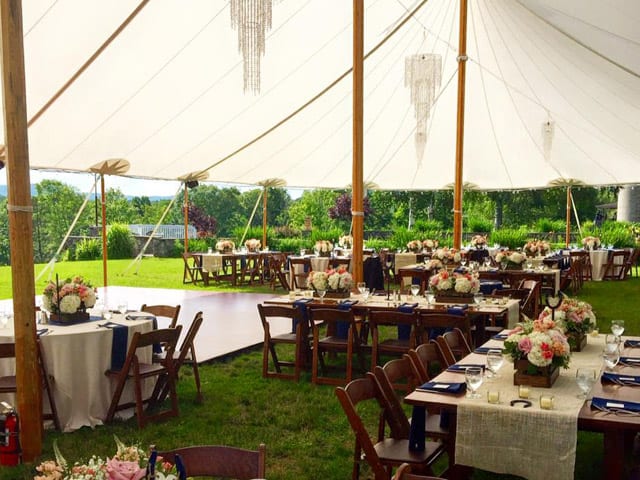 Tent Sales
If you have a long term need for a specific tent, which makes renting impractical, we can also arrange for the purchase of tents, either new or from our extensive inventory. Speak with a Tent Rental Representative for more information regarding this option. Buying a tent should be quick and easy for those of you in Danbury, Stamford, Ridgefield or anywhere in Connecticut or New York.
Contact Us!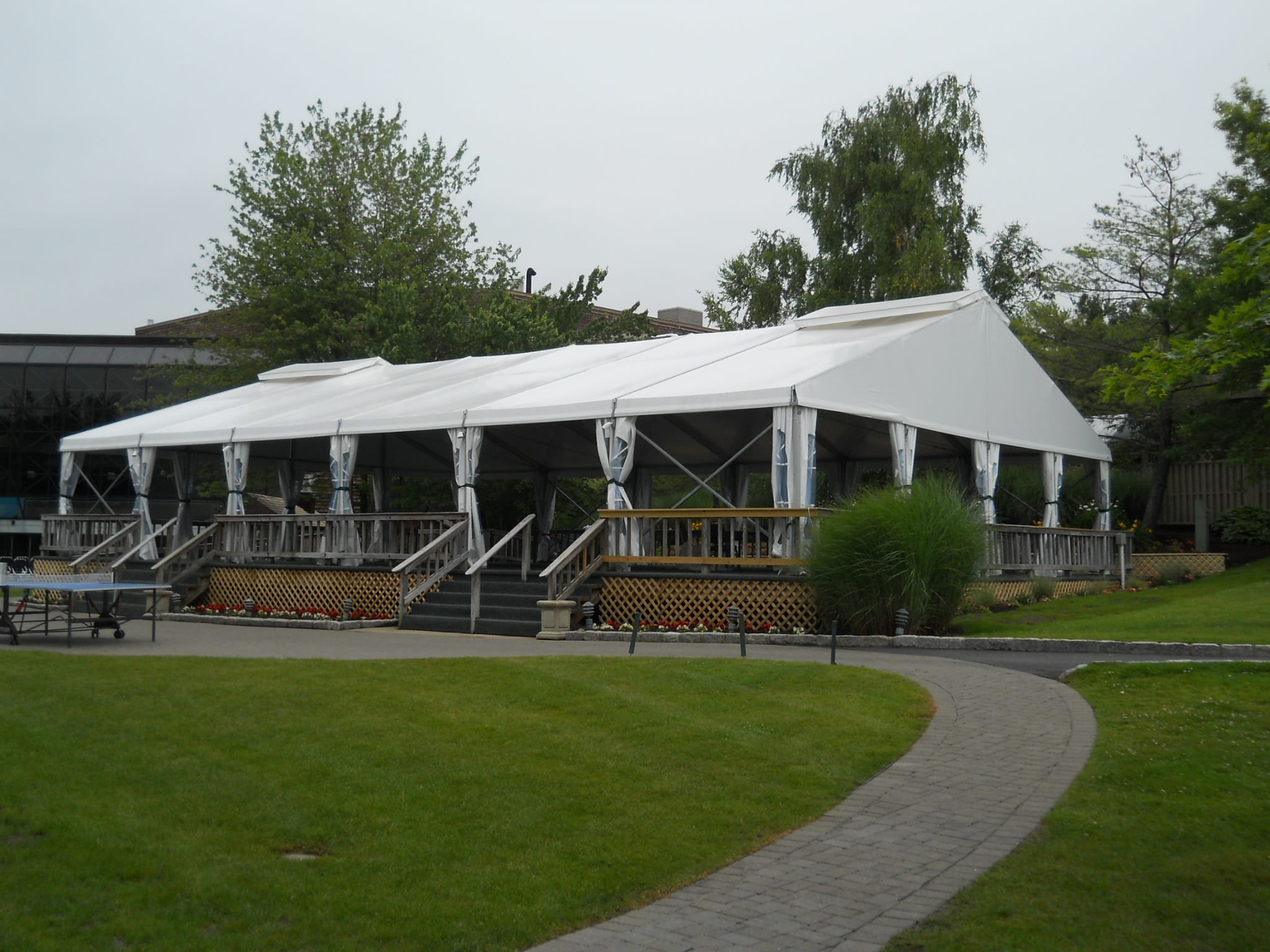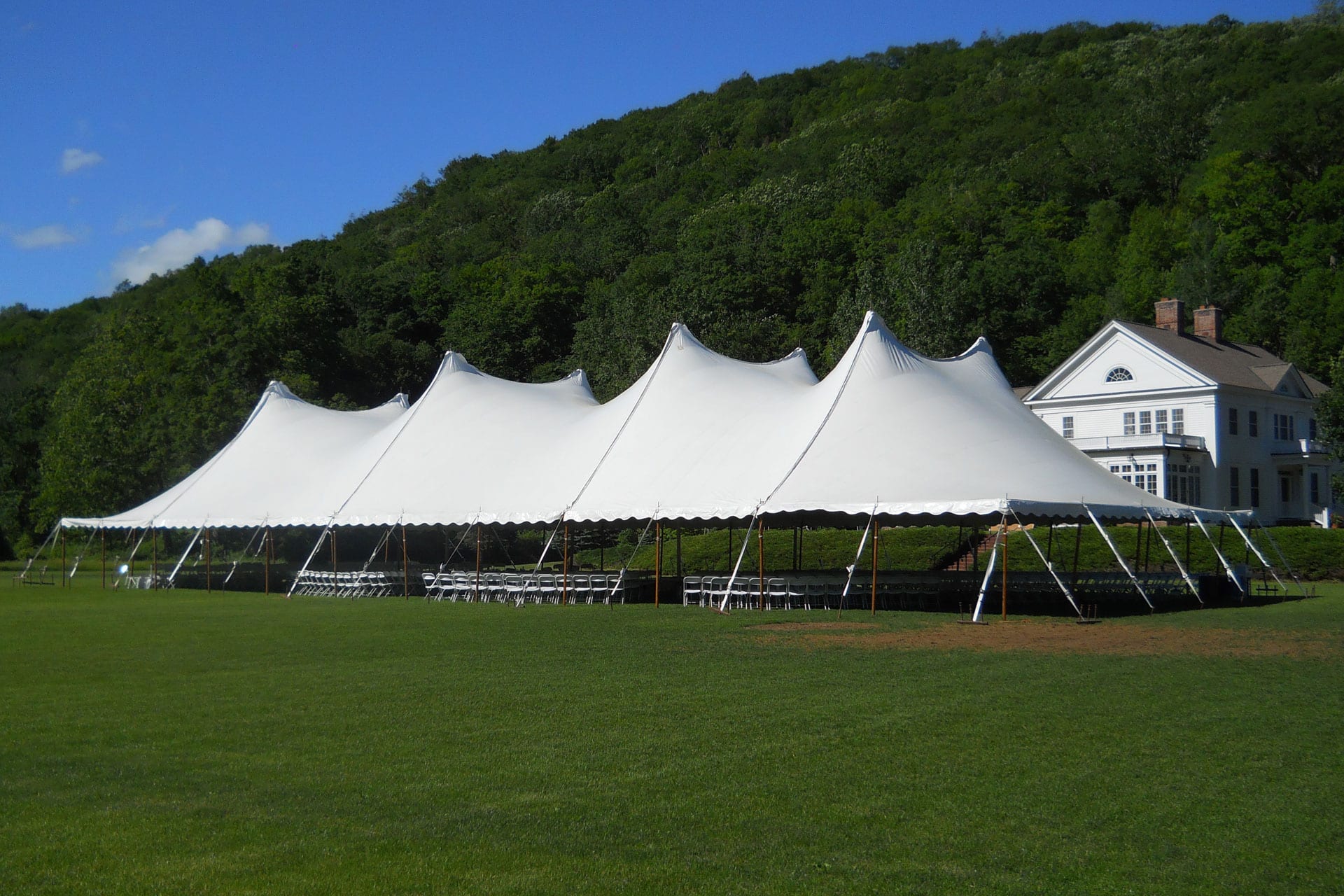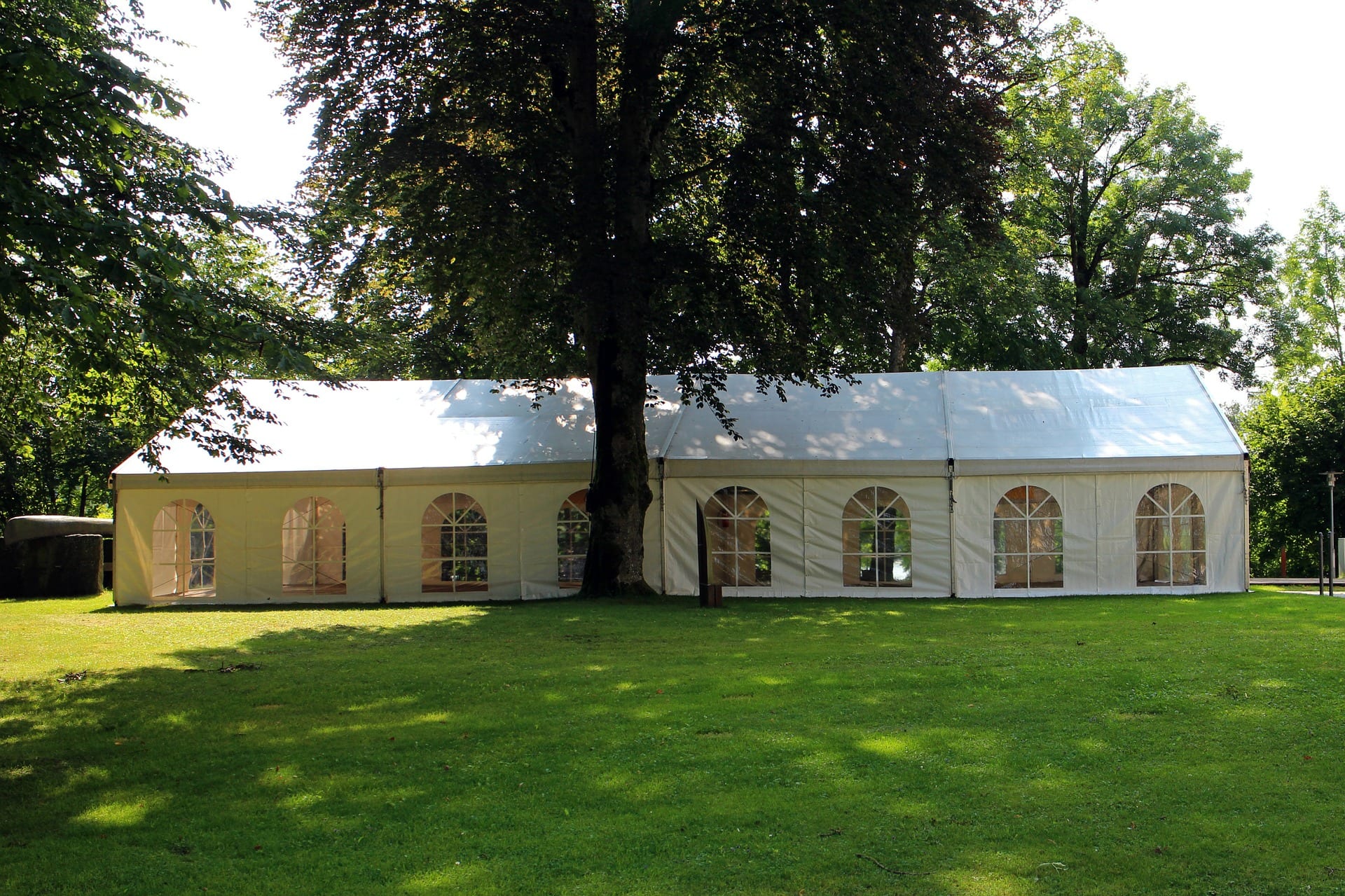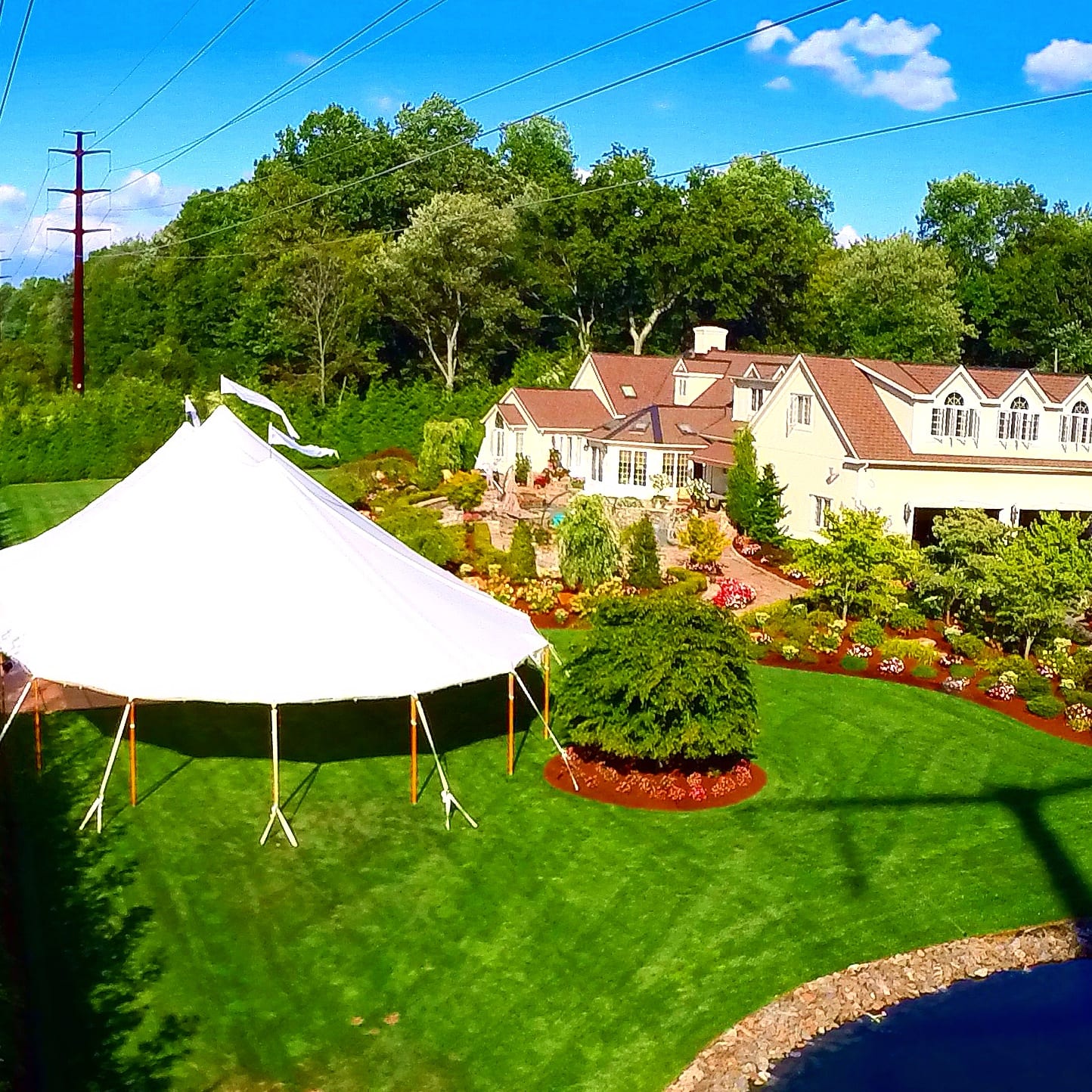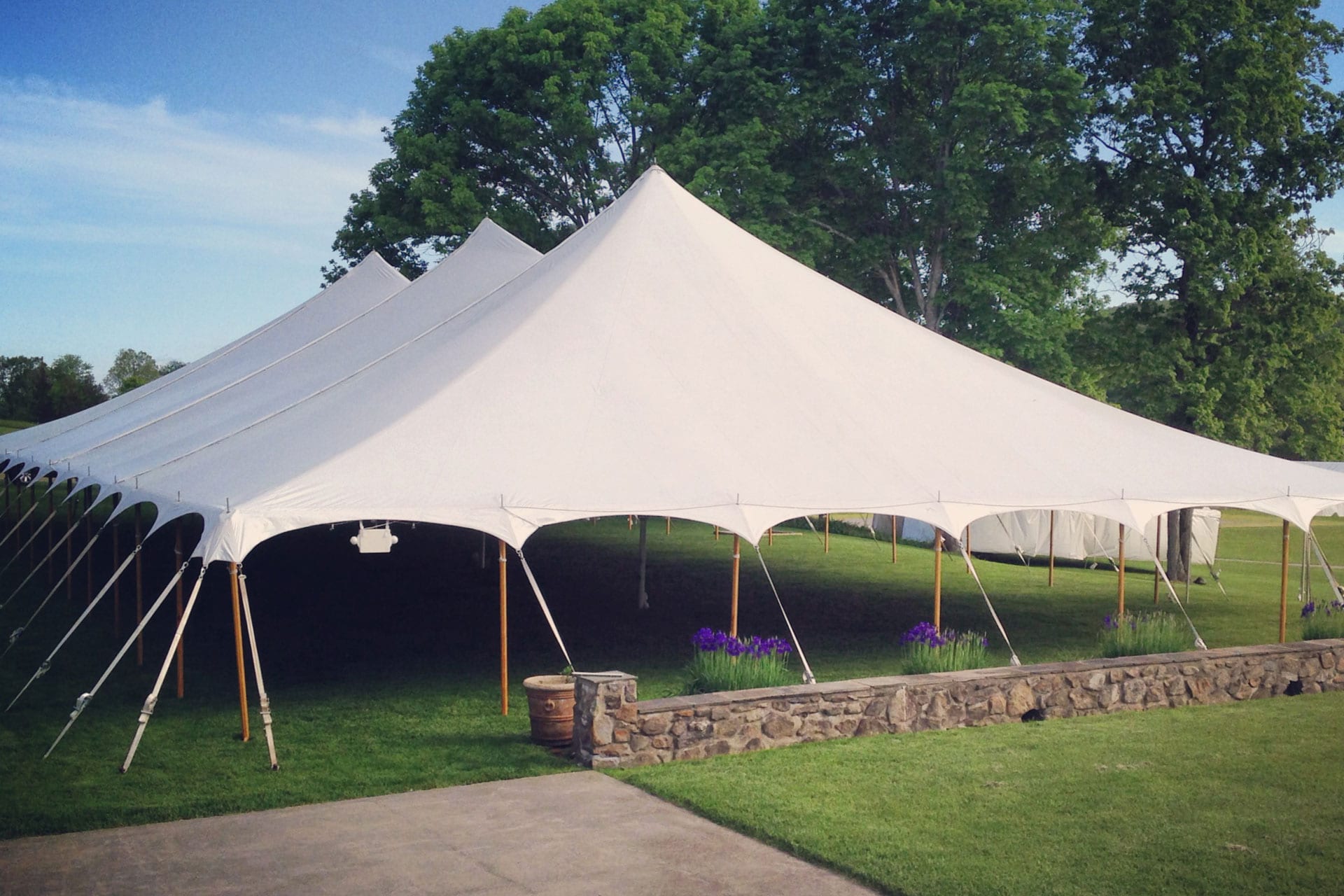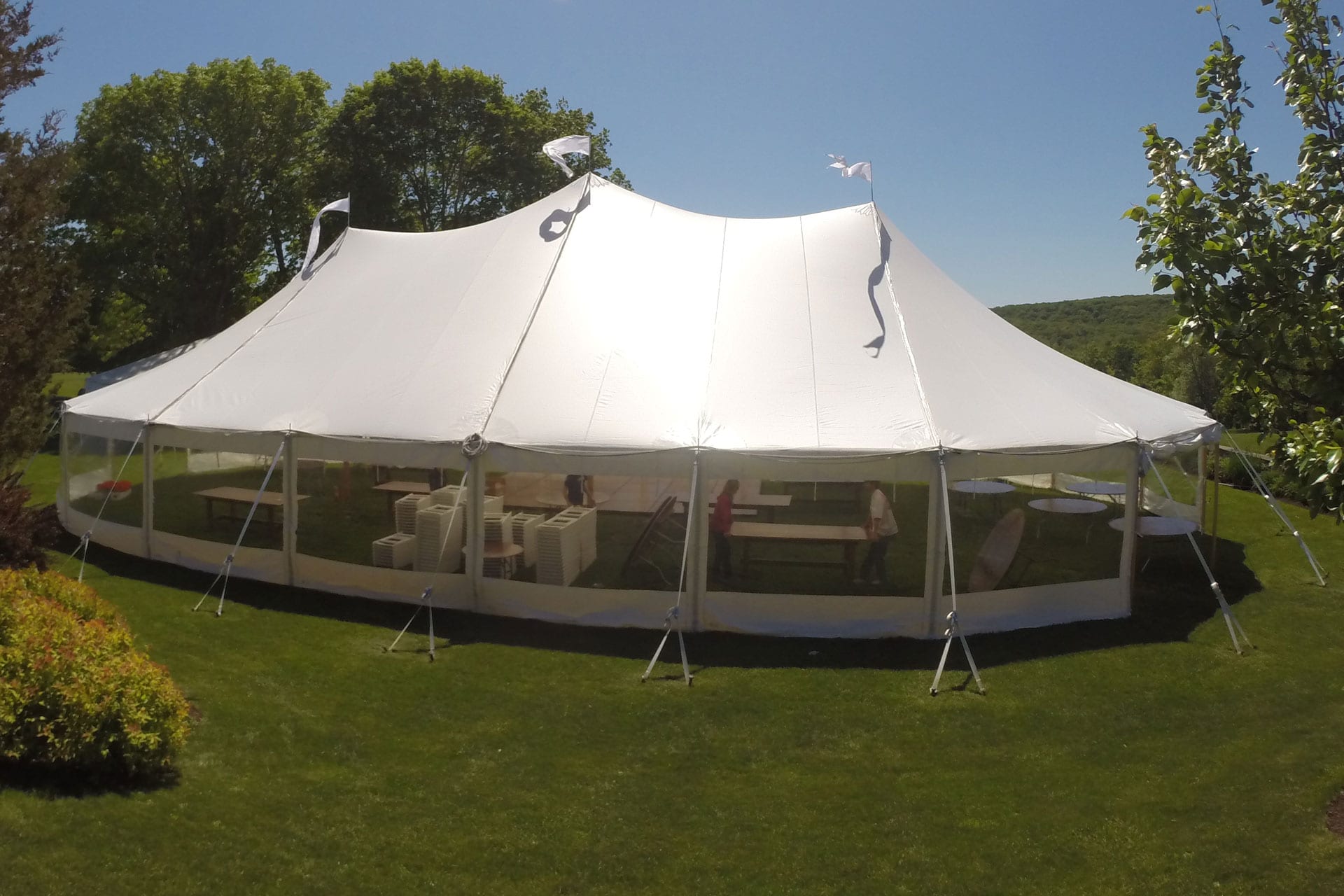 Party Rentals
Turnkey Party Rentals
We work with the finest companies in Connecticut and New York to give you a complete party rental package. We are able to arrange for your every need; from caterers to dishware, linens, crystal, and floral decorations to special lighting effects, electrical generators and bathroom facilities. Dance floors, including our own Dark Walnut Dance Floors, lighting, connecting canopies, tables, chairs and heating systems are also available. Many of our clients in Danbury, Ridgefield and Stanford are pleased with our arrangements. Speak with a Tent Sales Representative for a more complete list of additional services we can arrange.
Farm Tables
Our Dark Walnut Farm Tables measure 8′ x 42″ wide, perfect for a family-style meal. The lumber has been harvested in Litchfield County, CT and master crafted right here at our shop. This furniture is unique since it's native to the Danbury area. Use them for your entire event or maybe just a couple for a head table.
Interactive Party Planning Software
We also offer an interactive PartyCAD program, that allows you to visualize your tented event. You can arrange and plan the layout of the event which is helpful especially if you're a far distance from Connecticut or New York. Call to schedule an appointment to work with a representative to help with your planning.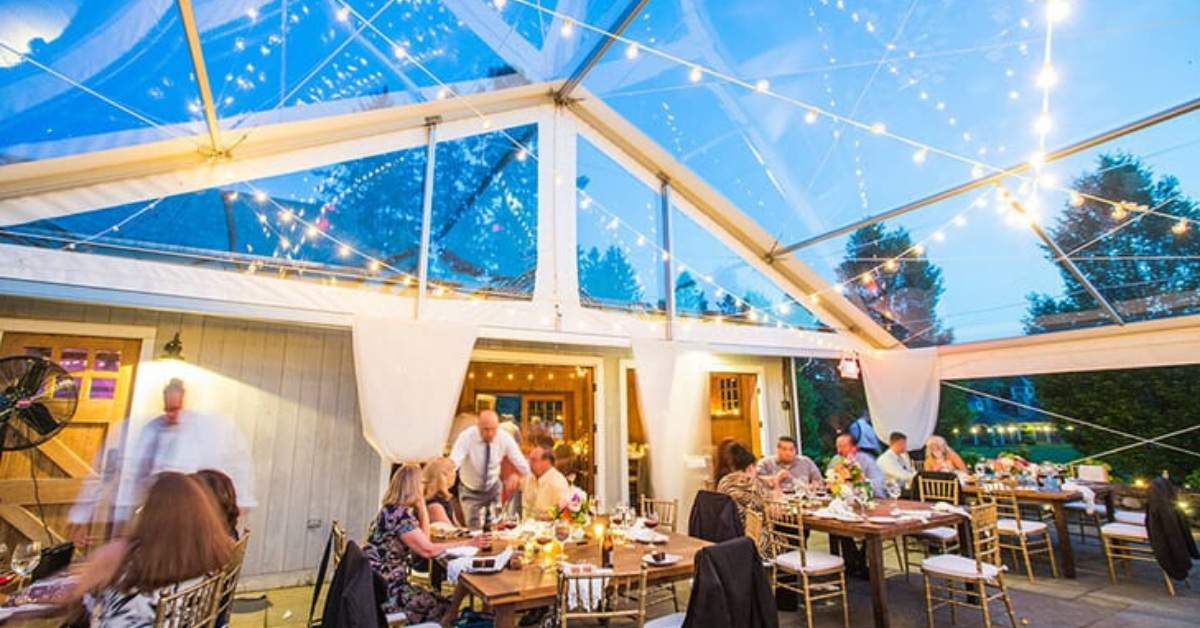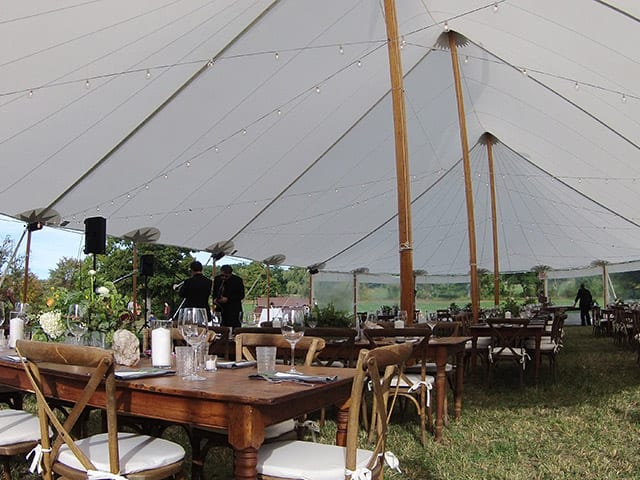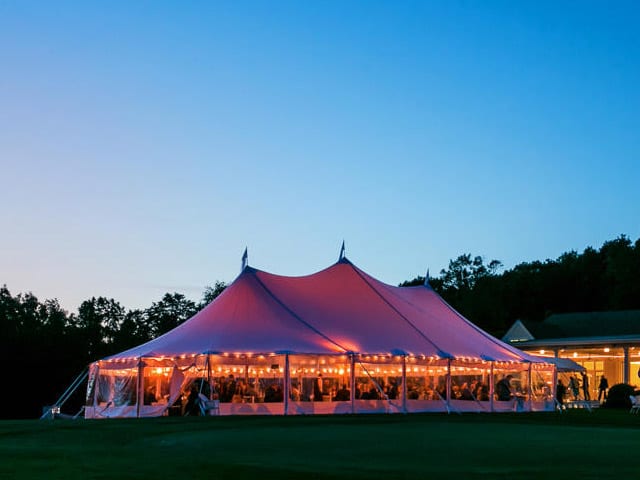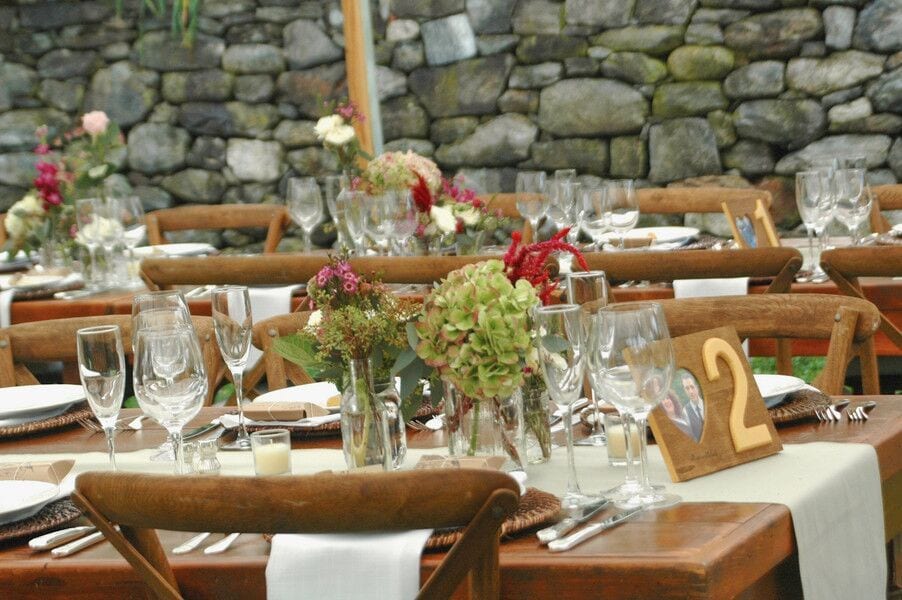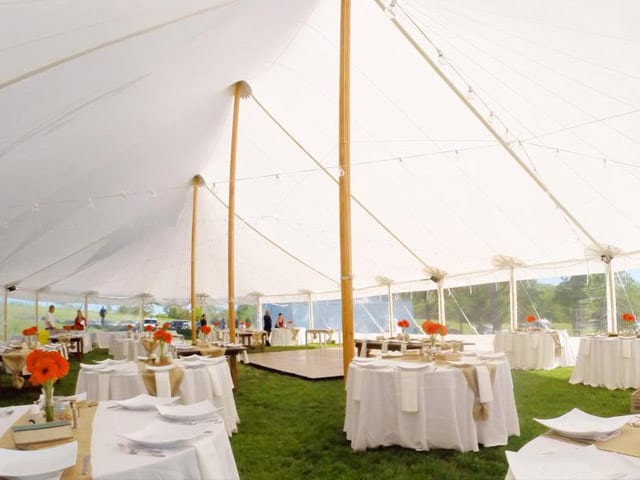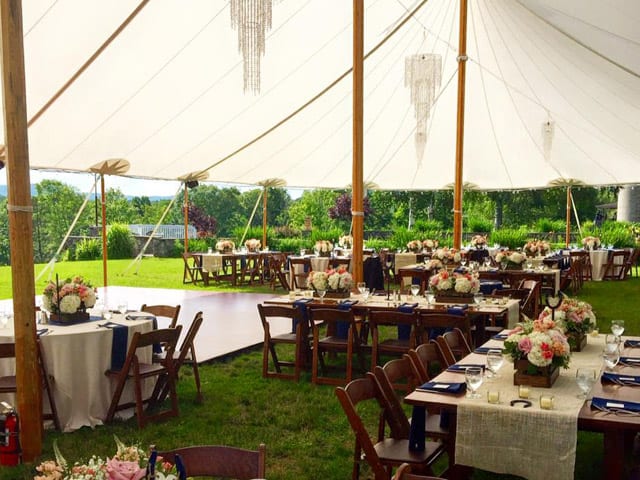 HAVE A QUESTION? WE'LL CALL YOU!
Our Tent Rental Service Area
Fairfield County
Bethel, Bridgeport, Brookfield, Danbury, Darien
Easton, Fairfield, Greenwich
Monroe, New Canaan, New Fairfield, Newtown
Norwalk, Redding, Ridgefield, Shelton, Sherman
Stamford, Stratford, Trumbull, Weston, Westport
Wilton
Hartford County
Jeffersson County
Litchfield, New Milford, Roxbury, Torrington, Washington, Woodbury
New Haven County
Ansonia, Beacon Falls, Bethany, Branford
Cheshire, Derby, East Haven, Guilford
Hamden, Madison, Meriden, Middlebury
Milford, Naugatuck, New Haven
North Branford, North Haven, Orange, Oxford, Prospect
Seymour, Southbury, Wallingford, Waterbury
West Haven, Wolcott, Woodbridge, Woodmont
Putnam County
Brewster, Carmel, Cold Spring, Kent
Lake Peekskill, Mahopac, Patterson
Putnam County, Putnam Valley, Stormville
Westchester County
Ardsley, Bedford, Briarcliff Manor,
Bronxville, Buchanan, Cortland,
Dobbs Ferry, Eastchester, Elmsford
Greenburgh, Harrison, Hastings-on-Hudson,
Irvington, Larchmont, Lewisboro
Mamaroneck, Mount Kisco, Mount Pleasant
Mount Vernon, New Castle, New Rochelle
North Castle, Ossining, Peekskill
Pelham, Pleasantville, Port Chester
Pound Ridge, Rye, Rye Brook
Scarsdale, Sleepy Hollow, Somers,
Tarrytown, Tuckahoe,
White Plains, Yonkers, and Yorktown.
Tent Rentals