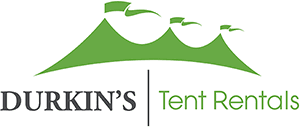 Bristol Tent Rentals
Here at Durkin's, Inc., our team of specialists has been providing premier, affordable tent rental services in Bristol and in many of the surrounding Connecticut and New York regions for over 100 years. If you are looking to rent an elegant tent for your next party, gathering or specialized event, then rest assured the professionals here at Durkin's have got you covered.
Providing an atmosphere that adds to your unforgettable event, the rental tents we offer are sure to serve all your guests needs.
At Durkin's, our team offers a wide range of tent styles and sizes, and a variety of other event services that are sure to make your party one that is well worth remembering.
We can help with:
Weddings
Graduation Parties
Festivals
Events
Get a Free Estimate!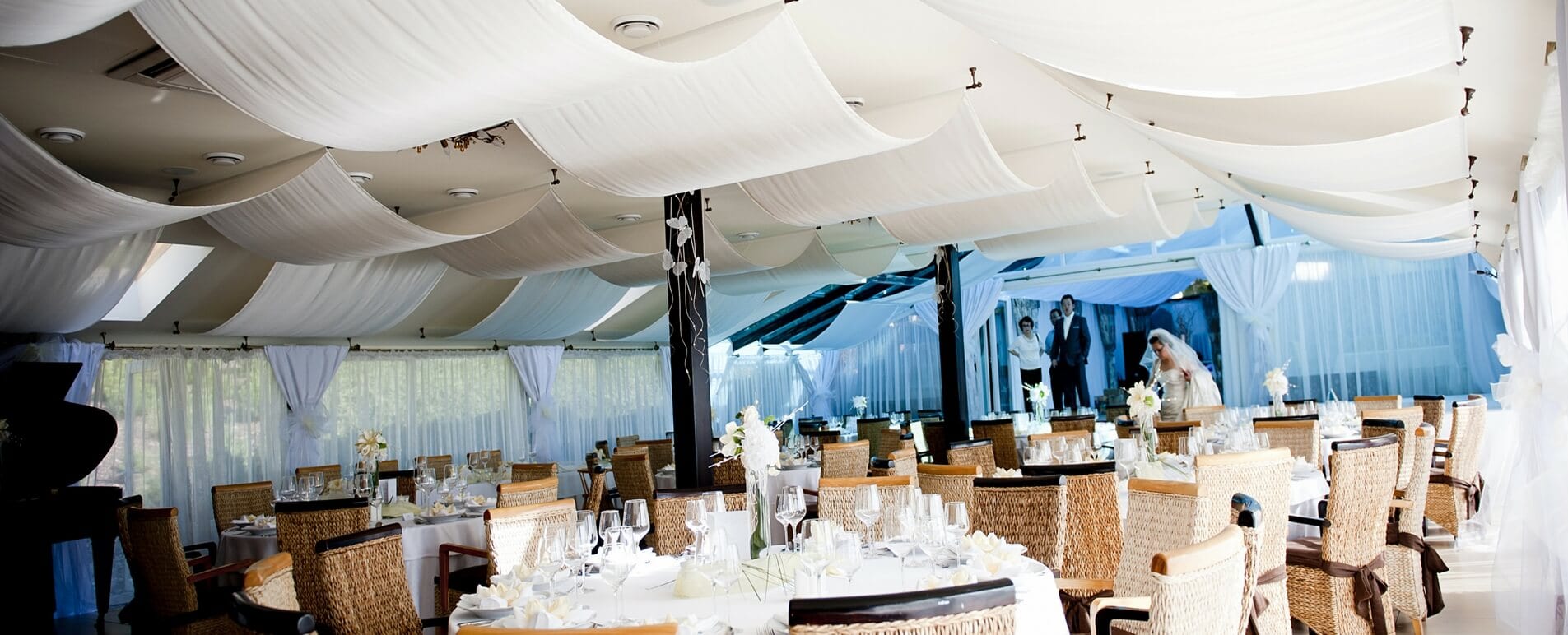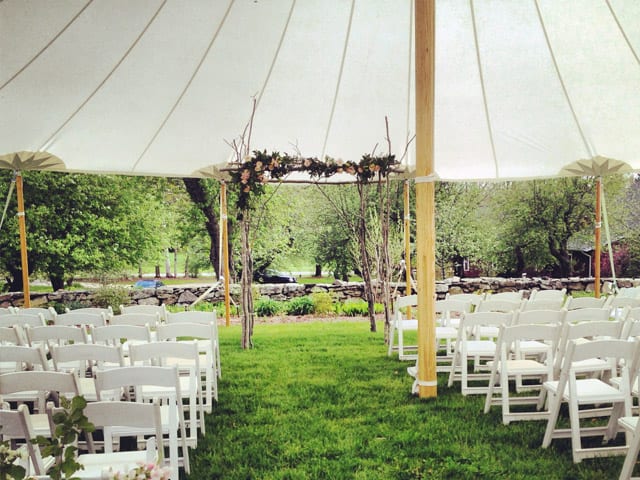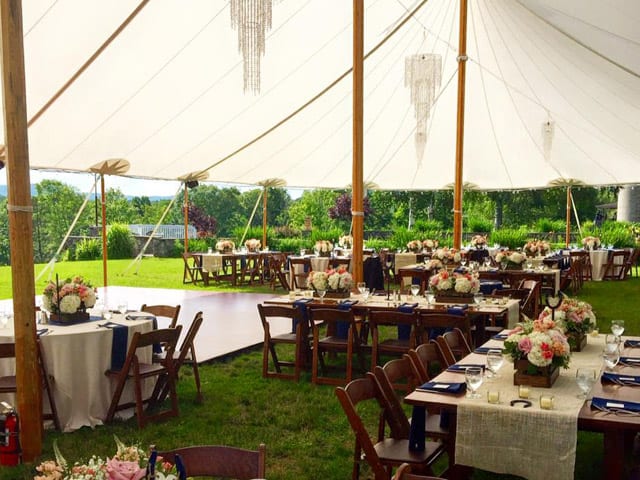 Our Different Tent Rentals
Frame Tents
Offering a variety of tent styles, here at Durkin's you are sure to find the perfect tents needed to compliment your special home or corporate event. Our frame tents, which are very popular among many of our valued clients in Bristol and the adjacent towns, are designed to handle all sizes and styles of events. These quality tents come in sizes that range from 10'x10' to 40'x120' and are sure to satisfy the needs of your special event.
When you choose the stylish frame tents here at Durkin's, rest assured your special event will come to life with the superior structural design that allows you to set up your event anywhere at all. You can set up on your lawn, driveway, walkway, or even on your patio. The unique construction of our tents offers extreme durability and reliability which contributes to the popularity of our attractive and affordable Durkin's frame tents with so many of our clients.
Pole Tents
Our stylish Pole Tents range in sizes from 20'x20' to 80'x220'and are available in two specialized designs – regular pole tents and high peak Century tents. These state of the art tents are designed to handle events of all sizes, and come equipped with side curtains if suitable to the needs of our valued Bristol clients.
Sailcloth Tents
Another popular style tent we offer here at Durkin's to our clients in the Bristol area and many of its surrounding towns is that of our Tidewater Sailcloth Tents. Each of these tents is designed with sculpted peaks and eaves in translucent sailcloth. They offer a warm, natural light during the daytime hours and a unique glow in the nighttime hours. The elegant Tidewater Sailcloth Tents are constructed with a 100% waterproof fabric and are extremely durable handling most outdoor elements. Available in sizes that range from 44'x43' to 59'x119,' our Sailcloth Tents are easy on your pocketbook and are sure to satisfy all your party event needs and provide comfort to all your guests.
Get a Free Estimate!
Tent Rentals for All Occasions in Bristol
Bristol Wedding Tent Rentals
Our friendly, experienced team of professionals is steadfast in providing comfortable atmospheres and an appealing décor for all your Bristol wedding occasions. We understand full well the memories that a special wedding event affords and want to play a significant role in presenting an unforgettable, romantic experience for all. Whatever your choice of mood for your wedding event, whether romantic, elegant, garden party, or trendy, we are definitely the team for you. When you trust in the team of specialists here at Durkin's, you can be sure you are putting your trust into the hands of some of the absolute best in the industry.
Here at Durkin's, we take pride in our wide range of stylish wedding tents. Elegant and attractive, our wedding tent structures are not only affordable but will not be matched by any of our competitors. We take into account the natural features of your venue to present an appealing, very stylish wedding tent that is sure to accommodate your mood, your guests, and your entire wedding event. We also offer a tent complex option that allows your guests to move about during your wedding celebration from tent to tent. In addition to your primary wedding tent, we can also provide additional tents, all of which are complete with tables, linens, dishes, and necessary accessories. For all your wedding tent rentals, look no further than the professionals here at Durkin's, Inc., who stand ready to meet your needs.
Bristol Event & Party Tent Rentals
Are you needing to plan a special outdoor event or celebration at your Bristol home or place of business? Then look to the pros here at Durkin's, Inc. for all your rental tent needs. We offer superior rental tents, products, and services along with the best all-round team of specialists in the business. Our team of experts works right alongside all our clients in choosing the ideal rental tent and any other party accessories needed for your specialized event or gathering. With our simple mission statement of 100% customer satisfaction, our team here at Durkin's holds fast to providing high-quality products and services at very affordable prices. If a wedding, birthday, graduation, or any other special party event is up and coming for you and your family, then don't delay. Reach out to one of our special team members today.
Whether you are in need of a simple rental, an installation, a party and tent breakdown or anything in between, the pros here at Durkin's Inc. handle it all. You never have to worry about a thing when you choose the trusted professionals here at Durkin's for all your event coverings and your special party needs. Our stylish, very durable tents are built to handle from 20 to 1100 guests, which is why we have so many loyal return clients here in Bristol and in many of the surrounding towns that our team works with month after month, year after year.
Get a Free Estimate!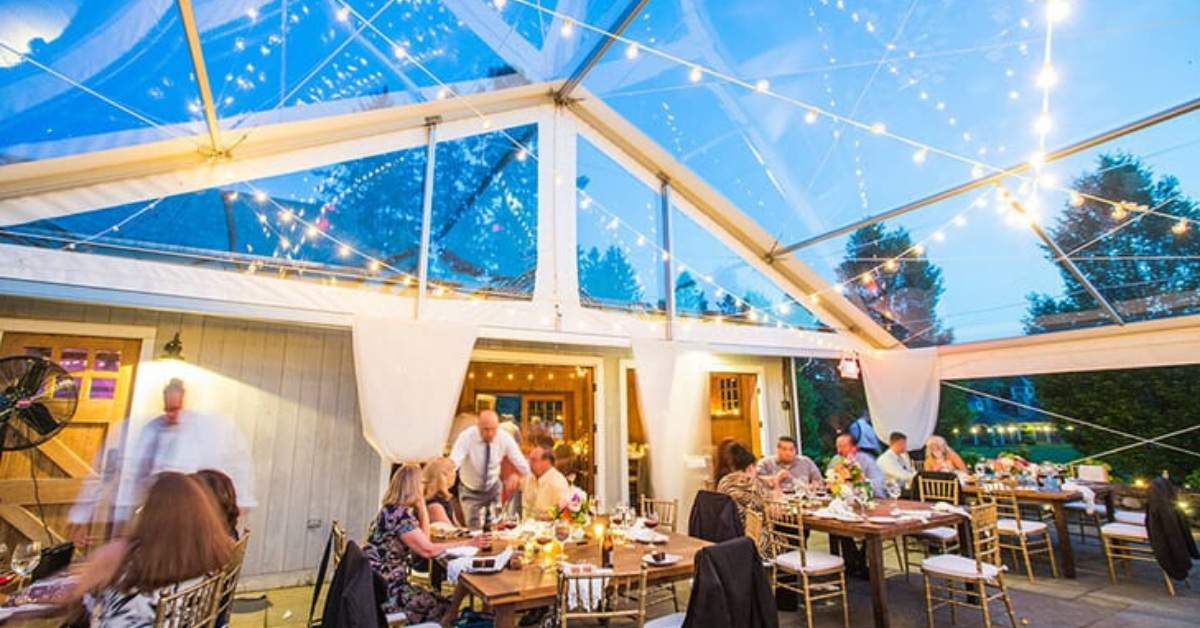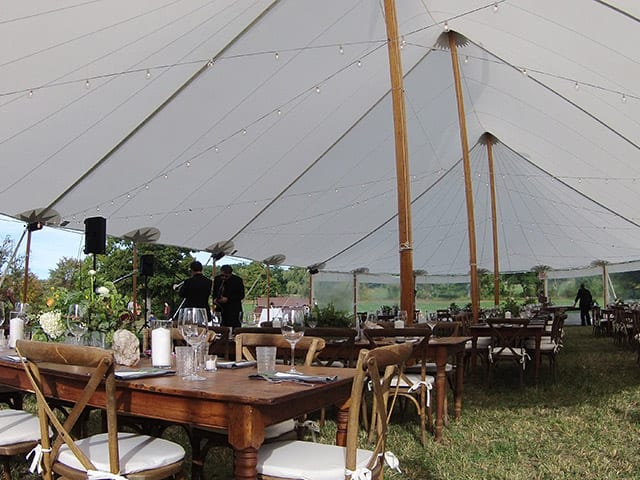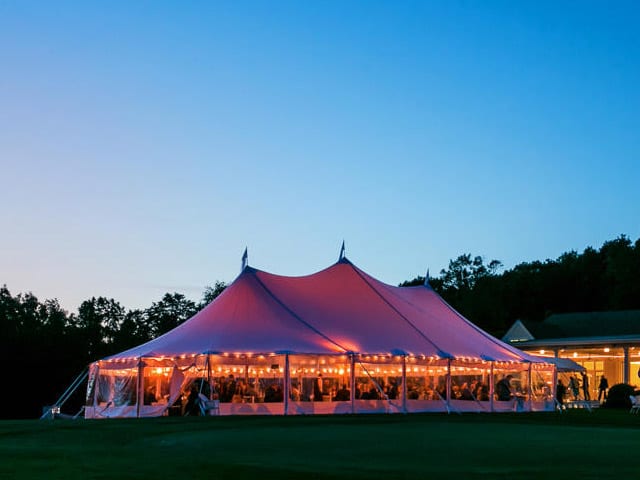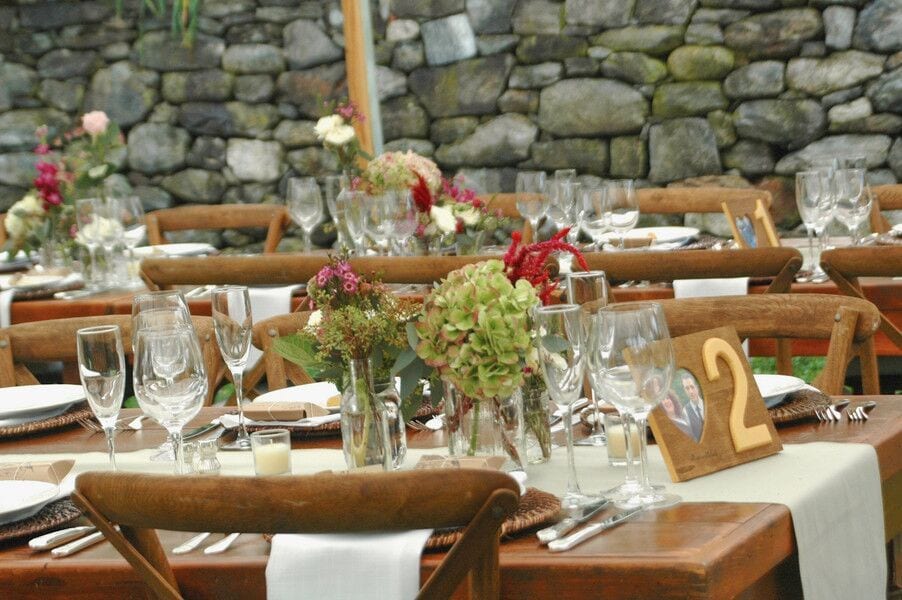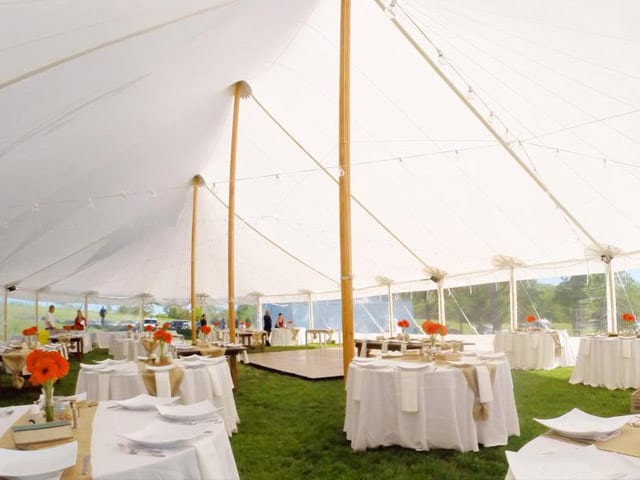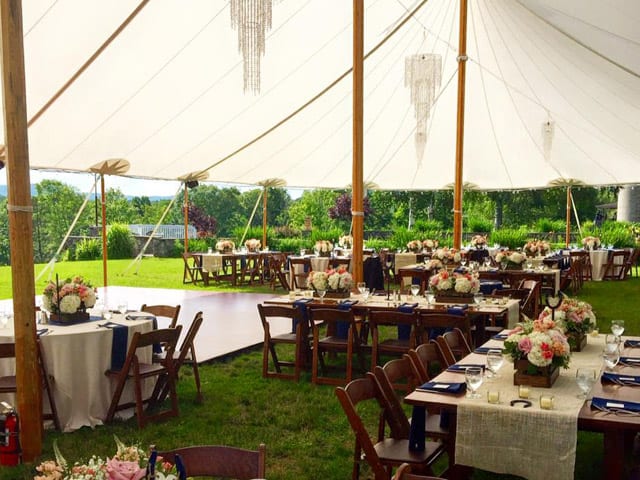 Tent Sales in Bristol, CT
If you are a business located in Bristol that hosts many outdoor events for your clients or employees, then renting is probably not the ideal option for you. However, here at Durkin's, we have a variety of event tents that can be purchased for your long-term corporate events. Whether new or used, we have a large inventory for you. For more information about purchasing any of our quality event tents, be sure to give a call out and talk with one of our highly experienced Tent Sales Representatives today. You'll be more than glad you did.
Additional Party Rentals offered in Bristol
Turnkey Party Rentals
Here at Durkin's, we also provide our many clients with full event packages and quick and easy one-stop shopping. Our team is on hand to coordinate all your party needs from linens, caterers, flowers, tables, chairs, heaters, generators, bathroom facilities, and specialized event lighting. In addition, we also offer your very own dark walnut dance floors, which are a favorite with all our Bristol clients planning the perfect event. Proud of our customer base and our superior customer satisfaction rating, the team of skilled specialists here at Durkin's enjoys a notable presence in the community and the local marketplace for our top-of-the-line party and special event packages, as well as our high-quality products and services. One of our friendly Tent Sales Representatives can fill you in on all the details. Simply give a call out to one of our team today.
Farm Tables
In addition to our state-of-the-art special event tents and our wide range of other party accessories and equipment, here at Durkin's, we also specialize in farm tables that are ideal for event family-style meals. Our dark walnut farm tables measure in at 8′ x 42″ wide. They are constructed with lumber that is crafted right here at our shop. Whether you are looking for the perfect head table for the perfect wedding, or are in need of a number of dinner tables to accommodate all your guests, we surely have the ideal solution for you.
Interactive Party Planning Software
Here at Durkin's, we also offer interactive party planning software for those individuals who are not able to be here in person to plan their special event. We provide our many valued clients with the PartyCAD program, which is one of the most innovative software packages on the market today. This specialized program allows you to design, layout, and plan your party or event from anywhere you are. To take advantage of this PartyCAD program, contact one of our representatives today.
Get a Free Estimate!
Why Durkin's for your Bristol Tent Rental?
With our four generations of family who share the same commitment and dedication, the team here at Durkin's stands ready to serve all our clients in the greater Connecticut and New York areas with all their tent rental or purchase needs. Whether you are playing host to a family wedding, graduation, birthday party, a corporate event, a seasonal festival, or any other special event in Bristol or any of the nearby towns, then we are the team for you! Proud of our award-winning products, services, and our team of friendly, experienced techs, the folks here at Durkin's look forward to our every opportunity to serve you with all your party event needs!
Bristol Tent Rentals