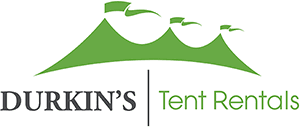 Connecticut Tent Rentals
With a 100 years experience, Durkin's provides top-notch tent rental services at affordable prices found in Connecticut. We handle all the details from the moment you rent to installation to the moment we break everything down. With our great tents, we generate a wondrous atmosphere and create an unforgettable event for you anywhere in Connecticut. Our tents come in various sizes and styles. With four generations behind us, we're still going strong with our work moral.
We can help with:
Weddings
Graduation Parties
Festivals
Events
Get a Free Estimate!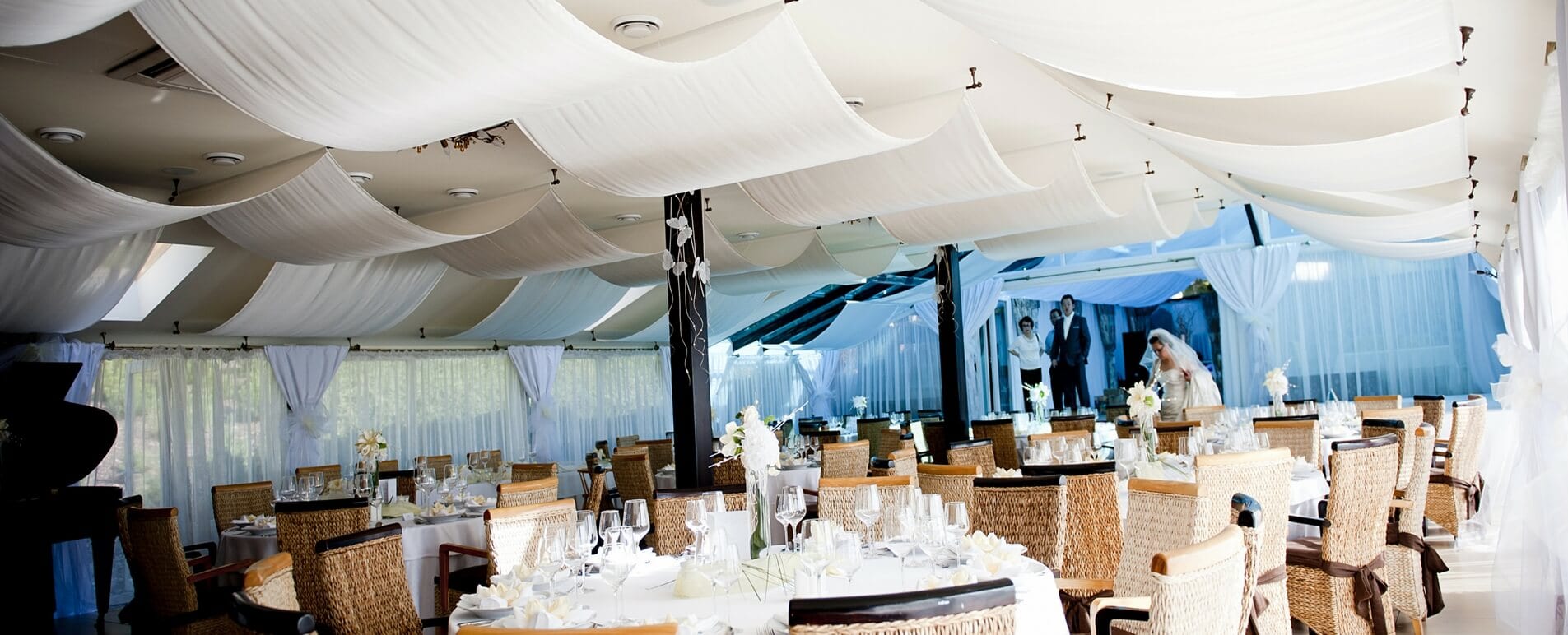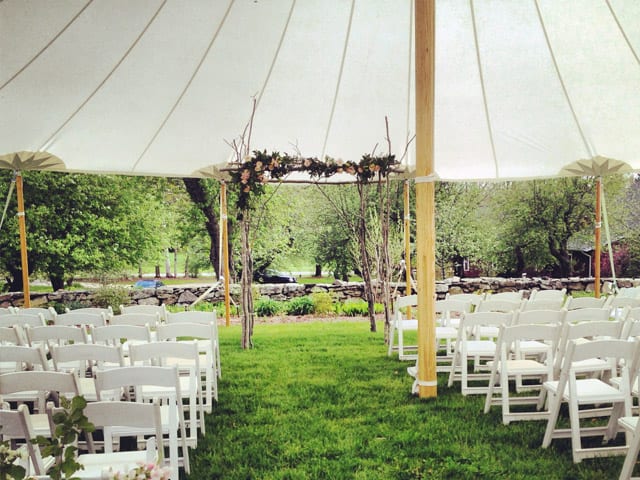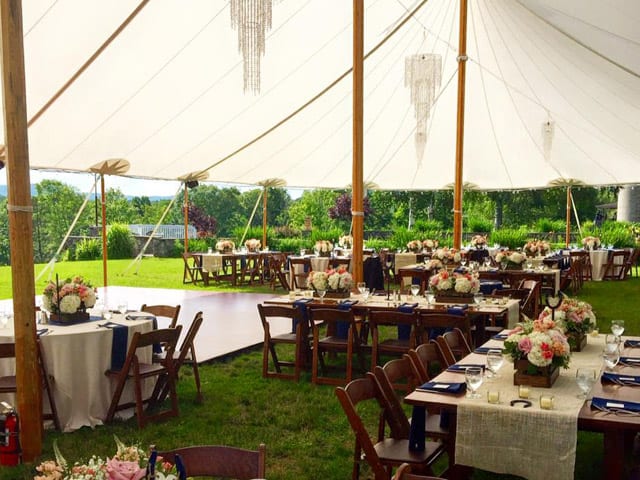 Our Different Tent Rentals
Frame Tents
We offer a variety of tent sizes ranging from 10′ x 10′ to 40′ x 120′ that are perfect for any kind of event. You'll find we offer certain sizes in our highly desired Clear-Top Tents. This functional design is favored when you are not able, or not allowed, to stake down any type of tent at your Connecticut function. This variety of tent also presents coverage of patios, driveways, decks or any region that requires protection from water sprinklers. These tents are obstacle-free within the confined area and feature side curtains as an option.
Pole Tents
Our quality Pole Tents vary in size from 20′ x 20′ to 80′ x 220′ and have two options, regular pole tents or high peak Century tents. Our quality Pole Tents are designed for events of all sizes. Whether you require seating for 20 people or for more than 1,100 people. We have optional side curtains but these tents require a spacious area for proper installation.
Sailcloth Tents
Our popular Tidewater Sailcloth Tens are our most sought-after line of tents in Connecticut. These exceptional tents have noticeable peaks and eaves in sheer sailcloth that enhances daytime festivities with naturally luminous light and puts off an elegant illumination for your evening receptions. Our Tidewater Sailcloth Tent material is 100% waterproof and strong enough to ensure nothing is affected by the irregular elements in Connecticut. These tents range in size from 44′ x 43′ to 59′ x 119′.
Get a Free Estimate!
Tent Rentals for All Occasions in Connecticut
Connecticut Wedding Tent Rentals
Durkin's possesses over 100 years of experience in the tent rental business in the Connecticut region. At Durkin's, we aim to deliver the ideal setting for your Connecticut wedding ceremony and strive to ensure the event is a night to remember. We're talented at creating different atmospheres. If you would like a luxurious feel, a laidback backyard event, or whatever else you can think of, we've got it covered with our Connecticut wedding tents of different sizes and styles. Plus, we work side-by-side with wedding decorators, planners, and caterers to set everything up exactly as you wish.
Durkin's delivers exceptional tents for weddings and offers set up services for our wedding tents. Our Connecticut pros only use high-grade quality and exceptional wedding tents. We always utilize the natural characteristics of your preferred venue to design a stylish and elegant wedding tent space. We always work with the ideas you bring to the table.
If you would like to erect a tent system that enables your wedding guests to socialize from tent to tent, we're happy to do this! Along with wedding tent rentals, we also supply additional party rentals. We rent tables, dining ware, chairs, linens, or anything you feel might be needed for an unforgettable wedding night. We are Connecticut's obvious choice for wedding tent rentals.
Connecticut Event & Party Tent Rentals
Do you need a tent for a celebration? Well, you've made the right choice by coming to us. Our Connecticut event and party tent rental services come at the most affordable prices. We stock a wide selection of tents for any occasion including backyard celebrations and important events like a graduation.
Durkin's renders installation and break-down services of each tent for your events as necessary. We have various options to fit anything you need. Our tents have room for 20 to 1,100 guests giving you the power to plan an event of major proportions. We handle event planning for occasions all over the Connecticut region. There's no other tent rental company out there quite like us!
Get a Free Estimate!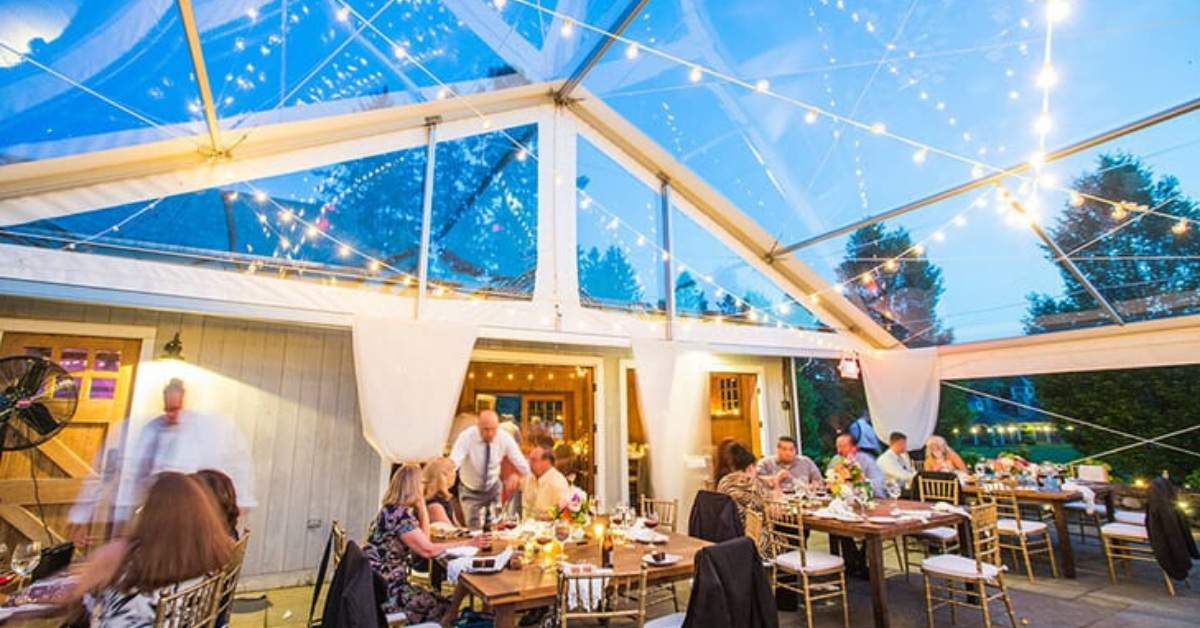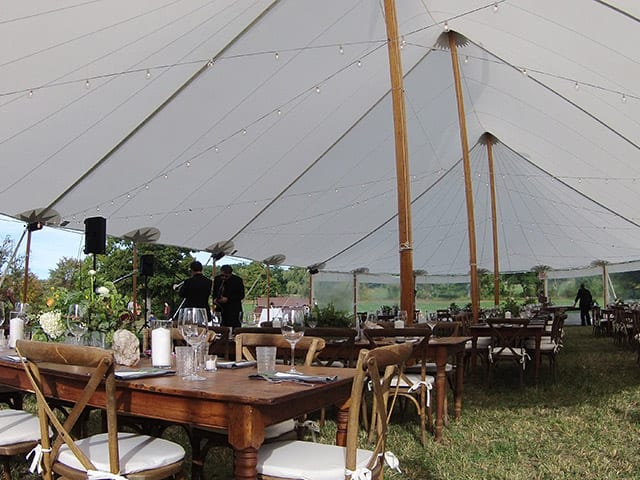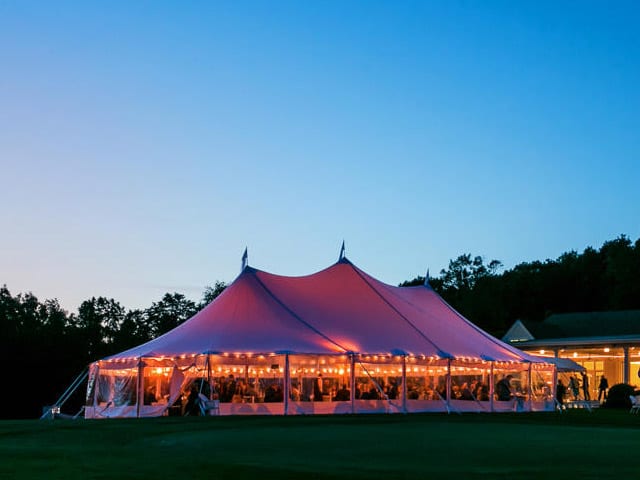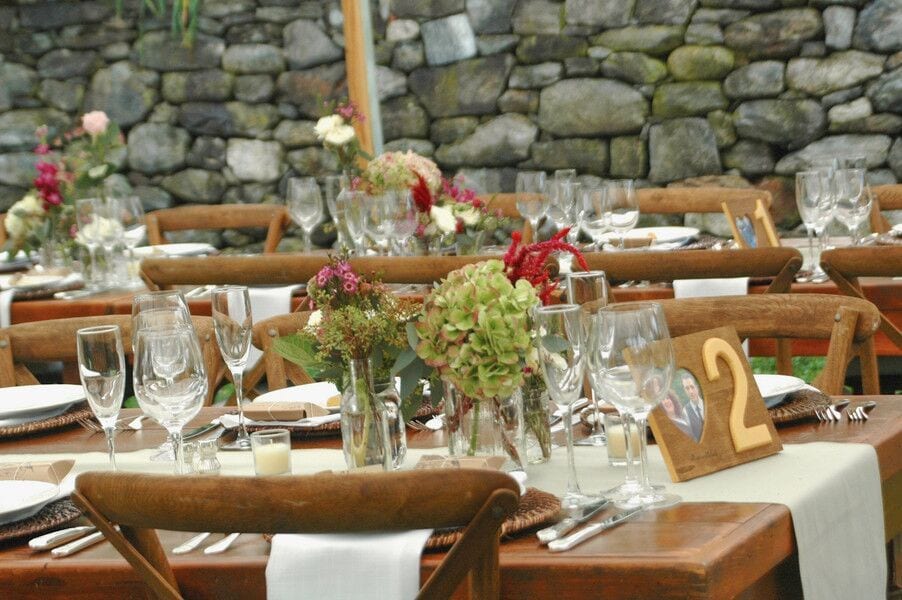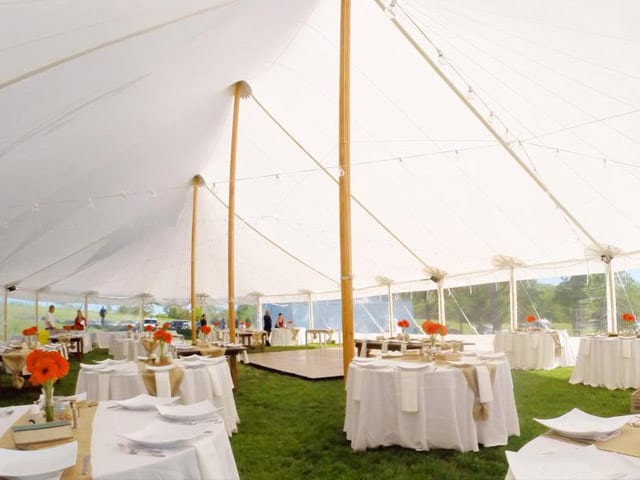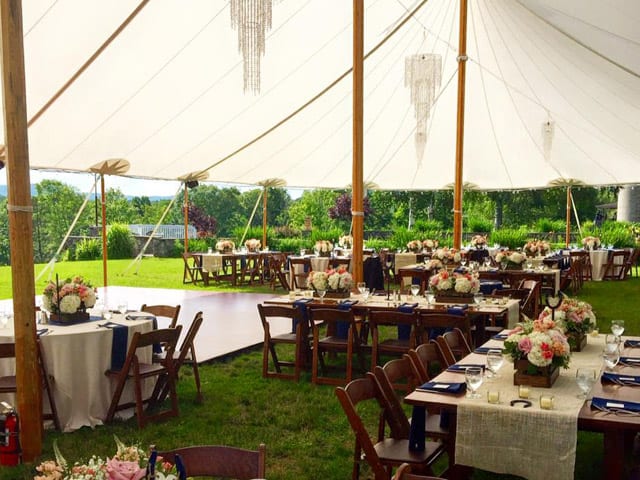 Tent Sales in Connecticut
If you're looking for a certain tent for a long time period, then it would be impractical to rent it. The good news is we also sell tents. Clients have the option to buy them new or out of our vast inventory. Speak with a Tent Rental Representative for further information about this option. We make buying a tent easy for all Connecticut residents.
Additional Party Rentals Offered in Connecticut
Turnkey Party Rentals
We work with top businesses in Connecticut and New York to provide you with the complete event package. We're ready with anything you might need. This includes everything from the dining ware, linens, floral accents and the catering to the bathrooms, lighting, and generators.
We offer rented dance floors, like our Dark Walnut Dance Floors, exceptional lighting, chairs, tables, canopies, and heating. We are pleased to offer our reliable services to our customers in Connecticut. Talk with a Tent Sales Representative for our entire list of turnkey rental services.
Farm Tables
Our impressive Dark Walnut Farm Tables measure 8′ x 42″ wide and are great for any family-style spread. The lumber is locally harvested in Litchfield County, CT and expertly designed here in our very own shop. These tables are highly unique because it's local to the Connecticut area. Utilize these tables for your full occasion or simply use a couple as the head tables.
Interactive Party Planning Software
For your benefit, we provide an interactive PartyCAD application that gives you the opportunity to organize and plan the complete setup for your special occasion. It allows you the possibility of visualizing your event. It's particularly beneficial if you live a long distance from Connecticut or New York. Reach out to us to book an appointment. An agent will help you prepare for your next event.
Get a Free Estimate!
Why Durkin's for your Connecticut Tent Rental?
With a hundred years and four generations of practice behind us, age has improved our services. If you're preparing for a festival, wedding, graduation party, or any event in Connecticut, you can rely on Durkin's. We'll guarantee that your planned event is a wondrous occasion. We are greatly happy with our service history. We look forward to presenting exceptional services for you at your event in Connecticut.
Connecticut Tent Rentals