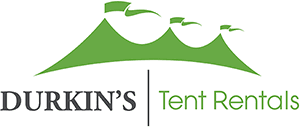 PORT CHESTER TENT RENTALS
Having over 100 years of experience in providing tent rentals and event planning has earned our team here at Durkin's a place on the marketplace charts as one of the best party/event companies in all the regions. We provide a wide range of tents for your gatherings held in Port Chester and the surrounding regions and are on hand to assist with all your event needs. Our staff is steadfast in our commitment to provide only the highest quality tents and top of the line event services to all our valued residential and commercial clients and to enhancing the overall atmosphere and the success of every event.
We can help with:
Weddings
Graduation Parties
Festivals
Events
Get a Free Estimate!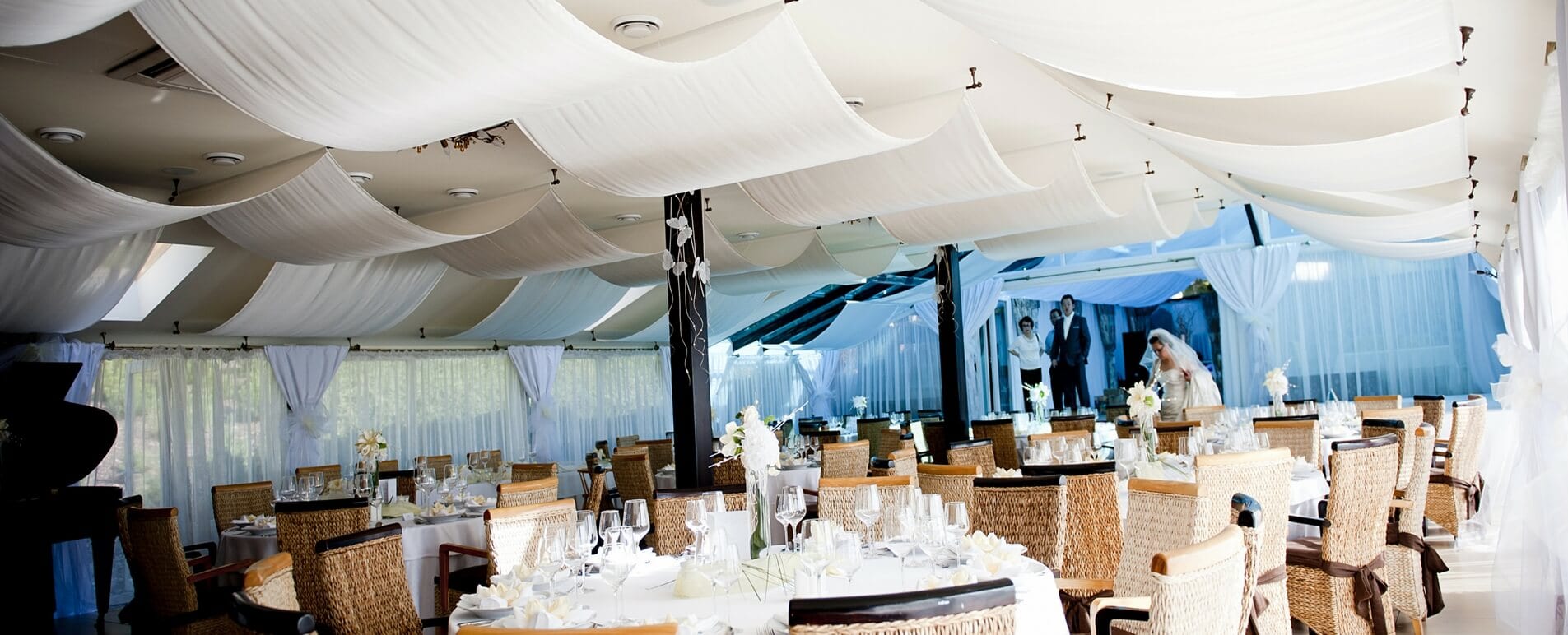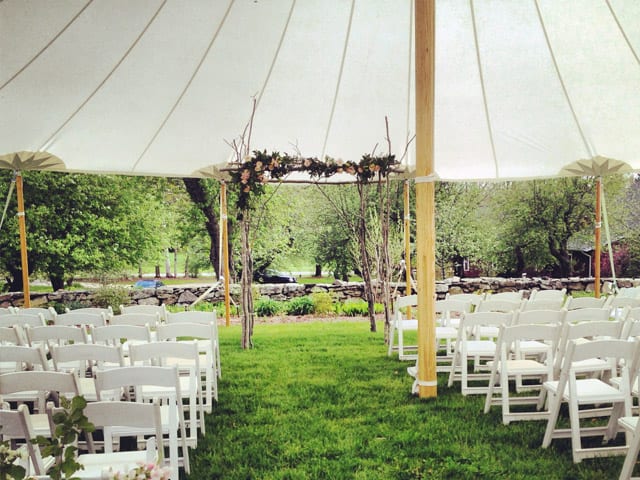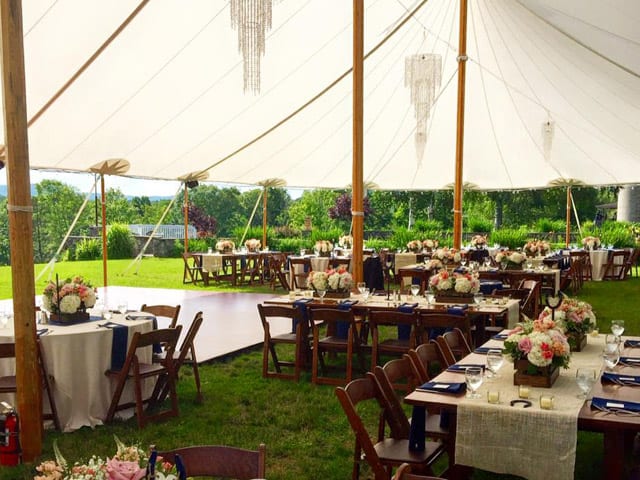 OUR DIFFERENT TENT RENTALS
FRAME TENTS
Wanting to serve the needs of all our clients, we take great pride in the selection of tents we offer and in our added event services as well.  Our popular frame tents are designed to handle parties and events of all sizes and all types. Ranging in sizes from 10' X 10' to 40' x 120', our superior frame tents provide our clients with all the confidence needed to enjoy a successful Port Chester party or event.
From the solid structure and appealing aesthetics to their overall functionality, our frame tents are a popular choice with many of our clients.  Allowing for set up in nearly any location, including lawns, driveways, walkways and even patios, our frame tents are an ideal and easy solution to all your event covering needs.        
POLE TENTS
For some clients, pole tents fit their needs perfectly.  They are available in sizes from 20'x 20' to 80'x 220'and in two unique designs – regular pole tents and high peak Century tents.  Designed and constructed to handle party events of all sizes in Port Chester and the surrounding Connecticut and New York areas, they can be equipped with or without curtains, whatever your preference may be.  Regardless, they are sure to add to the atmosphere at any gathering or event.
SAILCLOTH TENTS
Our residential and commercial clients in the Port Chester area have shown a great deal of favor with our stylish Tidewater Sailcloth tents that are designed with sculpted peaks and eaves in translucent sailcloth. These elegant tents provide a natural light during the daytime and an attractive glow during the night time hours and are constructed with 100% waterproof fabric.  They are every bit durable and reliable and easily handle most outdoor elements. Our sailcloth tents range in sizes from 44' x 43' to 59' x 119,' and will surely add comfort and style to your outdoor event.
Get a Free Estimate!
TENT RENTALS FOR ALL OCCASIONS IN PORT CHESTER
PORT CHESTER WEDDING TENT RENTALS
Every wedding has a theme of its own and surely is meant to be a memorable event not only for the bride and groom, but for all their family and friends.  With that said, we here at Durkin's are committed to enhancing the atmosphere at your Port Chester wedding. Our consultants are experienced in all facets of party events and are sure to help you choose the perfect tent for your wedding and your perfect vendors too.      
In addition to our quality tents and services, here at Durkin's we are very proud of the role our rental tents, services and dedicated staff play in the many Port Chester weddings we service.  We cater to all types of wedding themes, whether romantic, as most are, or even playful, trendy or casual, and assure all our clients that we have got you covered. When you choose Durkin's, you choose one of the best teams in the industry.               
Durkin's offers high quality, visually stunning tents for weddings. Our team uses only use the best, most elegant wedding tent structures, taking into account the natural features of your venue in order to utilize the beauty and functionality of your space.
Interested in additional rentals? Durkins also provide other party rentals such as linens, tables, and dishes. Like our tents, our party rentals are always of the highest quality. We only buy our materials from the best Connecticut and New York companies. We know your wedding day is important and we are here to help make it your most cherished memory.
PORT CHESTER EVENT & PARTY TENT RENTALS
Are you planning a special event for your family or perhaps your office staff?  Well, then it's time to give a shout out to the professionals here at Durkin's and let our trusted team of event specialists help.  Weddings, graduations, anniversaries, birthday parties and nearly any other type of event, are our specialty and surely providing you with the ideal tent covering is just a start for us.  From tents and party planning services to installations and breakdowns, we handle it all. At Durkin's our goal is simple – to make all our clients happy and to contribute to a beautiful, memorable event.  We are on hand to help with all your decision making and provide the perfect tent covering for your event. If you are planning a special event, then worry no more. Just call out to our professional team today.      
Our friendly team is quick to provide you with all the services you need at your Port Chester event from setup to breakdown and everything in between.  Built and designed to accommodate your guests from 20 to 1100 individuals, our tents, regardless of what type, are a perfect fit for you and all your guests.
Get a Free Estimate!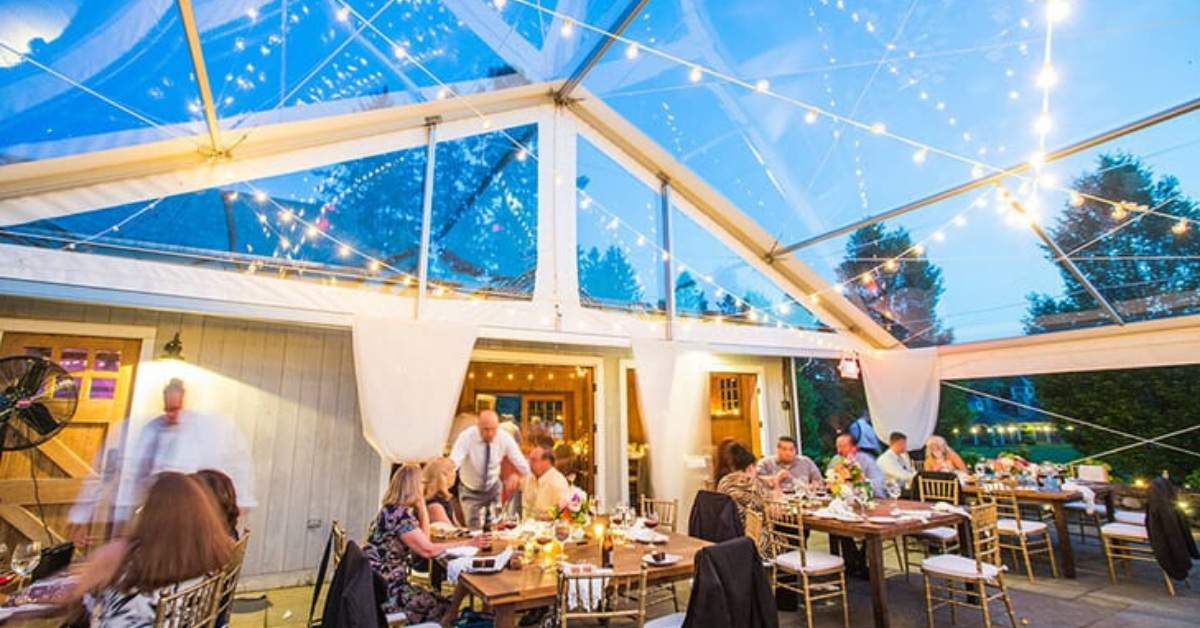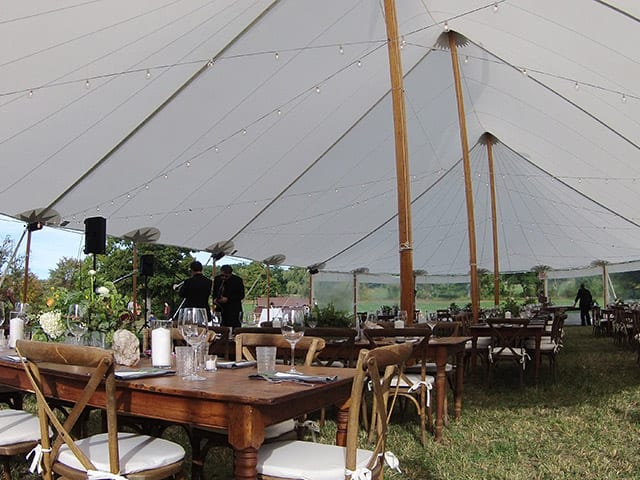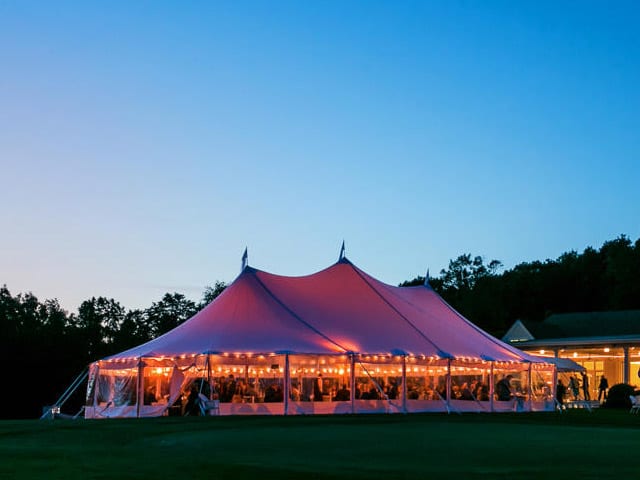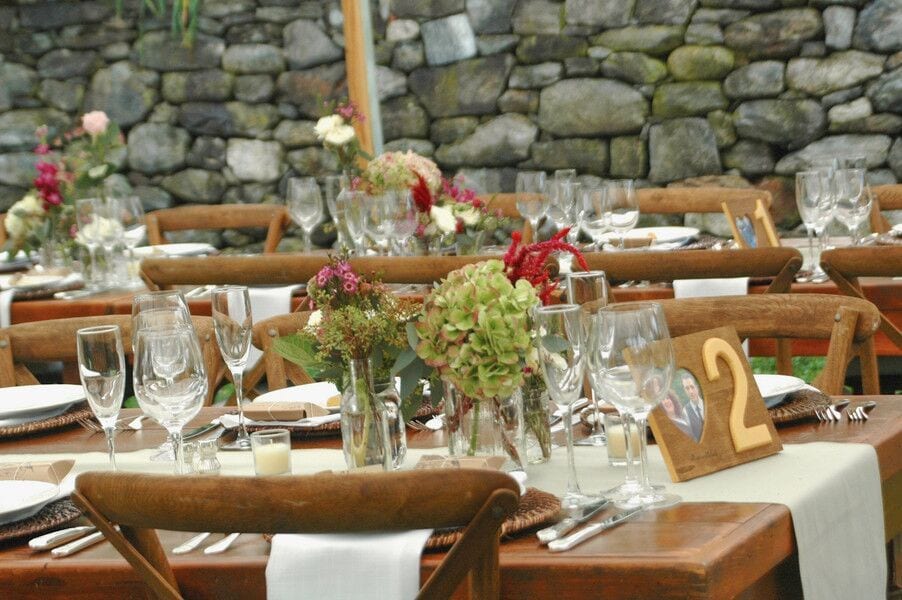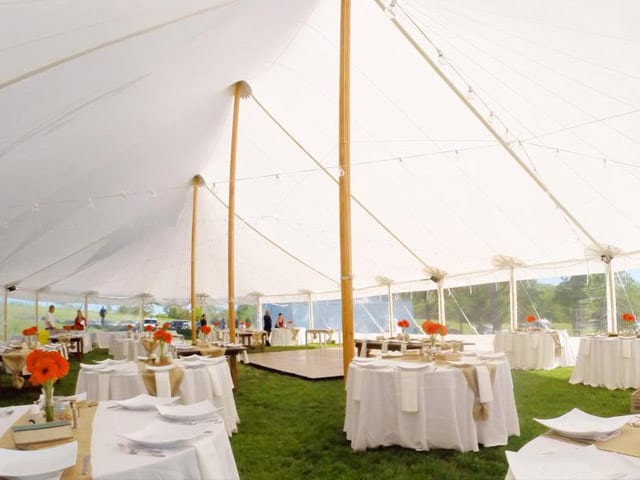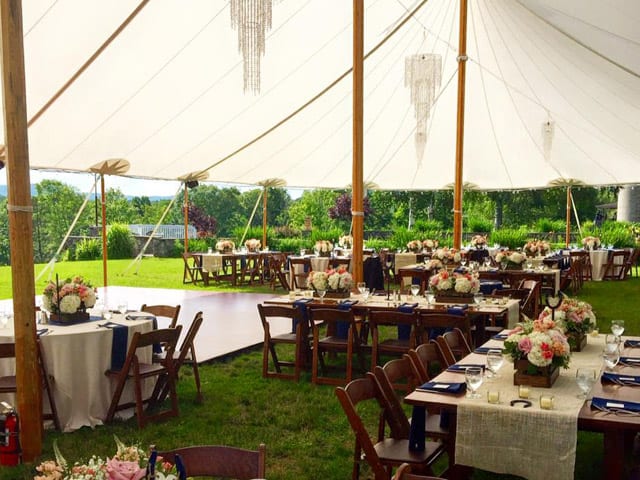 TENT SALES IN PORT CHESTER, NY
For our business/corporate clients, we are especially proud of the options we provide.  If hosting parties is a common event for you and your Port Chester employees then we highly suggest you choose our purchase option rather than incur the cost to rent multiple times a year.  We have a large inventory of affordable new and used tents for purchase, and our sales representatives will be more than happy to assist you. We're certain you will find just the perfect fit with the many choices you have from our used and new inventory.  Contact one of our trusted Tent Sales Representatives today.
ADDITIONAL PARTY RENTALS OFFERED IN PELHAM, NY
TURNKEY PARTY RENTALS
For those people looking to find all their party needs under one roof, then the team here at Durkin's is your party choice.  We provide our Port Chester clients with complete event packages that include it all. From rental tents, linens, caterers, flowers, tables and chairs to outdoor heaters, generators, bathroom facilities and even specialized event lighting, we handle it all. We work with the best vendors who are every bit as committed as we are.  When it comes to your dance floor needs, we highly recommend our own dark walnut dance floors that are sure to be a big hit at your party or event. Our customized 'party/event packages' help make all your party planning quick and easy. Talk to our knowledgeable Sales Representatives about your party needs today.
FARM TABLES
Family style dining is popular at many an event.  With that in mind, our handcrafted dark walnut farm tables are sure to meet your needs. Perfect for all your family-style meals, these tables measure in at 8′ x 42″ wide and are an absolute must do for any party.  If it's the head table, or all your guest seating, no need to fret. Our farm tables will get the job done and provide comfortable family style dining for all.
INTERACTIVE PARTY PLANNING SOFTWARE
For our clients who are not able to be there in person for all the party planning, we recommend our innovative PartyCAD program.  This program is a definite must do if travelling to and from for your party planning does not fit your schedule. The program allows you to design, layout and plan your special event from any place at all. Our representatives can provide you with more information about the program.
Get a Free Estimate!
WHY DURKIN'S FOR YOUR PORT CHESTER TENT RENTAL?
Here at Durkin's we are proud of our four generations of experience, commitment and dedication to all our Port Chester clients and all those in the surrounding Connecticut and New York towns. Billed as your go to company for all your tent rentals and party needs, our team stands ready to serve you with all your Port Chester events.  Weddings, graduations, corporate events, and even festivals, we truly handle it all. Give a shout to the folks here at Durkin's today and let us turn your dream event into a beautiful dream come true!!
Port Chester Tent Rentals