Guilford, CT Awnings
AWNINGS, CANOPIES, PERGOLAS & LOUVERED ROOFS
The professionals here at Durkin's have been serving the Guilford area for over a hundred years.  We provide quality commercial and residential awnings, installations and repair services that will simply not be matched.  Our awnings help homeowners and business owner enhance the appearance of their property while providing added protection from the UV rays of the sun. Whether you are in the market to purchase a new awning or need repairs to your old one, we are definitely the team for you.  Contact one of our representatives today.
At Durkin's we offer:
Get a Free Estimate!
Guilford Awning Installation and Repair
AWNING INSTALLATION
When you schedule your consultation, our professional team will perform an analysis and assessment of your property, determine which products and services suit your needs best, and then provide you with a complete estimate of the total costs along with a timeline for your installation.    
We work alongside all our customers to ensure they make the best choice.  We provide data, information and insight needed to help in your decision-making.  It is our commitment to ensure you make the best awning choice for your Guilford home or business.   
The experts here at Durkin's understand full well how costly repairs can be which is why we ensure that your installation is both effective and efficient.  If need be, we can also uninstall and reinstall your residential or commercial seasonal awnings if you have a need.
AWNING REPAIR & SERVICE
If your Guilford awning has any damage, then surely you can rely upon our top-notch repair services.  We provide repair services that are second to none, for all types of awnings. We'll assess the damage to your awning, determine how the repair needs to be performed, and then provide you with a full estimate for your repair project.    
Once approved, our team will restore your damaged awning to its pre-damaged condition and make it look just like new.  We can also provide winter cleaning for your home or business along with other services as well.
Commercial & Residential Awnings
At Durkin's we do installations and repairs for both commercial and residential buildings. If a business owner wants to enhance their property or add more protection from the sun, then rest assured you will find just what you are looking for from our vast inventory of awnings.  At Durkin's, we always have you covered.
We also provide Guilford homeowners with a wide range of awnings that can protect and cover their gardens, protect their deck, or enhance the existing décor and appearance of their homes.
Awning Types in Guilford
STATIONARY AWNINGS
Stationary awnings provide Guilford home and business owners with a permanent shading system.  They can be easily customized to fit your individual needs whether for your deck, patio or even a freestanding structure.  They withstand the toughest outdoor elements and provide additional protection from the sun.
If you want to transform your deck, patio, or even your poolside area, then our stationary awnings are just the product for you.  They come equipped with curtains as well, if that suits your need or otherwise without.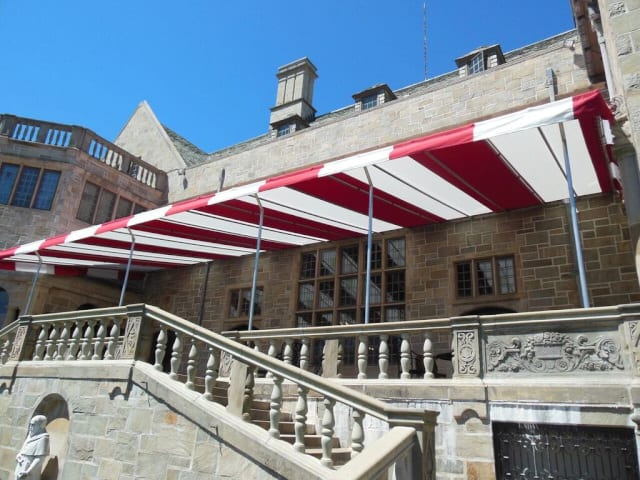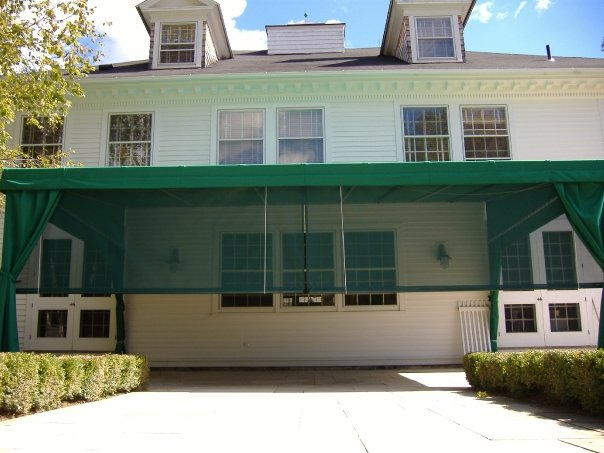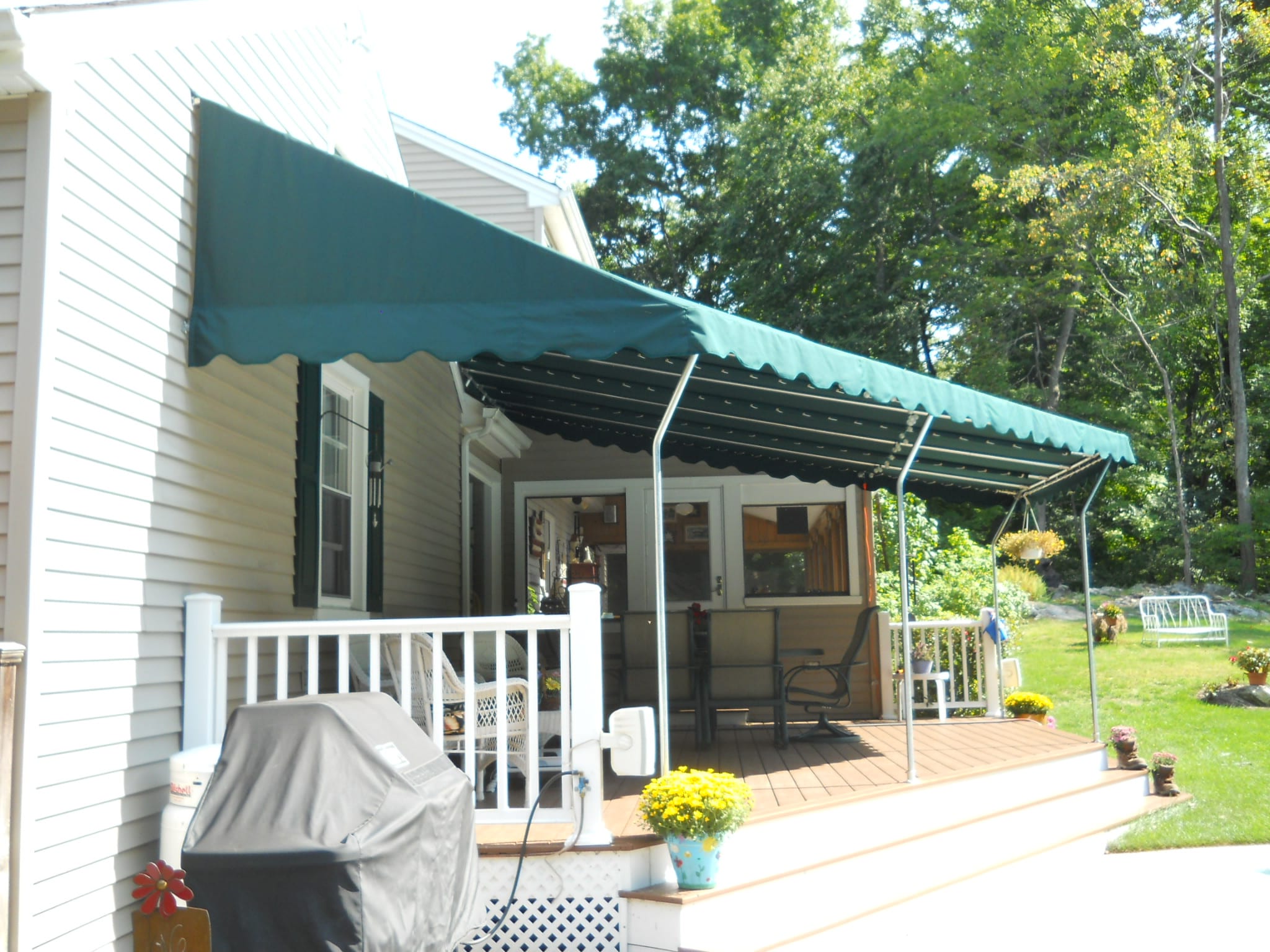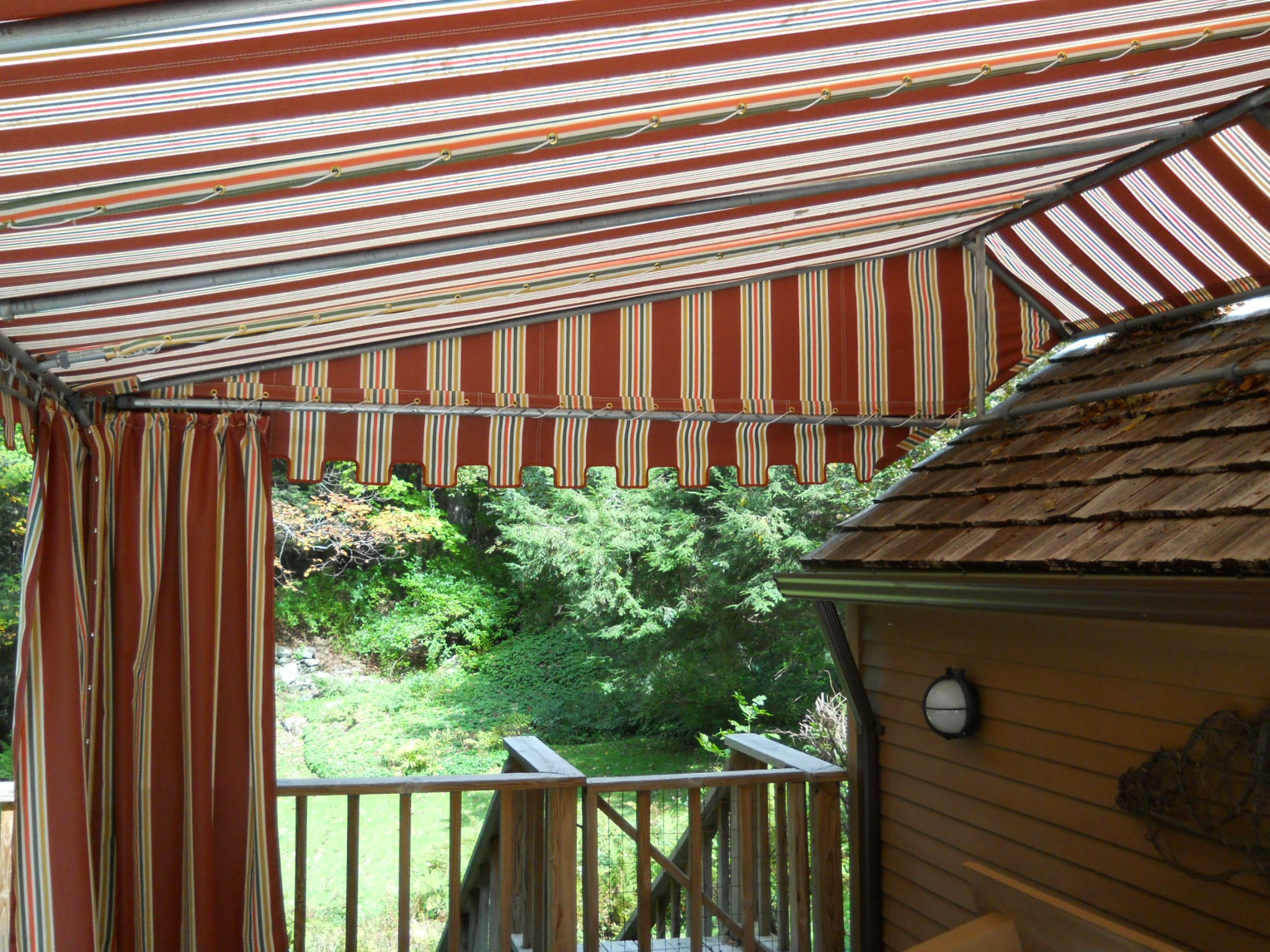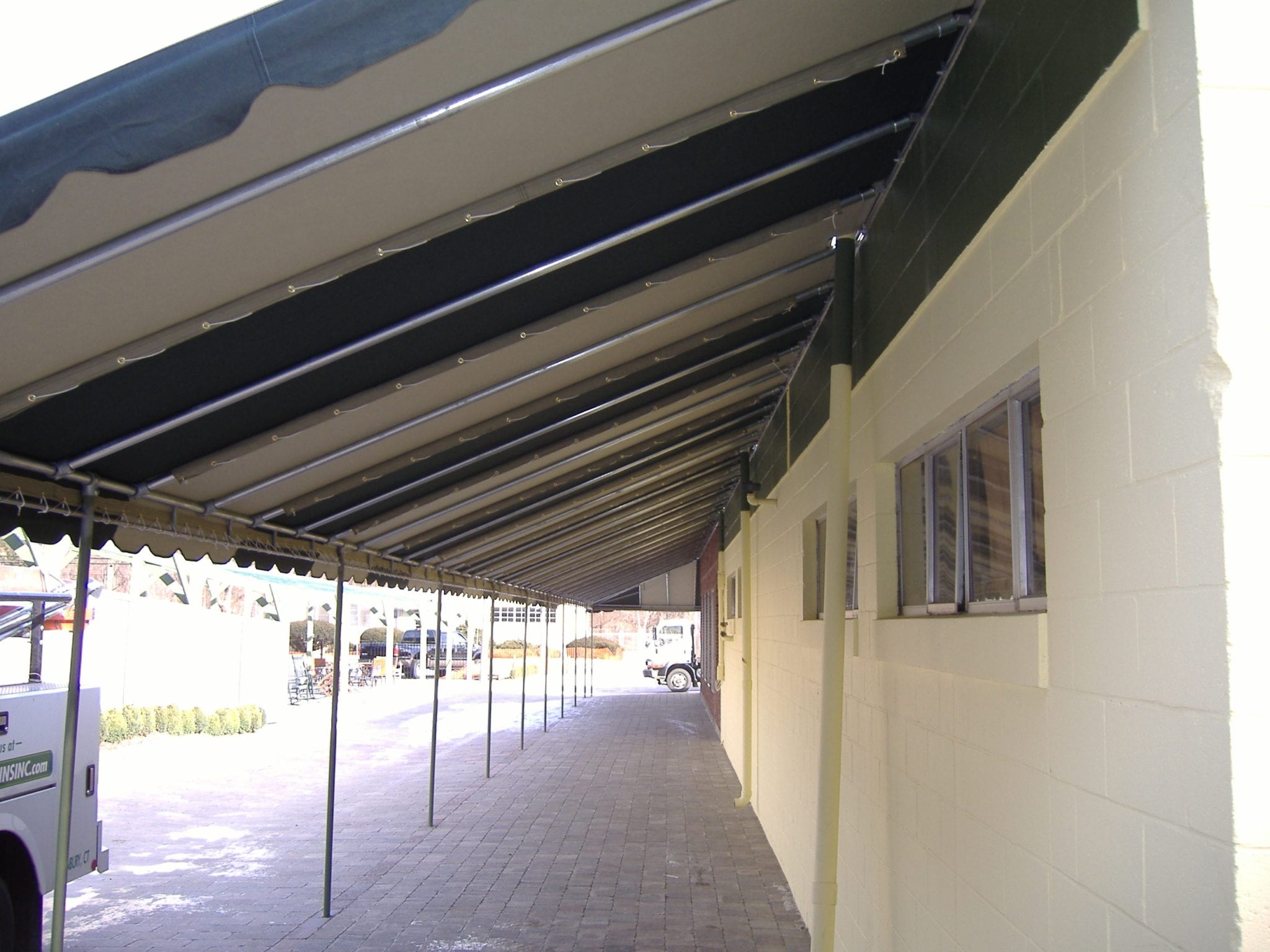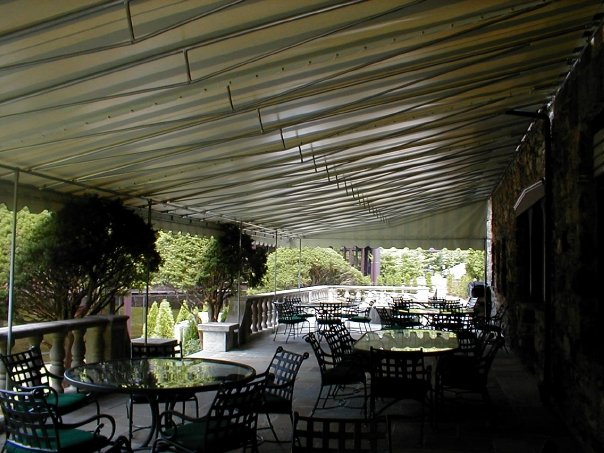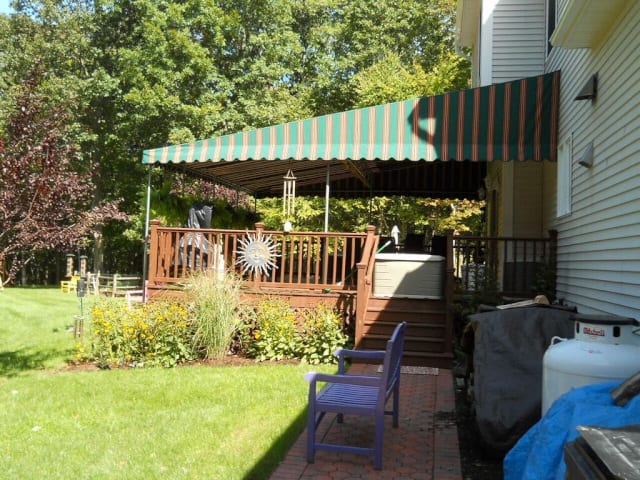 Shade Structures
Are you looking to purchase a new awning for your Guilford home or business?  At Durkin's we have a huge inventory of shade structures to choose from, all of which provide additional protection from the outdoor elements and enhance your current property décor and appearance.  However, Eclipse Sunroof Plus seems to be one of our most popular choices.
Eclipse Sunroof Plus
The Eclipse Sunroof Plus is a retractable motorized shading system that provides protection from the elements season after season. This system can be used in even the windiest conditions and other outdoor elements.    
The Eclipse Sunroof Plus is available in two varieties:
Patio Style: Designed to attach to an existing structure.
Pergola Style: Engineered to be mounted on an existing structure.
Each of the Eclipse Sunroof Plus systems can be operated with a handheld transmitter or a wireless wall switch, and when they are not in use they can be safely retracted.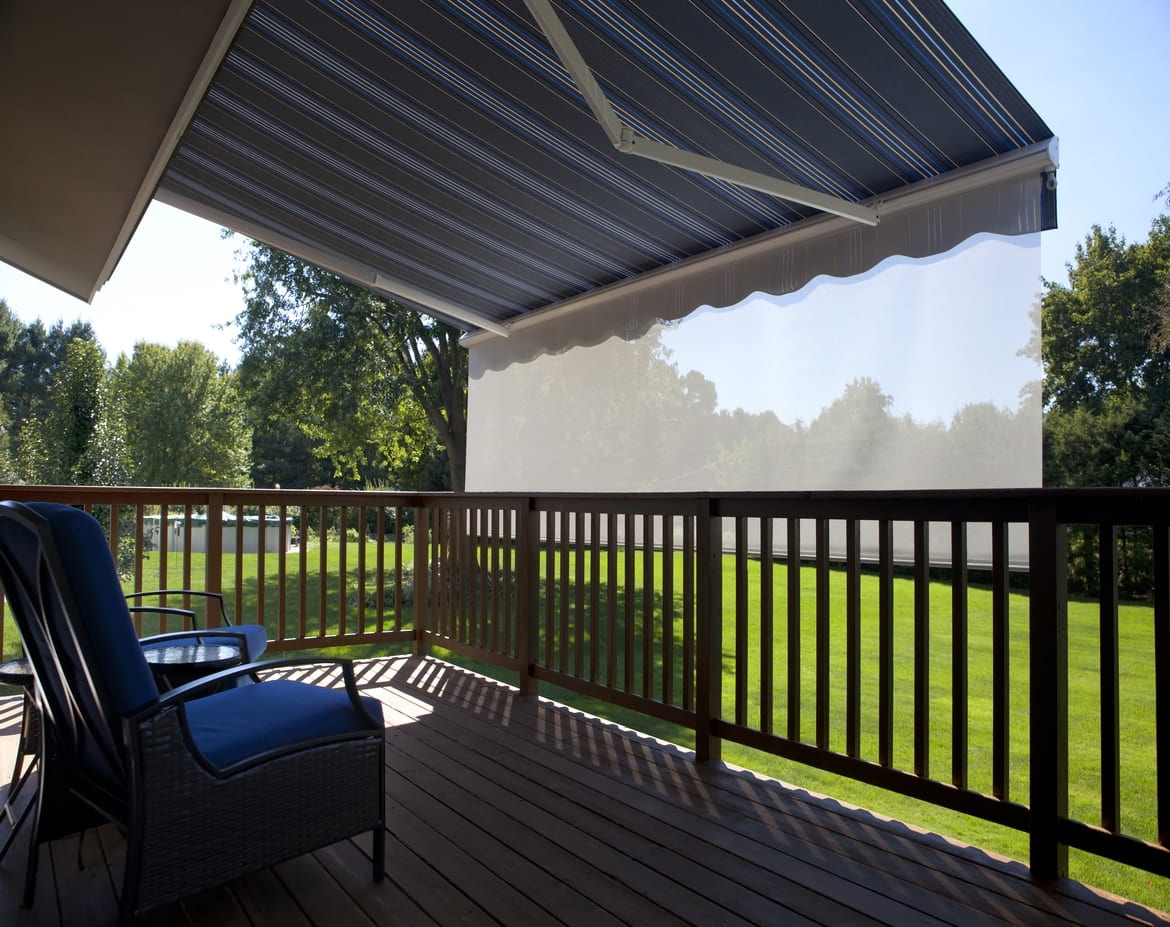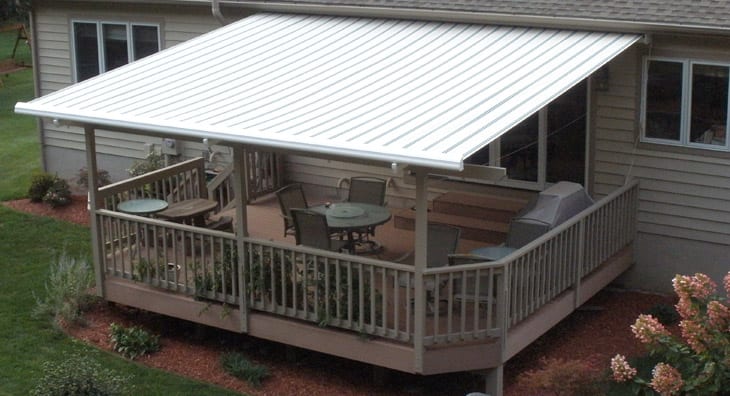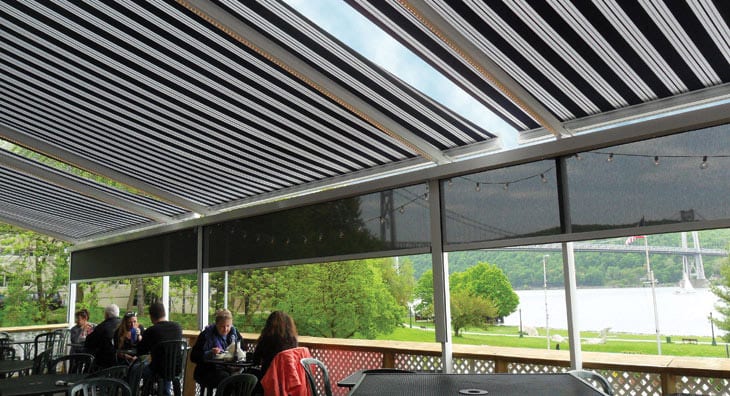 Retractable Deck and Patio Awnings
Retractable awnings seem to be a favored product of choice by many of our clients.   They provide greater convenience than most other types of awnings because they are motorized, quite simple and very easy to use.  Nearly 95% of our sales today are from retractable systems.
Our technicians are trained to handle the install of all types of awnings, including retractable awnings for many Guilford homes or businesses. Installs are performed based on your schedule needs and prices are every bit affordable.
Retractable awnings are:
Convenient

Easy to use

Versatile

Provide great protection and shade
Get a Free Estimate!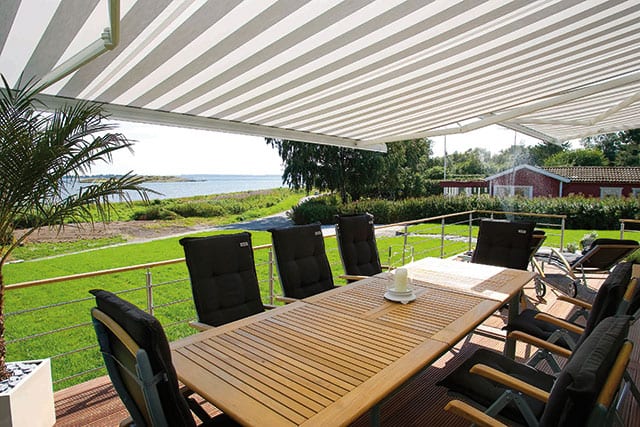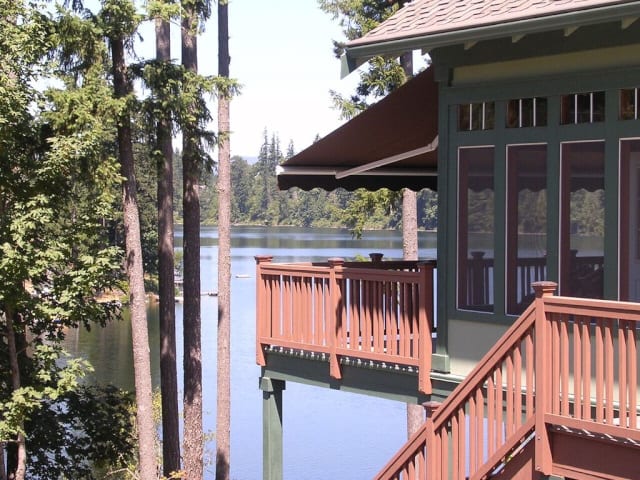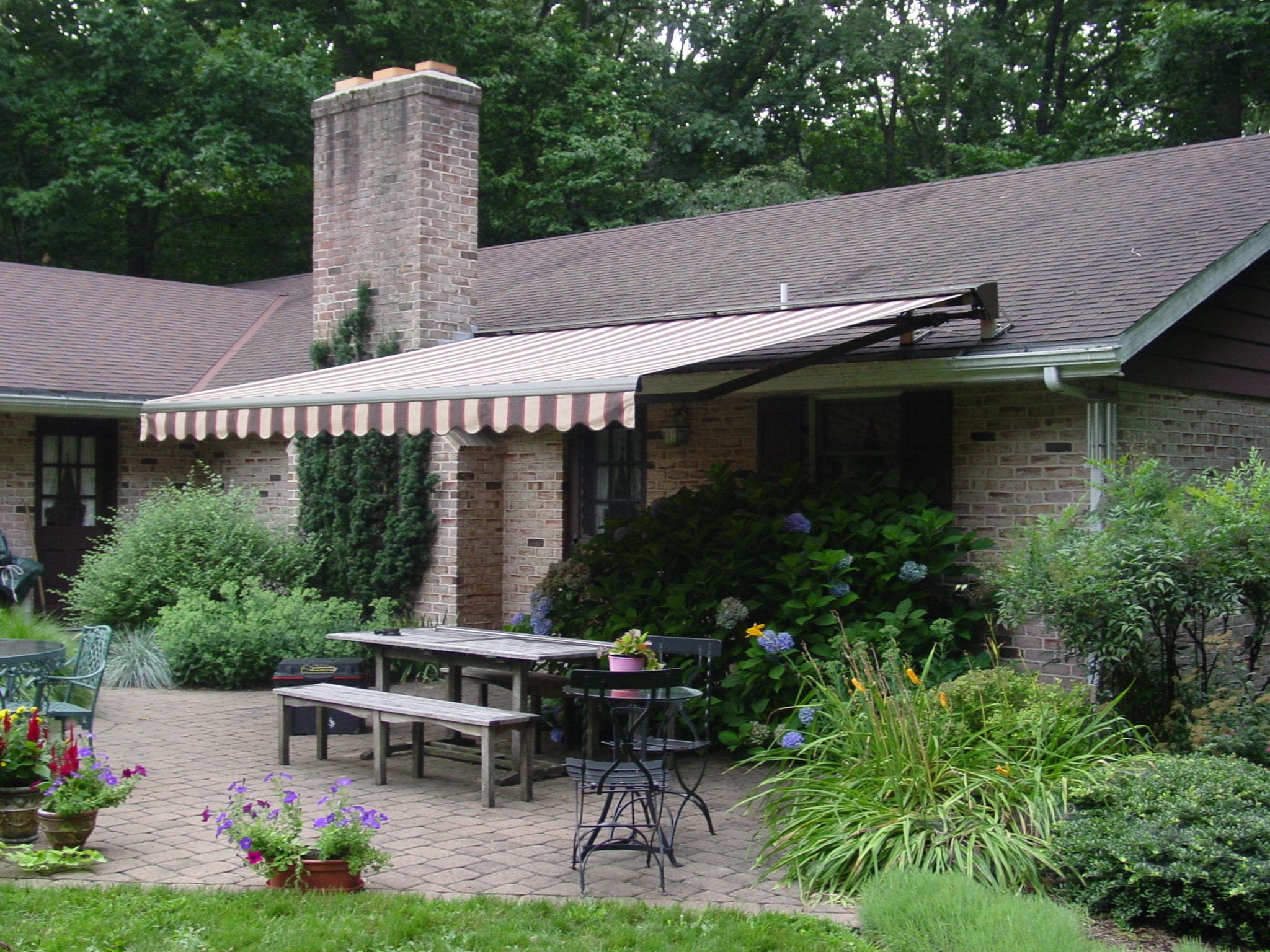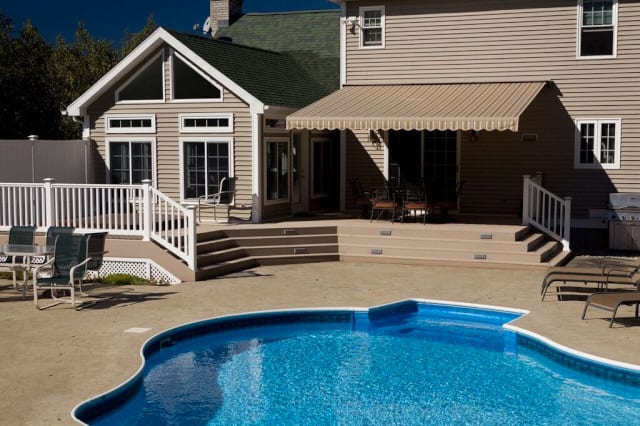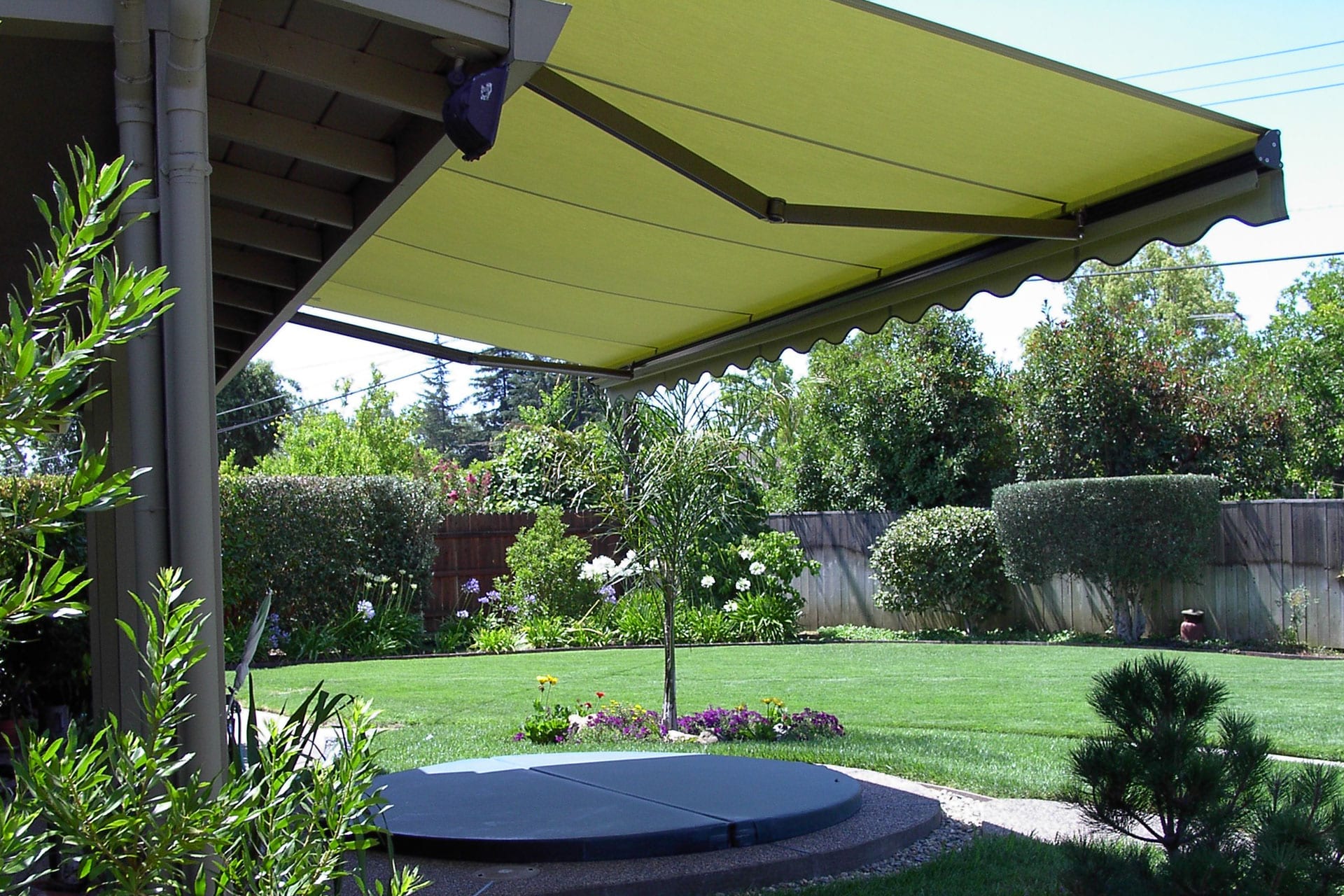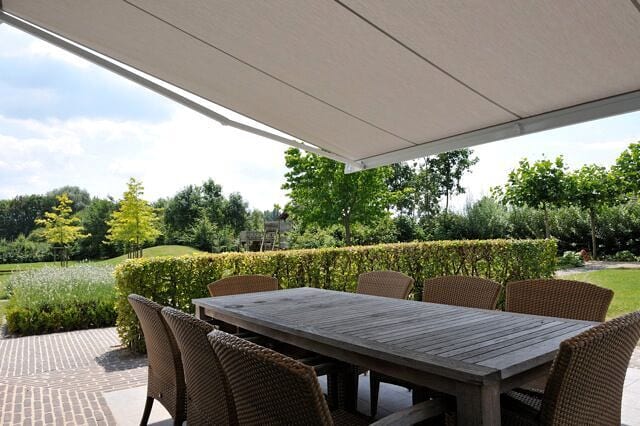 Canopy Installation and Repair in Guilford, CT
If protection from the extreme heat of the sun is your number one priority, and if you want to add to the appeal of your home or business as well, then our trendy, stylish canopies are an ideal choice for you.  Canopies are year-round structures in many of the Connecticut and New York areas we serve. Here are some of our most popular varieties.
PERGOLAS
A pergola can be customized to suit your individual needs and adds an entirely different look and design to your property.     
SHADE CANOPIES
Shade canopies are the perfect choice if you enjoy spending a good deal of time in your backyard, whether barbecuing, swimming or picnicking.  They add to your backyard décor and if you simply want to just relax in the shade, will serve your purpose well. Here at Durkin's we have a shade for everybody.  With a wide range of designs, colors and sizes to choose from, our valued clients can always find the perfect fit to enhance their residential or business property year-round.    
GARDEN CANOPIES
For those of you who love your gardens, our popular garden canopies are sure to make you smile.  They are ideal for adding protection to your garden investment from the extreme heat of the sun or protection from annoying insects as well.  At Durkin's, Inc. we have a variety of garden canopies to choose from and, if need be, can perform your installation for you.
Get a Free Estimate!
Louvered Roofs in Guilford, CT
Durkin's is also known for our outdoor roofing in Guilford, CT. We perform louver roof installations on both residential and commercial buildings.  Our expert team is steadfast in providing only the very best in products and services to all our valued customers.
Because of their angled structure, louvered roofs perform quite well in New England weather, allowing for the heat and sun of the hot months and repelling the elements of the colder months. For more information about the installation of louvered roofs in Guilford, contact one of our representatives today.
TYPES OF LOUVERED ROOFS
Are you a homeowner or business owner who needs a specific type of roof?  If so, don't worry. At Durkin's we are sure to have just the right roof for you.  No matter what your need, the professionals at Durkin's have you covered. We can customize your louver roof with all sorts of add-ons and features.  Here are some features we can add to your louvered roof:
Ceiling Fans

Accent Lights

Custom Colors

Wood Wraps

Solar Shades

Pergola End Cuts
Louvered roofs are made of aluminum which is very durable.  It is also cost-effective and has a long-life span. It can be used for freestanding structures or as an add-on to an existing Guilford structure.
Get a Free Estimate!
Why Durkin for your Guilford, CT Awning?
With over a hundred years of experience serving the Guilford area, the pros here at Durkin's, Inc. take tremendous pride in all our top-rated products and services and in our five-star customer satisfaction rating.
With more than 4000 systems installed by our Durkin's professionals, with less than .0065% presenting with any type of issues, our awnings have proven to be far more reliable than most automobiles or appliances that are out there on the market today. For designs, installs, or repairs to your Guilford awning, you can always trust the pros at Durkin's.  Contact one of our representatives today for more information.
Get a Free Estimate!
Guilford Awnings