Bridgeport CT Awnings
Awnings, Canopies, Pergolas & Louvered Roofs
Durkin's has been servicing the Bridgeport area for more than a hundred years with installation and repairs for both commercial and residential awnings. Awnings offer much more than you might think. With our custom awnings you'll be able to alter the perception of your building and provide protection for your building and clients from harmful UV rays and the elements. Durkin's can be your awning expert in Bridgeport, CT.
At Durkin's we can help you with:
Get a Free Estimate!
Bridgeport Awning Installation and Repair
Awning Installation
To begin your awning project, we'll first start with a consultation at your Bridgeport  property and provide you with an accurate estimate. This will help us figure out your specific needs for an affordable price. We'll also be able to set a date and price range for your installation.
To provide you with the best awning for your Bridgeport  residence or business, we'll pay attention to your wants and needs and find the most beneficial shade solution for you.
When an awning isn't installed properly, you can ultimately face damage within a few months that'll cost you more than the initial cost of your awning. That's why we make a point of carefully inspecting your awning after installation and making sure that it will stay strong. If you're looking for a seasoning awning, we can help you with uninstalling and reinstalling as well.
Awning Repair & Service
If your Bridgeport  awning comes in contact with any damage or issues, we'll be there to assist you. We'll offer you our top of the line repair services that are great for both residences and businesses. We'll come to your Bridgeport  location, evaluate your damage, decide what can be repaired and give you an accurate estimate.
Once we agree upon what needs to be done, we'll work quickly to get your awning up and running once again. We also have a variety of other services you can use such as winter cleaning.
Commercial & Residential Awnings
Durkin's will always be an awning business that you can trust. We not only install but repair awnings for commercial and residential use. If your Bridgeport  business is looking for more opportunities to make your store front look more attractive or provide protection for your customers, we've got you covered.
The same goes for residences as well, we can offer our beautiful awnings or canopies for any shade solution you need. Either you can cover your patio, backyard or garden, a fantastic and affordable way to enhance your home.
Awning Types in Bridgeport
Stationary Awnings
Stationary awnings are a great source of permanent shade that can be sized to most decks, patios or freestanding poolside cabanas. This type of structure is great for standing up to seasonal weather and protecting not only people but furniture or buildings from rain or UV rays.
Our custom-built shade systems will help alter your deck, patio or poolside with an excellent extension of your current living space. We'll be able to help you pick out a stylish awning for your Bridgeport  property that can be enhanced with side curtains or a screen that will give you even greater protection when necessary.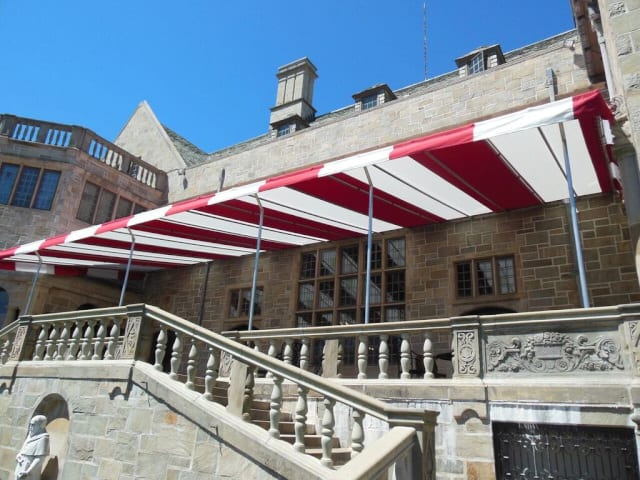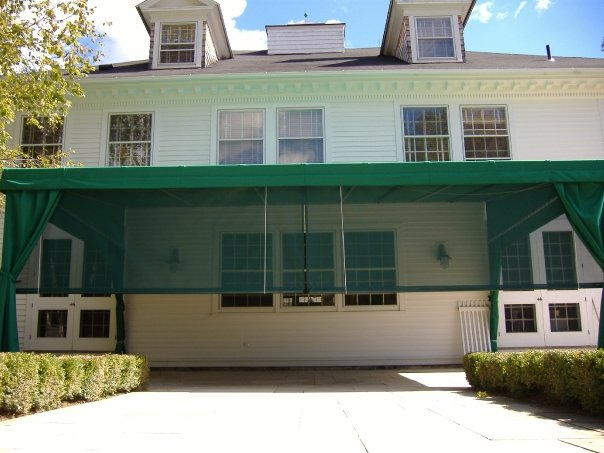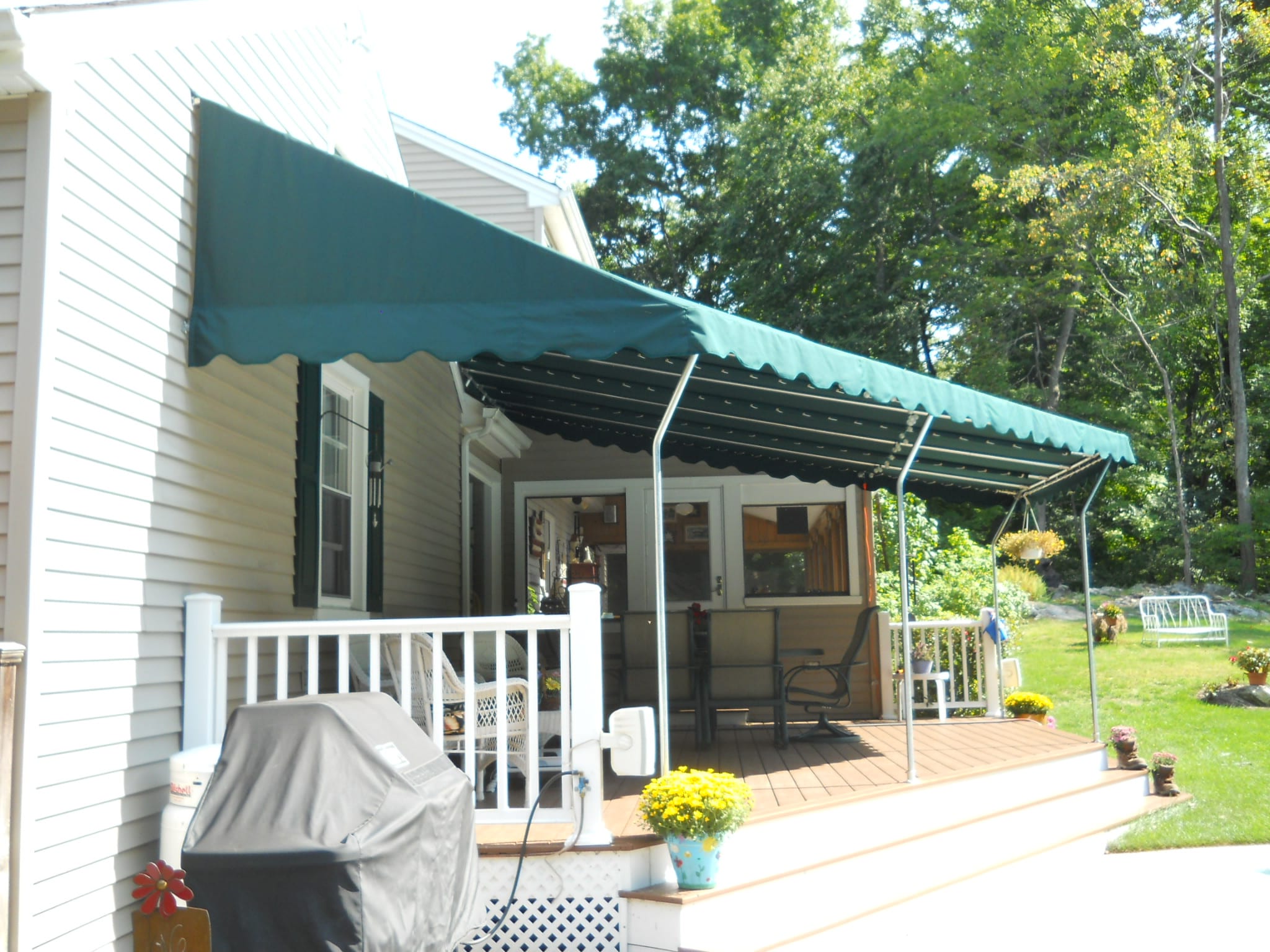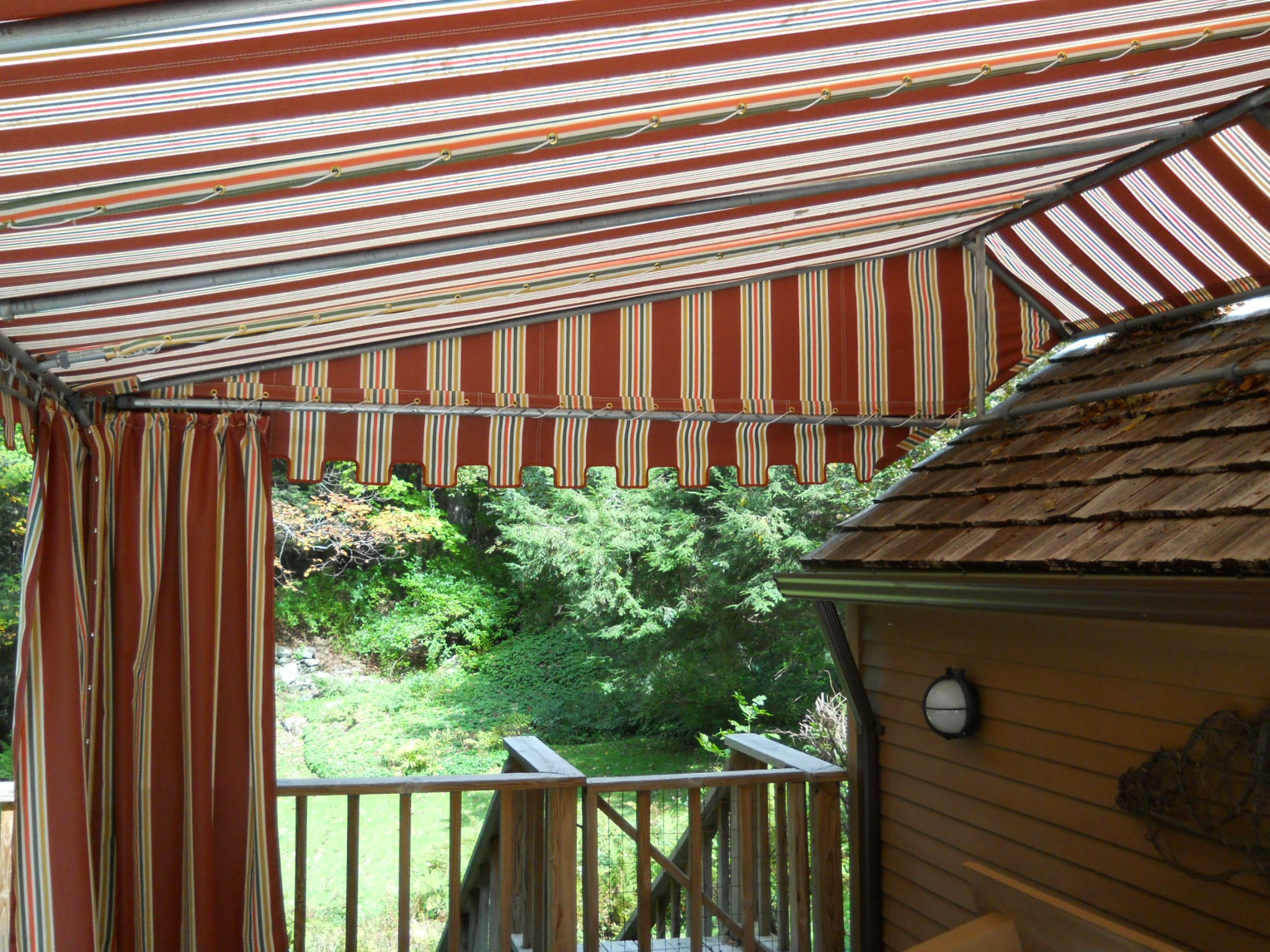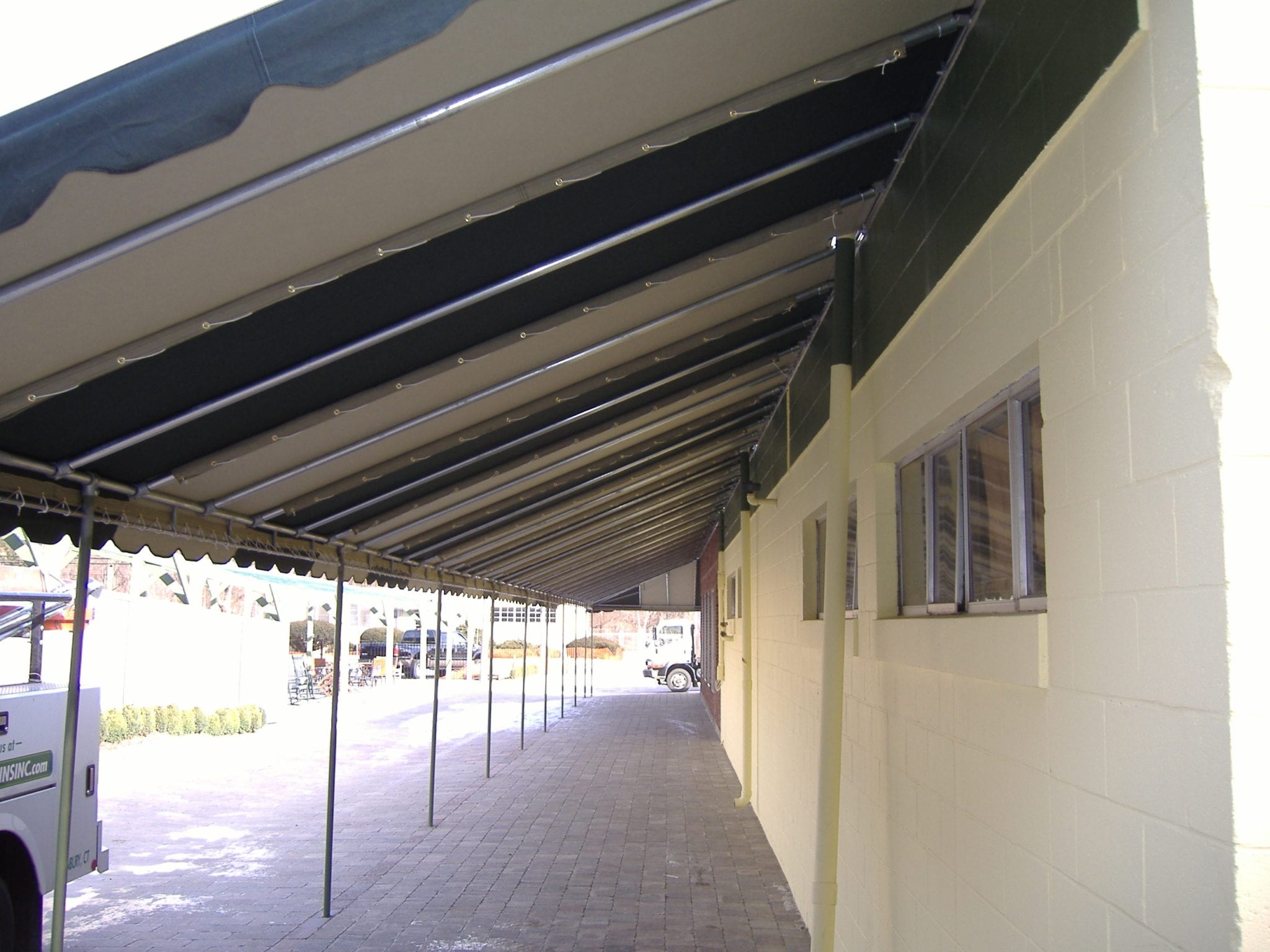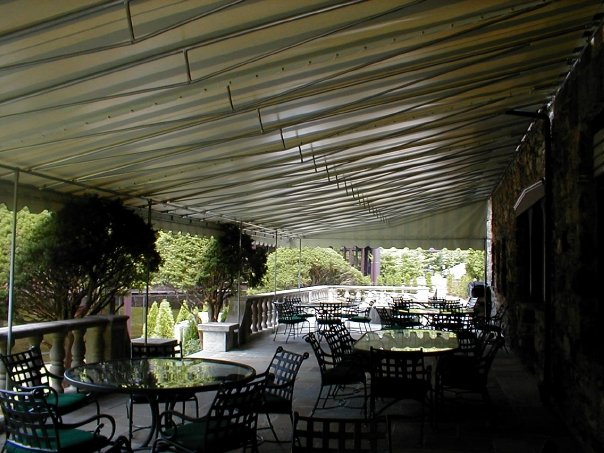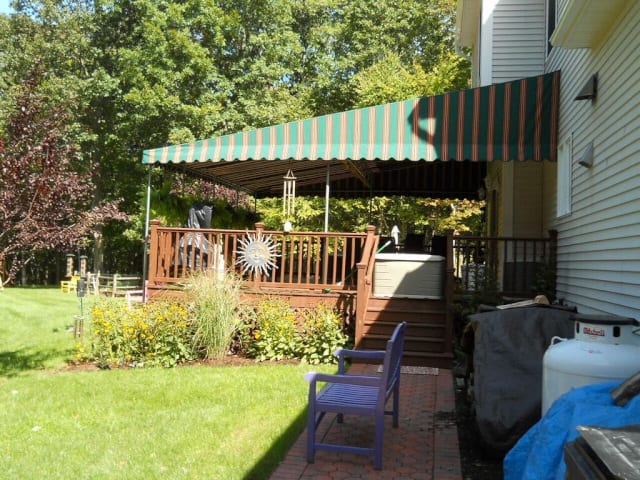 Shade Structures
Are you trying to find a residential or commercial awning that will not only bring protection from the sun or rain, but also keep your Bridgeport  property protected from windy conditions? Our Eclipse Sunroof Plus may be what you're looking for.
Eclipse Sunroof Plus
The Eclipse Sunroof Plus is a retractable, motorized shading solution that allows for a longer projection and 3-season protection. With this many great options, you'll have a shade that can withstand most elements and even windy conditions up to 23 mph and is complete with a 5 on the Beaufort scale.
The Eclipse Sunroof Plus can be purchased in two options:
Patio Styles: An excellent shade solution that can be attached to an preexisting structure.
Pergola Style: A design made by engineers to be mounted on an existing building.
Both the patio and pergola style awnings can be operated with a wireless wall switch or even a handheld transmitter. This way, you'll be able to safely retract your awning when it's not in use.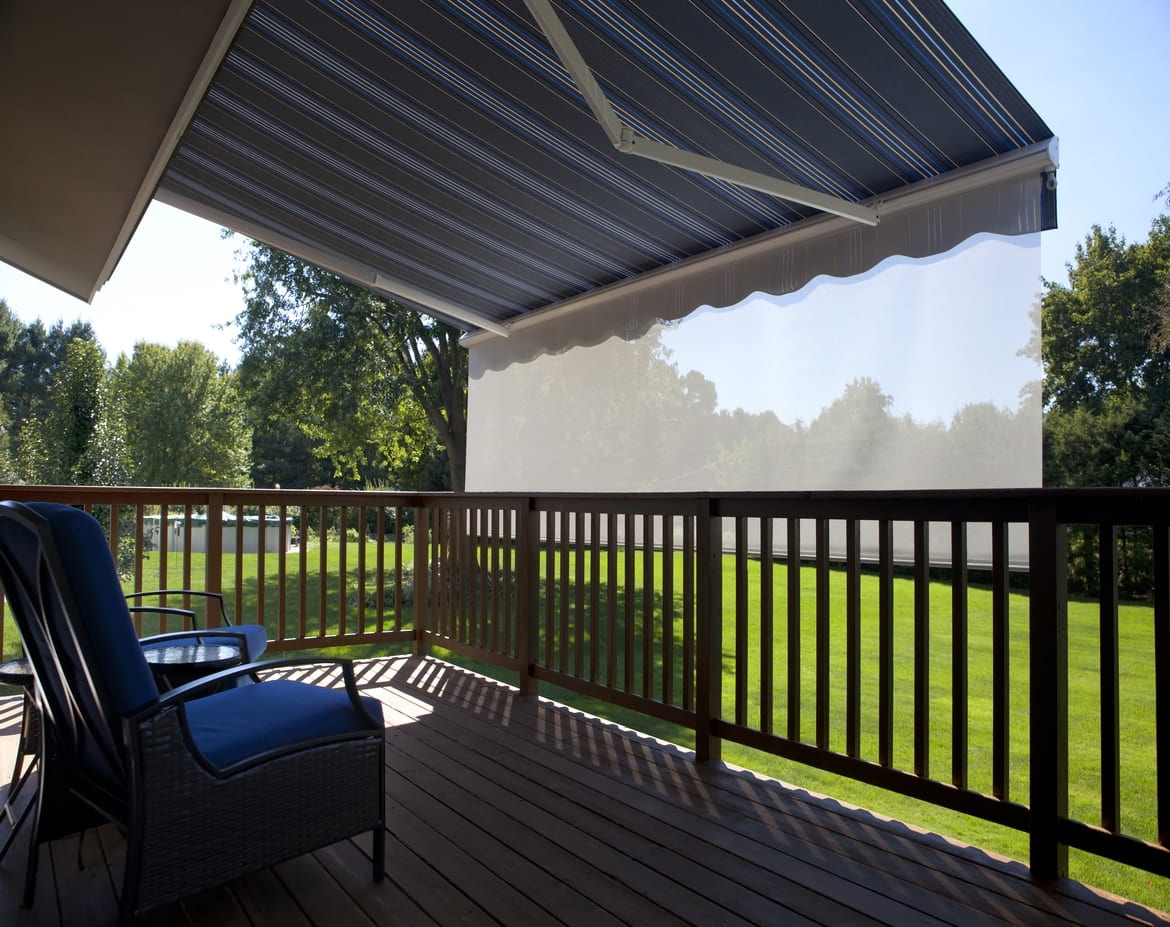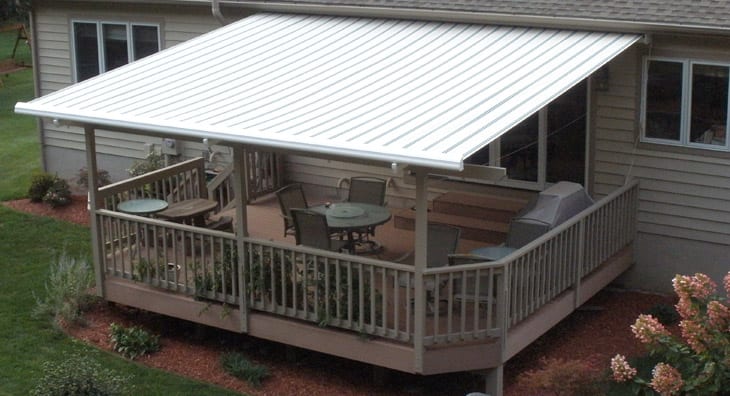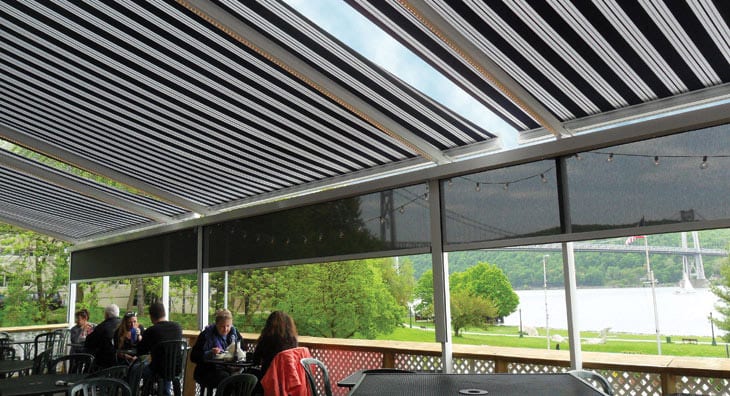 Retractable Deck and Patio Awnings
Retractable awnings couldn't get any more simple and convenient for Bridgeport  homeowners and businesses. They can even be motorized for ease of use, and a large portion of our sales (around 95%) are from motorized awnings.
Throughout all our years of service, we've come to find that retractable awnings are used much more than manual system due to their ease of use. We'll be able to help you install or repair retractable awnings for your Bridgeport  home or business.
Retractable awnings are great for being:
        

Convenient

        

Easy to Use

        

Versatile

        

Protective and creating shade
Get a Free Estimate!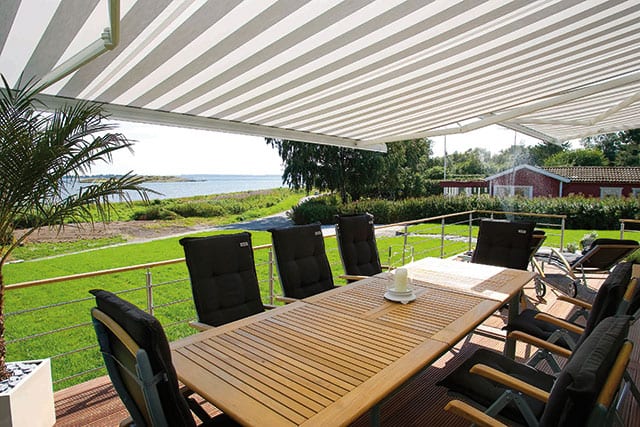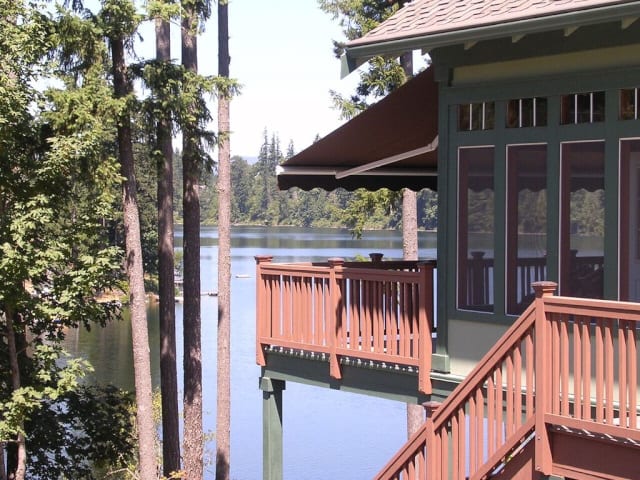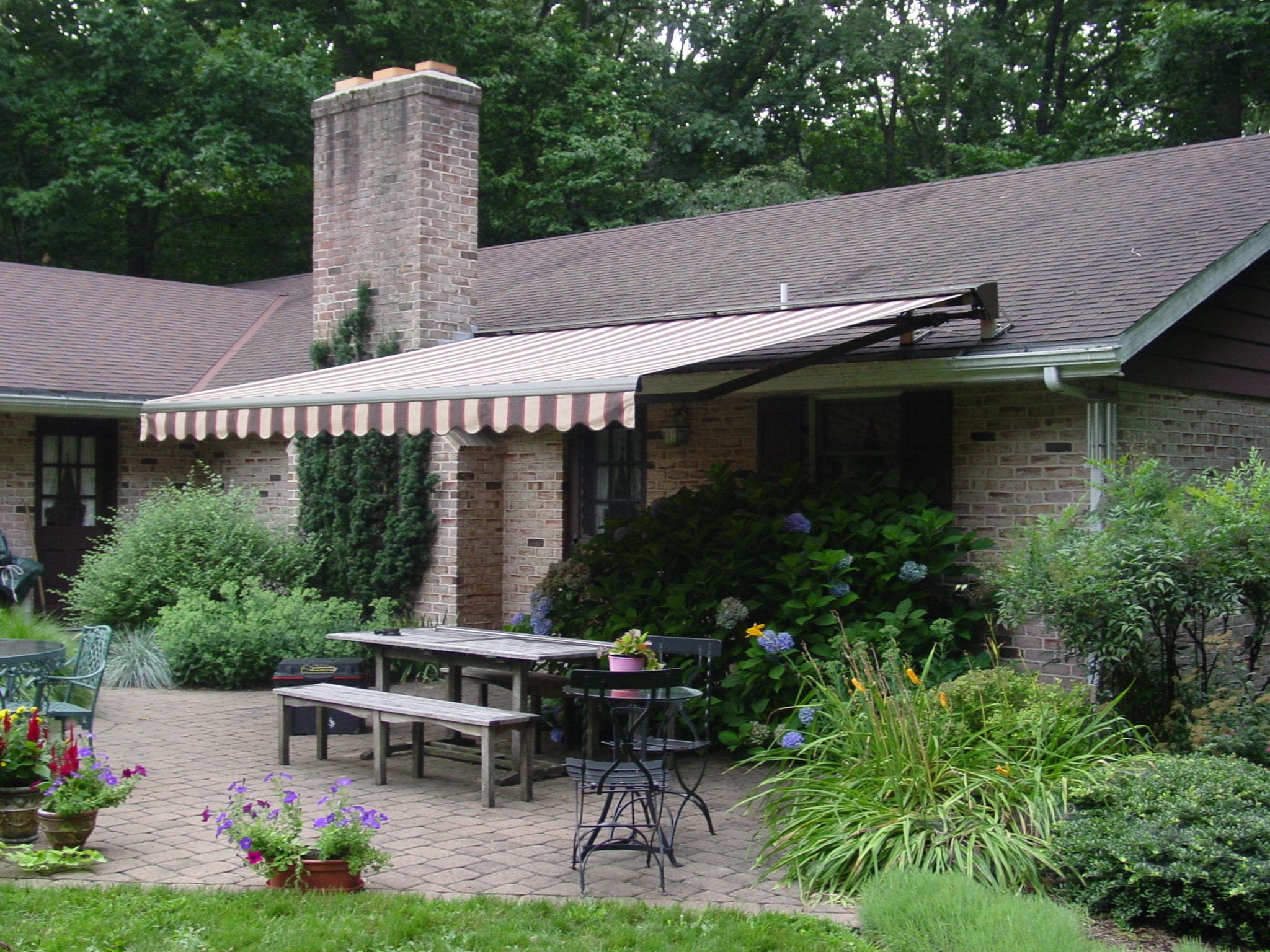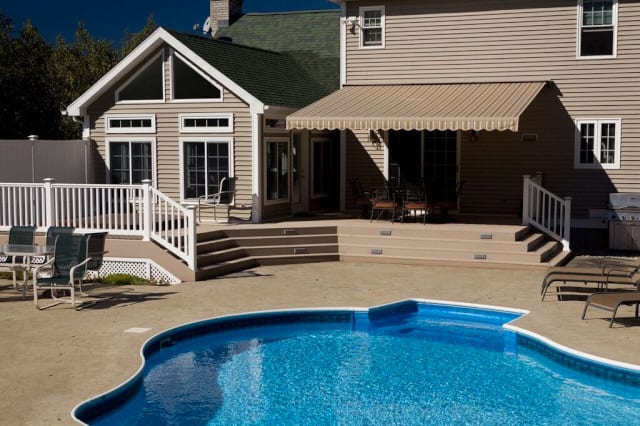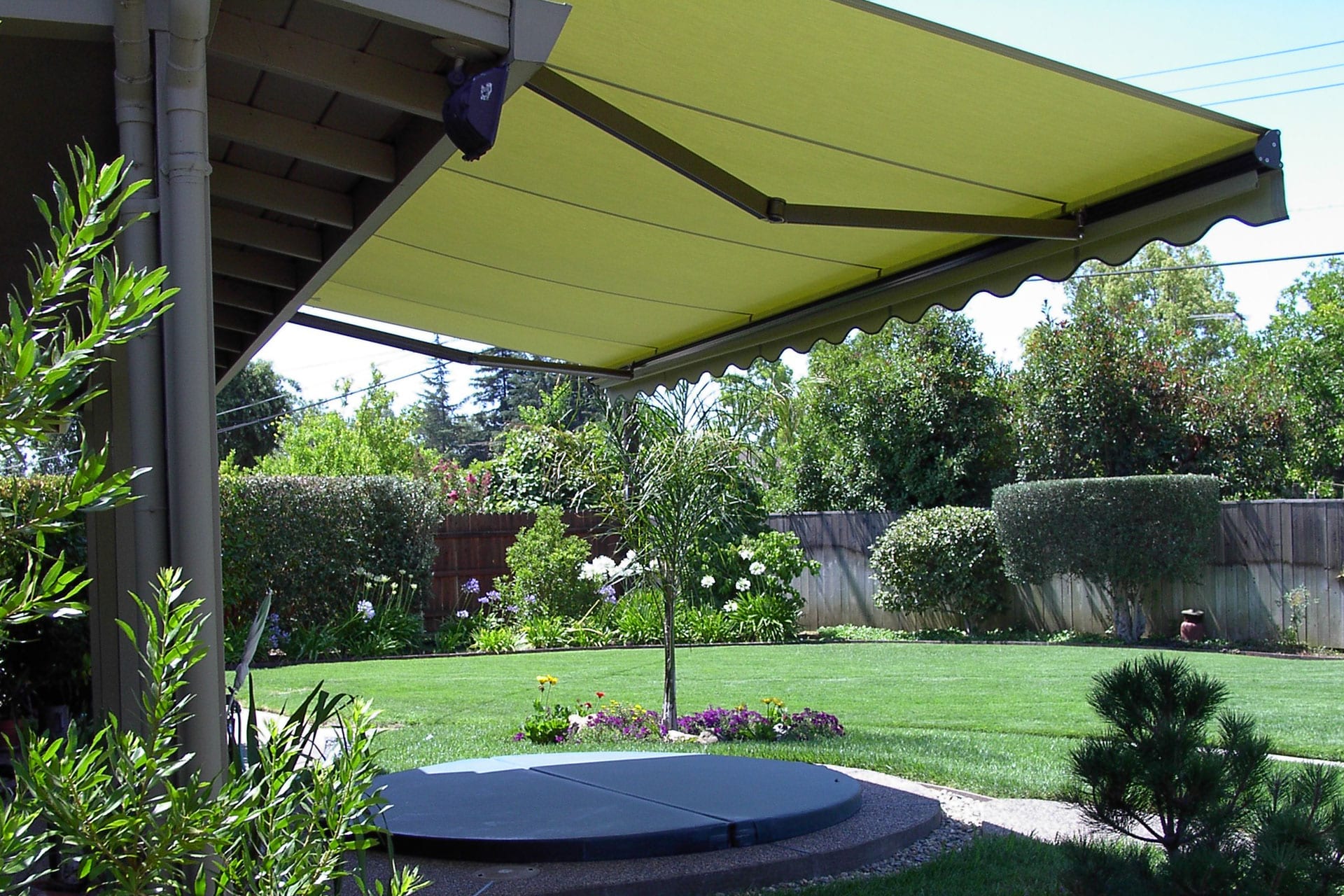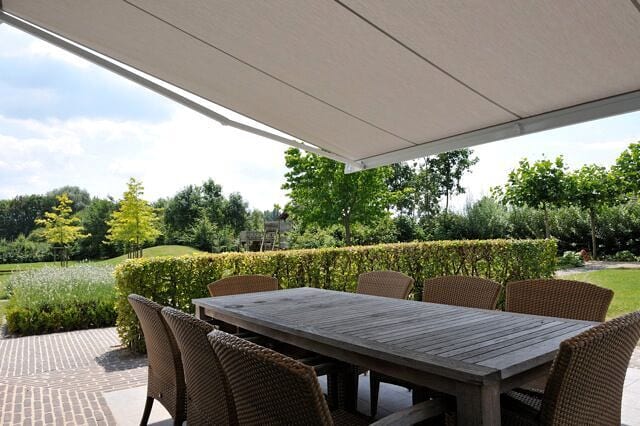 Canopy Installation and Repair in Bridgeport, CT
Canopies are very versatile when it comes to providing shelter from harmful UV rays to simply adding style to your backyard. Whatever reason you're looking to invest in one, you'll be happy with the benefits and results. They're even perfect for year-round purposes in towns like Bridgeport or areas in Connecticut and New York. Here's a list of our most popular canopy types.
PERGOLAS
Pergolas are fantastic for adding design and style to your backyard or patio while providing practical, reliable shade during the summer months. Durkin's Inc. can extend our custom construction of pergolas to give you added flair for your backyard space.
SHADE CANOPIES
It doesn't matter if you're looking for a new shade piece for your backyard or just want to have a new spot to relax in the backyard, shade canopies are versatile and can fulfill many different needs. Looking for a place to host your next BBQ? Need more shade options for your space? No problem, with a shade canopy, you'll be able to choose from select designs and sizes, giving you better options to match your backyard design.
GARDEN CANOPIES
Garden canopies are fantastic pieces to bring style and beauty to your backyard oasis. They're great for protecting your garden from harsh rays and insects, while still blending perfectly with your entire backyard space. Durkin's can help you enjoy being outside again with our sturdy, dependable shade solutions.
Get a Free Estimate!
Louvered Roofs in Bridgeport CT
As outdoor roofing experts in Bridgeport CT, we know how to install a louvered roof on your property. That's why we are the go-to company for Louvered roof projects for residential and commercial properties.
Louvered roofs function exceptionally well in New England weather as they are angled to allow light and air during the spring & summer while repelling precipitation throughout the fall and winter. Durkin's can answer any question on louvered roofs anywhere in Bridgeport CT.
Types of Louvered Roofs
Looking for a certain type of roof? We're the only company in Bridgeport you need. Residential or commercial, we can do both without a sweat. The great thing about louvered roofs is that they are very customizable and can come with a variety of add-ons. Here's what we can install with your Louvered roof!
Ceiling Fans
Accent Lights
Custom Colors
Wood Wraps
Solar Shades
Pergola End Cuts
Our roofs are made entirely out of aluminum, you can be sure the quality and durability of our roofs are top notch.
Aluminum is a cost effective material that can last a long time. The strength of the material can enable units to be free-standing or add-ons to existing structures.
The versatility, durability & functionality of Louvered roofs make for the perfect outdoor roof anywhere in Bridgeport CT.
Get a Free Estimate!
Why Durkin for your Bridgeport Awning?
Don't let your backyard go unused this coming summer with our fantastic, wide selection of authentic shade systems and solutions. Durkin's has been around for more than a hundred years, providing the Bridgeport area with trustworthy installation and repairs for awnings and canopies. We take pride in all that we do for our customers, and we love providing not only great products but excellent customer service.
Get a Free Estimate!
Bridgeport Awnings