New Haven County, CT Awnings
Awnings, Canopies, Pergolas & Louvered Roofs
Here at Durkin, we proudly serve those living in New Haven County with our professional installations and repairs of awnings. To back up our claim of being one of the best in the industry, we've been serving those in New Haven County for over a hundred years. Our expert designers and engineers can create or repair custom-made awnings for both commercial and residential properties in New Haven County.
At Durkin's we offer:
Get a Free Estimate!
New Haven County Awning Installation and Repair
Awning Installation
All of our awning projects will first begin with an estimate and consultation of your property in New Haven County. By having a consultation, we'll be able to visually see your property and design an awning that not only completes your desired look but serves its purpose for a reasonable price.
We always work directly with our clients in New Haven County to provide the best customer service and experience. By using your input, we'll be able to design an awning that covers all of the needs of your New Haven County home or business.
Installing an awning is no easy task. Without the necessary precautions, installing an awning incorrectly can lead to long-term damage and heavy repair costs. Here at Durkins, we make sure to inspect your property the correct way, the first time. We'll then carefully install your awning to its best ability, making sure that it keeps its strength and can last for years to come in the New Haven County climate. If you have a seasonal awning, we can also help you with uninstalling and re-installing when the time comes.
Awning Repair & Service
Things happen, and awnings can be broken by misuse or by the elements. That's why we offer fast and professional repairs for your awning in New Haven County. If you are unsure about having a repair, we can quickly provide you with an estimate on the damage and what we believe truly needs to be fixed in order for your awning to be up and running again.
Our main goal is to make our clients in the New Haven County happy and satisfied with their awning repair services. We will always want to make your awning work efficiently in the most timely manner. To assist you all-year round, we also offer seasoning cleaning of awnings at your convenience.
Commercial & Residential Awnings
Wow your potential customers with a beautiful business facade and a professional Durkin's awning! Your New Haven County passersby have only a brief moment to make a snap judgement about your business. Ensure it's a good one with an awning that creates the image you want for your business. 
We also offer residential awnings that can help accentuate the architecture and style of your home with the correct awning choice. They can also be used on decks, patios and even gardens to help create shade. If you are interested in creating such an image for your New Haven County home or business, contact Durkin's to see how we can help!
Awning Types in New Haven County
Stationary Awnings
Americans spend most of their lives indoors. If you want to increase your time outside, consider a stationary awning from Durkin's. A stationary awning turns your rarely used patio, deck, or poolside into a usable outdoor room, shaded from the sun and protected from rain. Continue to enjoy the outdoors during just about any weather event that the New Haven County climate can test you with! You might even choose optional side curtains or screens to increase your protection from the elements.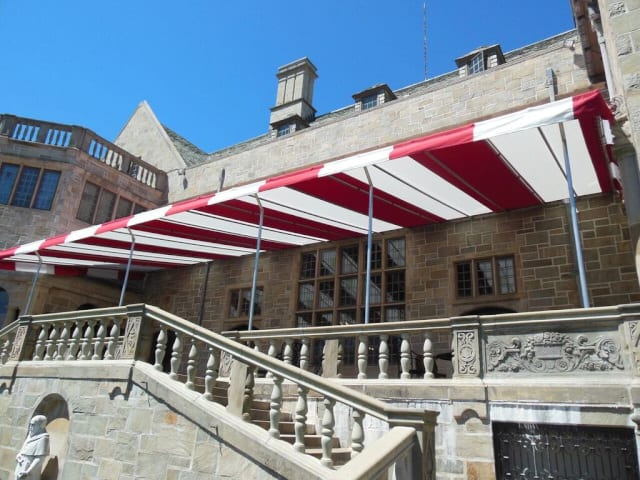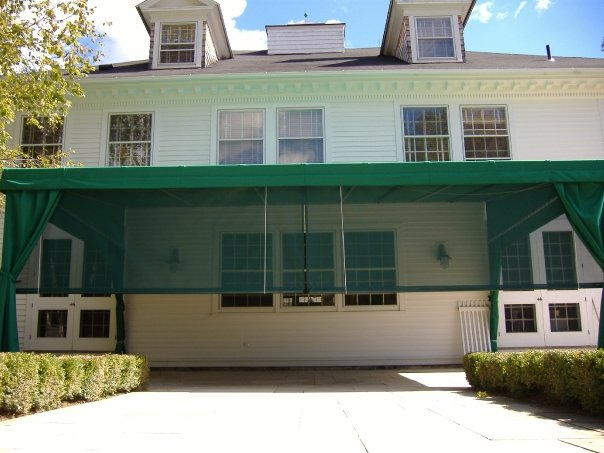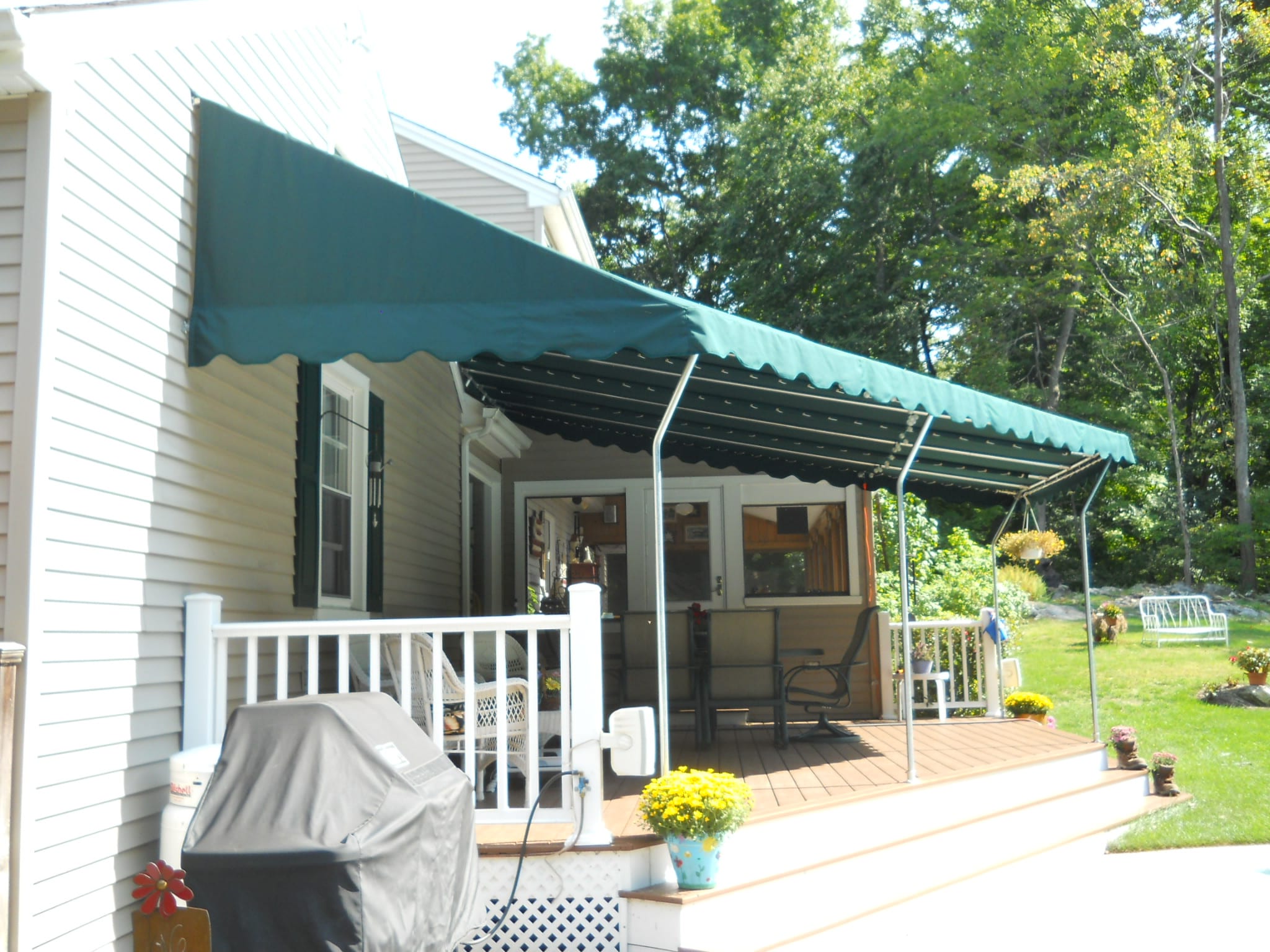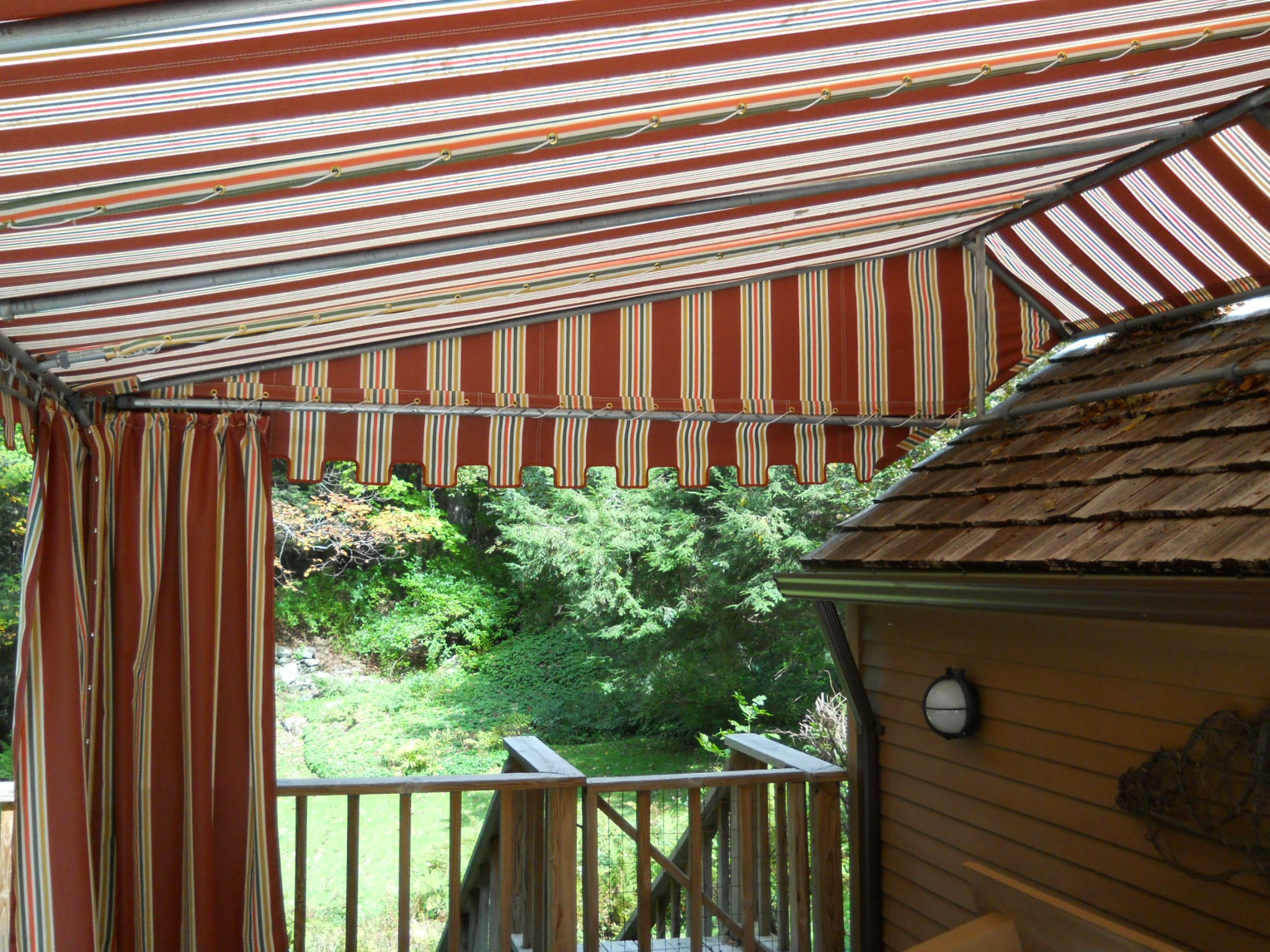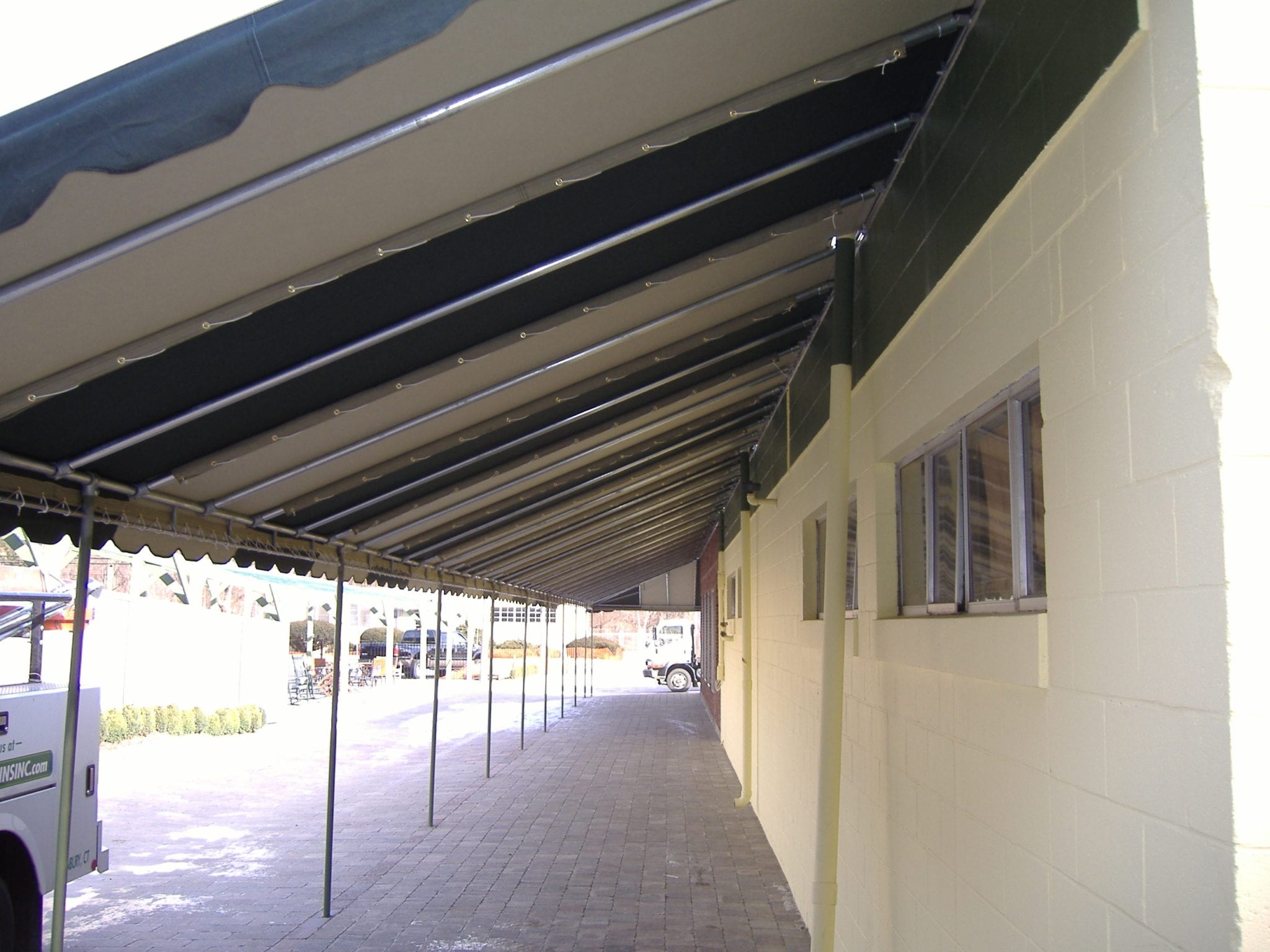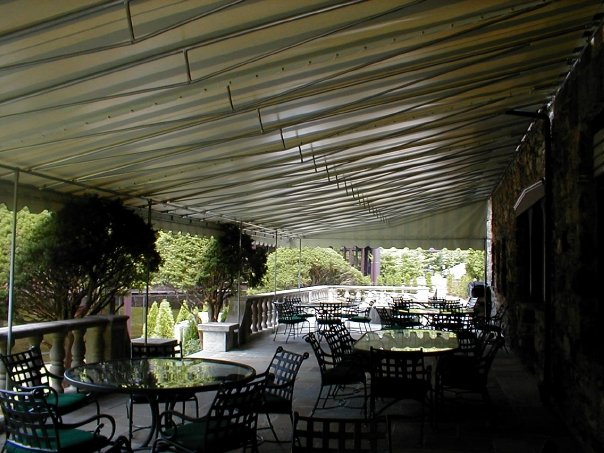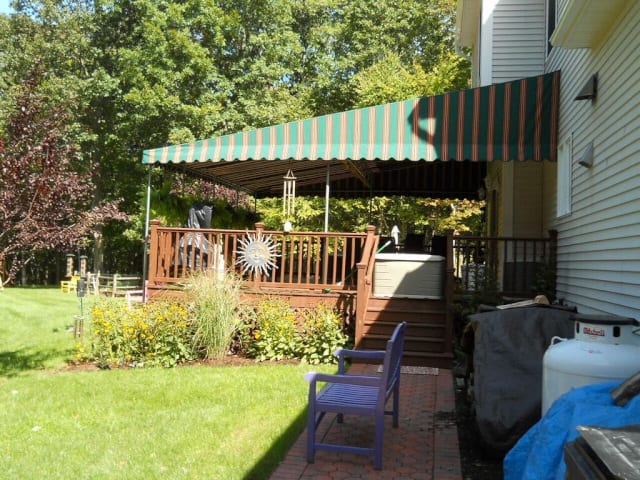 Shade Structures
All of our shade structures are designed to withstand certain sun exposure, rain and windy conditions. For those living in New Haven County, we are certain that our Eclipse Sunroof Plus is a great shade option for any occasion.
Eclipse Sunroof Plus
Even windy New Haven County sites can enjoy the shade of an awning. The Eclipse Sunroof Plus awning is a motorized, retractable awning which delivers all the benefits of conventional awnings with the ability to retract with a push of a button. The Eclipse Sunroof Plus has both a wall mounted switch and a handheld transmitter so you can choose when to use its protection. Able to withstand winds as high as 23 mph and a level 5 on the Beaufort scale, this awning is truly a 3-season awning!
Durkin's offers two varieties of The Eclipse Sunroof Plus:
Patio Style: Designed to be free-standing and needs no existing structure to attach
Pergola Style: Must be mounted to an existing structure such as your New Haven County home's facade.
Both of versions of the Eclipse Sunroof Plus can offer your New Haven County property a high quality shade and protection. They also come equipped with a wireless wall switch that is attached to a handheld transmitter. This way, when you are not using your shade structure, you can simply retract it and keep it safe from the elements.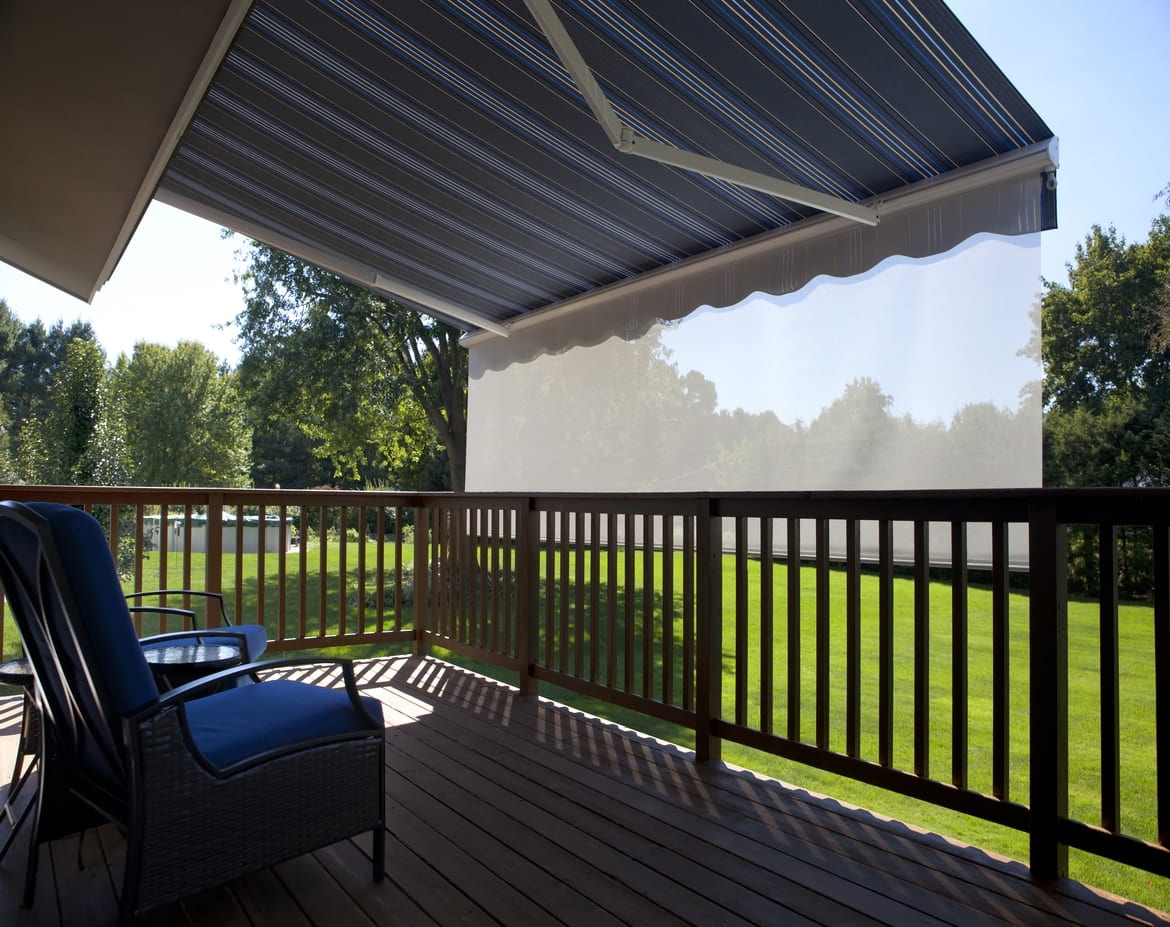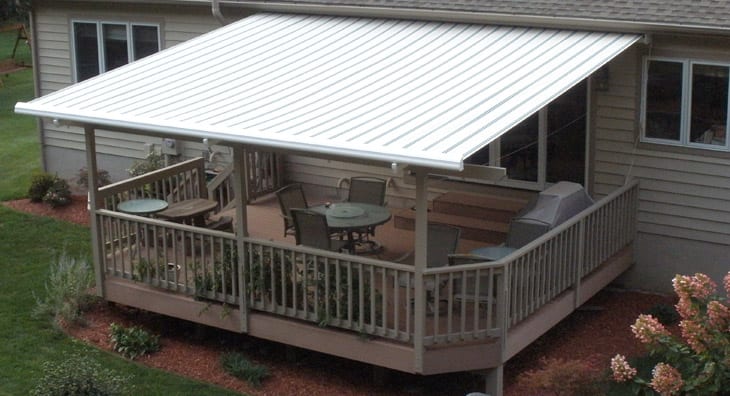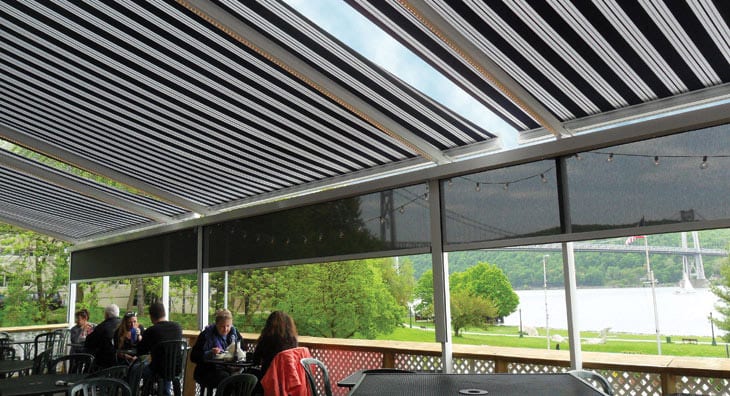 Retractable Deck and Patio Awnings
Retractable lateral arm awnings have become a very popular option for homeowners and businesses. Their European design is truly a hassle-free awning choice. You don't have to worry about yearly maintenance or storage. When the New Haven County season is over, simply retract it to be stored for the next year's use!
Retractable awnings are:
Convenient
Easy to use
Versatile
Provide great protection and shade
Get a Free Estimate!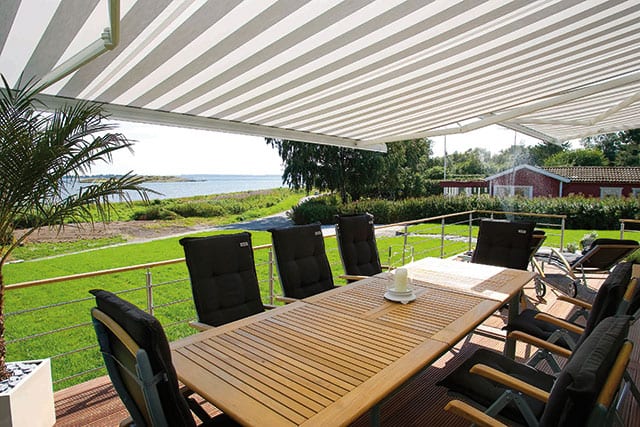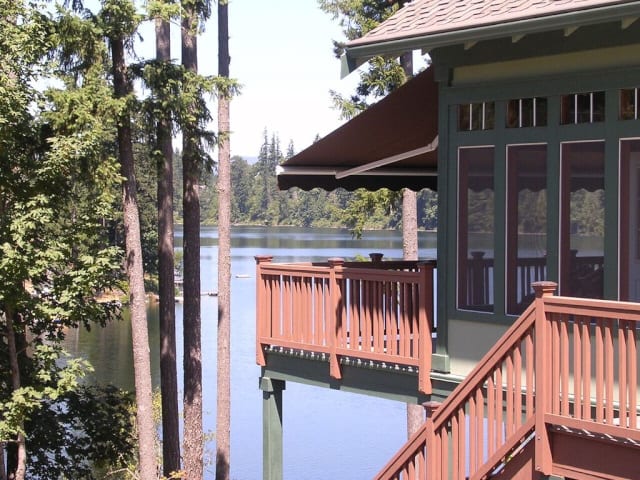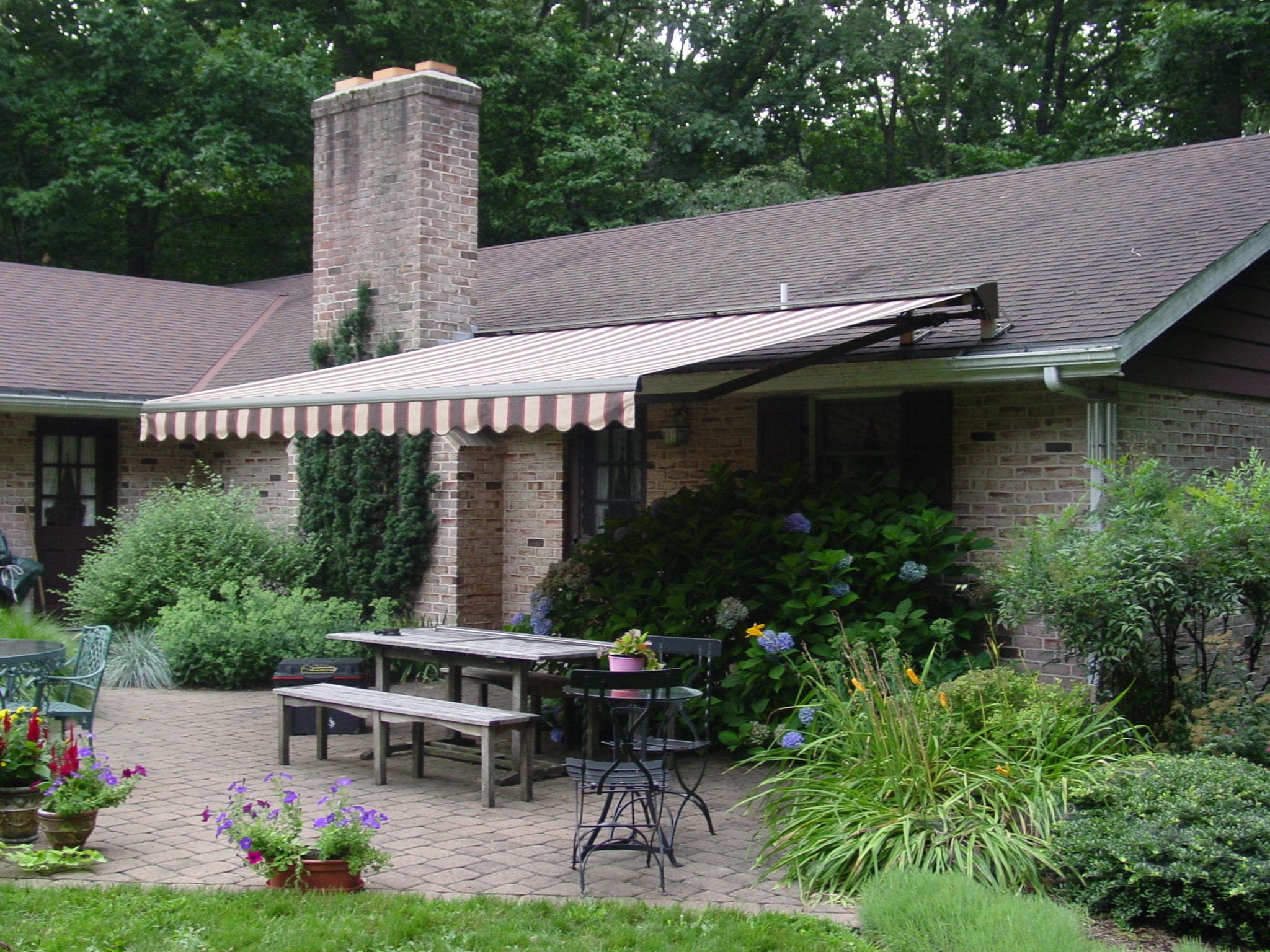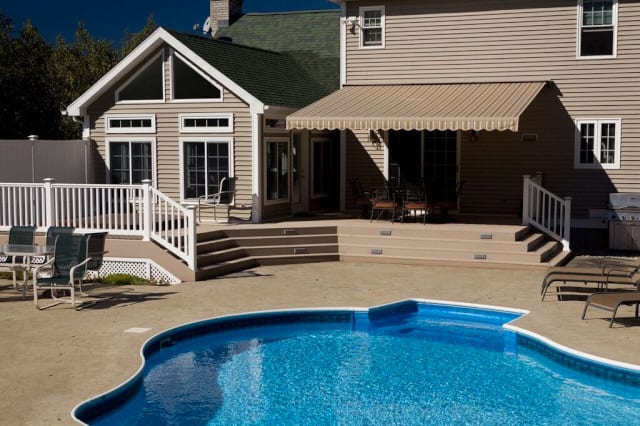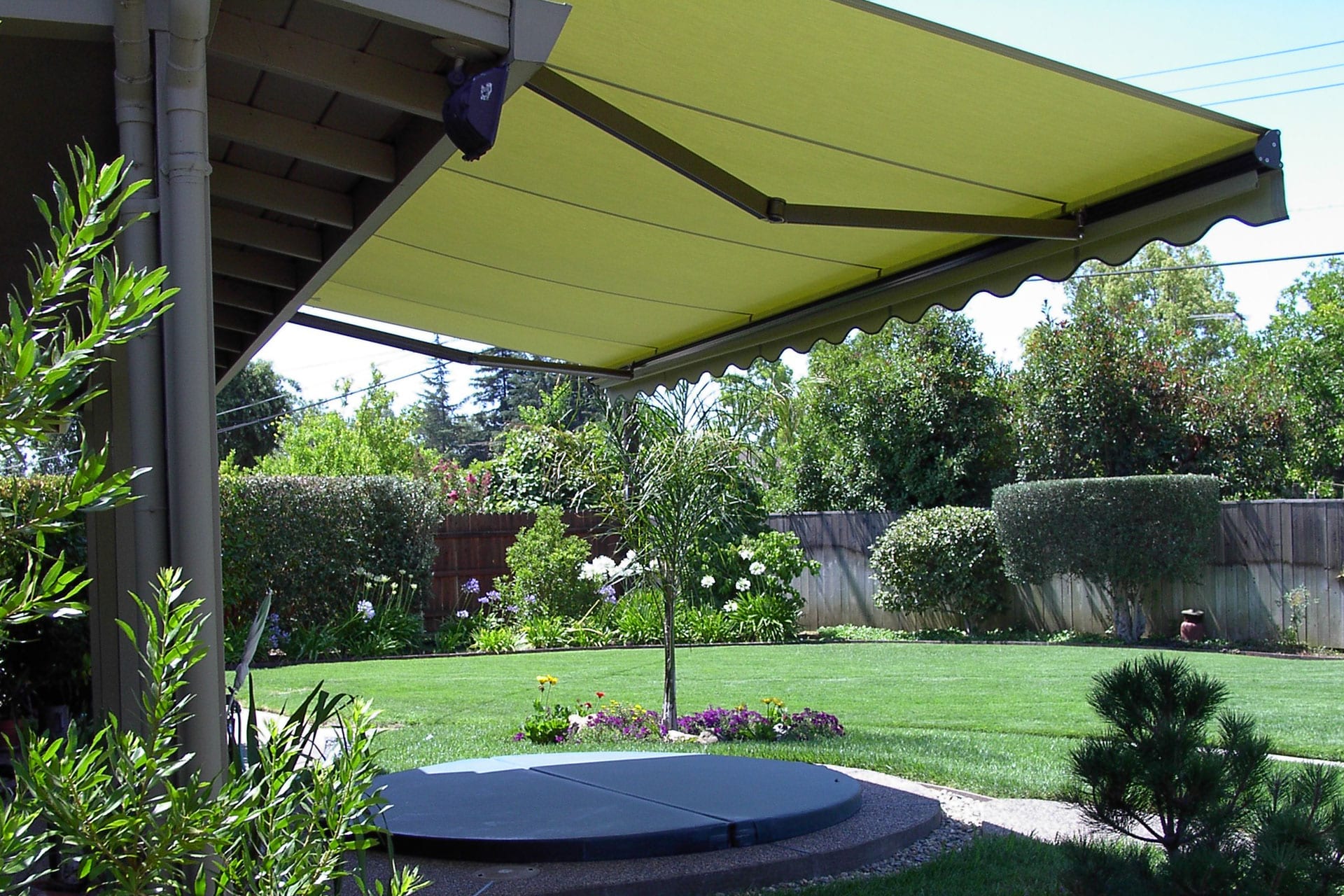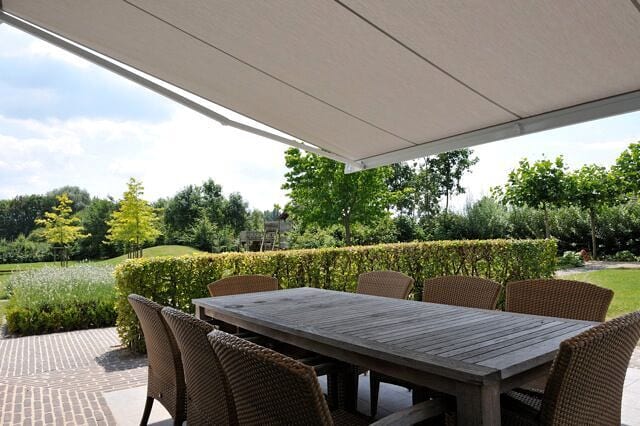 Canopy Installation and Repair in New Haven County, CT
Whether you are looking for a shade solution for your backyard or business in New Haven County, we find that canopies are a great option to make your property pop! They are a simple and inexpensive way to keep your property, family or clients in the shade, while offering a personal touch of style. They can be used year-round and depending on the type you choose, they can withstand certain elements. Some of our popular canopy choices for the New Haven County area include:
Pergolas
Pergolas are a beautiful, structural canopy style that we find perfect for backyards in the New Haven County area. They are also the perfect for an outside setting at a restaurant or business. We can offer you a pergola with a variety of different styles to truly match your style and your purpose.
Shade Canopies
Ready to get straight to the point? Shade canopies are effective and perfect for that weekend party or an afternoon of relaxation. They can help protect your property, garden or clients while providing the right amount of shade. Here at Durkin's, we have a number of different designs and shades for you to choose from.
Garden Canopies
We understand how important it is to care for your garden, and that's why we provide garden canopies for our New Haven County clients. With all of the effort and time you put into your garden, you shouldn't have to deal with losing your beautiful foliage or crop because of heat exposure. We can help you set up a garden canopy that will protect your plants from the damaging elements and pests in the New Haven County area.
Get a Free Estimate!
Louvered Roofs in New Haven County, CT
Our expert designers at Durkin not only provide the perfect awning or outdoor canopy, but we also offer Louvered roofs. We can provide your residence or commercial property in New Haven County with our expert installation skills.
Louvered roofs are an exceptional choice for the New Haven County climate seeing that they are angled to allow light, but also air during the warm spring and summer months. During the fall and winter, they can repel rain. Have questions about our louvered roofs, feel free to reach out to us to discuss your options today.
Types of Louvered Roofs
Interested in one type of roof you can't find just around the corner? That's right, Durkin's can provide you with customized louvered roofs right for our clients in New Haven County. We can create both for residential and commercial properties.
Ceiling Fans
Accent Lights
Custom Colors
Wood Wraps
Solar Shades
Pergola End Cuts
Our roofs are made entirely out of aluminum, you can be sure the quality and durability of our roofs are top notch.
Our louvered roofs are made entirely out of aluminum, helping to keep the quality and durability in tact. Aluminum is actually a cost-effective material that will last for years to come. The strength of this material also allows for these units to be placed on to free-standing structures as well as add-ons for existing buildings. With these qualities, they are the perfect shade solution for an outdoor roof at both commercial and residential properties in New Haven County.
Get a Free Estimate!
Why Durkin for your New Haven County Awning?
With over a century of combined experience in the shade structure industry, we are equipped with the expertise and materials to help you achieve your dream awning. We can help both residential and commercial properties throughout New Haven County with installations and repairs for a variety of awning types.
Being in business for this long only means that we've had a great success rate. in fact, with over 4,000 systems sold and installed from Durkins, we've had less than .0065% of issues. This only proves just how reliable and consistent our products and designers are. We are your trusted company for awning installations, repairs and maintenance in the New Haven County area.
Get a Free Estimate!
New Haven County Awnings