With all of their uses, awnings aren't only limited to protecting your house from the rain or UV rays. Awnings are an expression of your unique style, so choose wisely. There are residential awnings that add appeal to your home and commercial awnings that improve the overall appearance of your commercial building.
You can also find companies who make custom awnings depending on your liking. We will talk about the different awning types for your home and business in Connecticut.
The different types of awnings include stationary awnings, freestanding awnings, and retractable awnings. We'll also talk about canopies and pergola awnings in Connecticut.
Stationary awnings
The addition of stationary awnings to a fixed shade system is a terrific idea. It's best to install this beautiful awning under your roofs. These structures will accommodate decks, patios, and even freestanding cabanas at the poolside.
These fabric awnings can be custom-designed to match your specific needs. They are built to endure the elements and can be used to protect businesses and residential during summer, spring, and fall. You can use this stationary awning as residential and commercial awnings.
When needed, side curtains and solar screens can easily be installed to provide additional protection and makes your building more attractive. It also protects you from too much exposure to UV rays that cause skin cancer.
Aside from that, you can also attach this structure to your home, keeping water out of your awning living space. Regardless if you get it alone or custom-designed, make sure to build away from the building. This way, you can keep water out—and your property safe.
Each application of the awning can be different depending on your preference. Some knowledgeable agents can go over the numerous alternatives to find the ideal approach for your outdoor space.
However, the stationary awning is a three-season home extension, meaning it can't resist snow load during winter. In the fall, the awning fabric coverings should be removed and reinstalled in the spring.
Drop Screens
Drop screens are awning a popular accessory, which you can mount to the sides of any stationary awning. They can be a massive relief in the late afternoon to keep the sun out. You can roll up these screens to your windows when not in use. Today's mesh materials allow the sun's rays to be filtered while maintaining visibility.
Free Standing Awnings
Freestanding awnings are ideal when your windows need protection or any other existing structure. It's perfect for your outdoor needs. And you can also use it as awning canopies, creating your new haven.
Family-owned swimming pool areas can be given a little more shade by determining how much space is needed and looking at various designs. Using this type of awnings to protect your home from the sun's harmful UV rays is an excellent approach to preventing skin cancer.
Retractable Awnings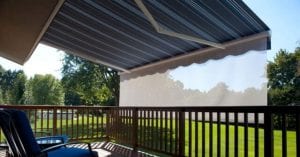 Retractable awnings have become a fantastic shading choice for on-demand protection for homes. It gives you shelter and your windows protection. Plus, it's collapsible, allowing you to stow it away from your windows when you don't need it.
There is no need for a yearly service. Simply fold the awning, and you're ready to store for the winter. It saves you from annual service and repair. And you can also use it as patio awnings. You can use this awning on your deck or patio roofs outdoors to protect yourself from the sun.
Best of all, owners can mount this type of awning in both residential and commercial properties.
Motorized
A retractable deck awning can be motorized to make life easier. Motorized systems account for more than 95% of retractable awning sales for residential and commercial purposes. People use retractable awnings more frequently and take better care of them than manual systems. And yes, that applies for both business and home use.
Limits
However, there are restrictions on retractable awnings. They're vulnerable to the strong wind because they lack any support on top. So, if you're thinking of using retractable awnings for your business, think again.
Also, the fabric of this awning can't withstand a load of snow. That's why awnings should be retracted when not used to reduce their exposure to the wind and snow.
Automated Solution
A retractable awning can automatically retract if motion sensors detect the wind. It makes it easier to avoid having to monitor the weather constantly. You can also install mood-lighting to your awning for additional appeal during nighttime.
Generally, a retractable awning is versatile, convenient, easy to use, and excellent protection and shade from the sun. Hence, it's one of the best window products for residential or commercial purposes.
Let's take a deep look at the features of a retractable awning:
1. Constant Tension Retractable Systems 
Retractable awning shade systems come in various shapes and sizes. Transverse shading products can now extend over external structures such as atriums, pergolas, and similar structures.
Also, automatic systems that maintain a constant tension can be a great boon to those who suffer from sunburns. This awning is perfect for deck and patio covers, keeping customers dry and shielded from the heat, wind, and rain.
Aside from that, a retractable awning has a water-proof, fire-retardant fabric used in these systems for maximum security. Simply hit the button, and everything will work.
2. Traversing mesh screen systems
Shade can be given in a large area with simple cable connections and mesh fabric. It can be manually retracted and expanded at any given time.
In other words, this awning could be the answer to your shade and budgetary concerns.
Canopies in Eastern Connecticut
The many uses of a canopy will serve you whether you're searching for protection from the sun or just trying to change up your backyard. Here are some of the most popular awnings canopies:
Pergolas
A pergola awning can add another design dimension to your home while providing much-needed shade in the summer. Some companies offer customized pergola installation to assist you in staying cool outside. For instance, you can choose ones made from aluminum or other materials.
Generally, this awning consists of extruded aluminum, guaranteeing great weather and wind resistance. And thanks to the added aluminum, it can protect your patio or deck from sun and rain.
Shade Canopies
This awning is for you if you seek a different way to add style to your backyard. You can locate a new shade component for your outdoor BBQs or get solid protection from the sun with awnings canopies.
This canopy will turn your backyard into the go-to area in various styles and sizes. As a result, it's quickly become one of the most popular residential awnings.
Garden Canopies
A garden canopy awning is a fantastic solution for your outdoor space to keep you sheltered from harsh rays and insects. With its beauty and design, this canopy will provide you with a relaxing retreat in your garden. This type of canopy also comes in different sizes and styles.